2020 Governance & Sustainability
Discover how Sustainability is governed at Colgate-Palmolive and how
our strategy is rooted in good corporate governance and integrity.
Company Profile
Founded in 1806, Colgate-Palmolive Company ("we," "our," "us," the "Company" or "Colgate") is a caring, innovative growth company reimagining a healthier future for all people, their pets and our planet.
Operations
We operate in more than 80 countries, and our products are marketed in more than 200 countries and territories. More than 34,000 Colgate employees drive our success. Headquartered in New York City, Colgate operates through six divisions around the world: North America, Latin America, Europe, Asia Pacific, Africa/Eurasia and Hill's Pet Nutrition.
We have more than 50 manufacturing and research facilities globally. The vast majority of our products are manufactured in Colgate-owned facilities. We also have an extensive supply chain consisting of thousands of suppliers of raw and packing materials, manufacturing operating supplies, capital equipment, and other goods and services.
Business Priorities
We remain focused on delivering long-term shareholder return and building long-term business success through good corporate governance and the design and implementation of our key strategic business priorities—driving organic sales growth through innovation of our core brands, leveraging faster growth in adjacent categories and expanding in high growth channels and markets; delivering margin expansion through operating leverage and productivity; maximizing the impact of our environmental, social and governance programs and leading in the development of human capital, including our sustainability and social impact and diversity, equity and inclusion strategies.

To read more, see our annual report.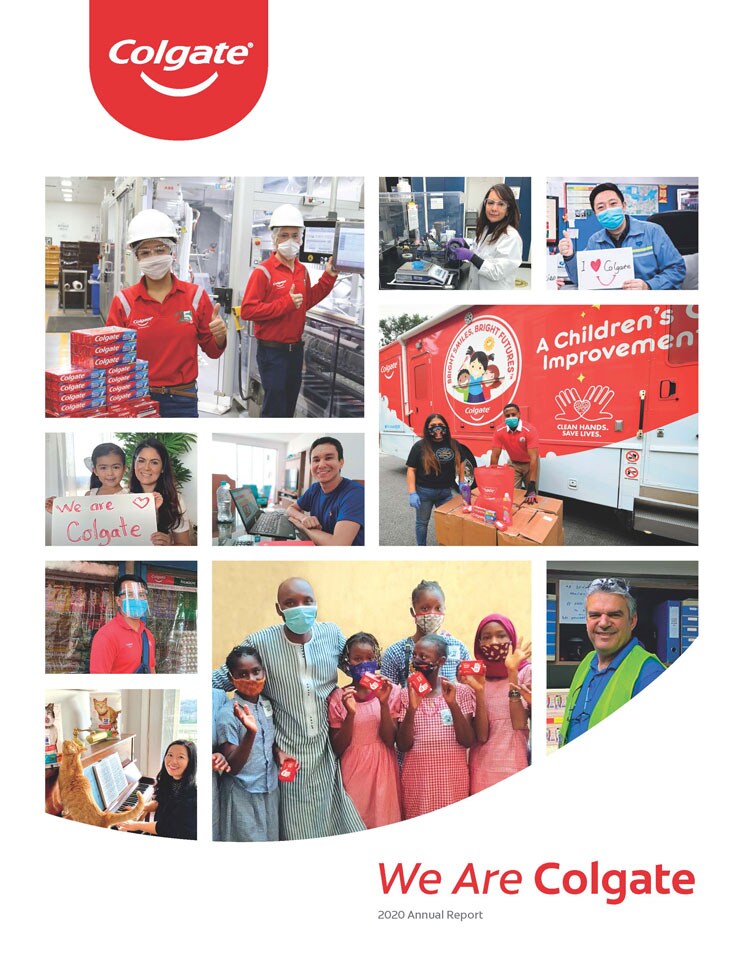 Colgate Brands
We manufacture and market a wide variety of products in the U.S. and around the world in two product segments: Oral, Personal and Home Care; and Pet Nutrition. Oral, Personal and Home Care products include toothpaste, toothbrushes, mouthwash, bar and liquid hand soaps, shower gels, shampoos, conditioners, deodorants and antiperspirants, skin health products, dishwashing detergents, fabric conditioners, household cleaners and other similar items. Principal global and regional trademarks include Colgate, Palmolive, elmex, hello, meridol, Sorriso, Tom's of Maine, EltaMD, Filorga, Irish Spring, Lady Speed Stick, PCA Skin, Protex, Sanex, Softsoap, Speed Stick, Ajax, Axion, Fabuloso, Murphy, Soupline and Suavitel, as well as Hill's Science Diet and Hill's Prescription Diet.
Bringing trusted brands ― and reasons to smile ― to millions of consumers around the world.
Colgate's Corporate Governance Commitment
Governance is an ongoing commitment shared by our Board, management and all Colgate people. Our Board believes that good corporate governance accompanies and greatly aids our long-term business success and that we have consistently been at the forefront of good corporate governance. Reflecting its commitment to continuous improvement, our Board reviews its governance practices on an ongoing basis to ensure that they promote shareholder value. To learn more, visit the Governance section on our website.
Sustainability Governance
We view sustainability as being critically important to our business.
Our Sustainability Steering Committee makes strategic decisions related to sustainability and guides the organization in its efforts to meet sustainability goals. The committee is composed of Colgate's Chief of Staff, Group President, Global Innovation Group, Chief Sustainability Officer, Chief Technology Officer, Chief Human Resources Officer, Vice President, Global Compensation and Benefits, Chief Communications Officer, Chief Legal Officer and Secretary, Chief Supply Chain Officer, and Chief Investor Relations Officer. Our Chief Sustainability Officer has direct responsibility for implementing sustainability and environment, health and safety programs; she has accountability to our Group President, Global Innovation Group and to our Chief Supply Chain Officer. For our annual corporate social responsibility report, the Global Sustainability team gathers the content cross-functionally and the Sustainability Steering Committee reviews the final report content.
Our sustainability efforts span all aspects of our business, including supply chain, marketing, innovation, customer development and people development. Networks of senior leaders in each division and local champions support on-the-ground sustainability efforts, communications, and reporting. Moreover, to integrate sustainability tracking and disclosures into our business strategy, operations and employee review process, our global sustainability initiatives are among the individual objectives used to determine the compensation for many of our senior managers.
Oversight of environmental, social and governance initiatives is a key priority of our Board of Directors, particularly through the Nominating, Governance and Corporate Responsibility (Governance) Committee, which was reconstituted in 2020 to heighten the Board's focus on these areas. The Governance Committee oversees the implementation of our 2025 Sustainability and Social Impact Strategy and receives regular updates on environmental, social and governance matters and considers sustainability matters, risks and opportunities in decision-making.The Governance Committee oversees and receives regular updates on the implementation of sustainability, social responsibility and corporate citizenship matters. It also monitors the sentiment of various constituencies regarding our environmental and social footprint.
Our Enterprise Risk Management (ERM) Committee, which includes Colgate's Chairman, President and Chief Executive Officer, Chief Financial Officer, Chief Sustainability Officer and other members of Colgate's senior management, monitors current and emerging risks facing our company and has identified sustainability as a critical risk facing the company. ERM Committee members provide the Board and its Committees, including the Audit Committee, with regular updates on risks facing the Company.
Please visit Colgate's Policy Statements for a complete listing.
Business Integrity
We are committed to doing business with integrity and respect for all people and for the world around us. With governance and ethics principles embedded into Colgate's culture as well as standards supporting the well-being of all Colgate people, we ensure that our business success goes hand-in-hand with business integrity.
CODE OF CONDUCT AND GLOBAL BUSINESS PRACTICES GUIDELINES
Since 1987, our Code of Conduct has served as a guide for our daily business interactions, reflecting our corporate values and our standard for ethical behavior. Our Code of Conduct is available in 42 local languages. One hundred percent of salaried and clerical Colgate people participate in annual training and certification on the Code of Conduct. Factory workers certify annually and complete training every other year. Our audit firm, PricewaterhouseCoopers LLP, audits a cross-section of these certifications. Colgate's Global Business Practices Guidelines provide further information to our employees on key topics in our Code of Conduct. The Guidelines offer clear, practical guidance and illustrate how the values and principles outlined in the Code of Conduct apply to particular business situations.
The Colgate EthicsLine provides a means for employees and external parties to ask questions, obtain guidance or report any suspected violations of the Code of Conduct. We work to create a workplace free of inappropriate or unlawful behavior in which people are encouraged to share their concerns with the Company without fear of retaliation. Consequently, at Colgate no adverse action will be taken against any employee, former employee, agent or third party for complaining about, reporting, participating in or assisting in the investigation of a suspected violation of the Company's Code of Conduct, Company policy or applicable law unless the allegation made or information provided is found to be intentionally false or was not made in good faith.
All reporting activity provided when Colgate People "Speak Up" is reviewed and, if deemed to be a potential violation of the Code of Conduct, the matter is promptly and thoroughly investigated by Global Ethics & Compliance and/or the Global Legal Organization.
In 2020, Ethics and Compliance received 404 contacts through a variety of channels including the EthicsLine, Ethics web tool and ethics@colpal.com, which covered a wide variety of reporting activities including 62 consultations. Allegations reported to Ethics and Compliance, are grouped into the following categories: Accounting related, Conflict of Interest, Discrimination; Financial-related; Harassment; Regulatory/Legal; Retaliation; Work Environment; Miscellaneous Issues; and non-Ethics and Compliance matters. After a thorough investigation has been completed, if the allegations are substantiated, appropriate remedial action is taken.
BUSINESS PRACTICES GUIDELINES TOPICS:
Our Business Practices Guidelines illustrate how the values and principles outlined in ourCode of Conduct apply to particular business situations. Our guidelines detail not only our policies, but also our compliance with specific laws, regulations and practices.
To read more on the topics addressed by our Business Practices Guidelines, visit Colgate's Ethics & Compliance Guidelines.