In order to further refine and build upon Colgate's sustainability strategy, in 2019, Colgate conducted a Stakeholder versus Business Impact assessment. This assessment is recognized by the Global Reporting Initiative (GRI) as a Materiality assessment. We refer to this as a Sustainability Impact Assessment.(1)

We conducted our Sustainability Impact Assessment to meet the expectations of our external stakeholders and to help inform our business decisions. To do so, we first created an extensive list of sustainability-related issues by examining a large number of internal and external sources including the United Nations Sustainable Development Goals (UNSDGs), Global Reporting Initiative (GRI), Sustainability Accounting Standards Board (SASB), Task Force on Climate-related Financial Disclosures (TCFD), Environmental, Social, and Governance rating tools (Dow Jones Standards Indices (DJSI), CDP, Institutional Shareholder Services (ISS), Just Capital, Sustainalytics and Morgan Stanley Capital International (MSCI)), peer reviewed scientific research, industry reports, consumer insights data and employee feedback.
We then assessed the interrelations between these sustainability-related topics and our business through the lenses of risks and opportunities. By conducting a large employee survey, we asked our employees where Colgate can make the biggest impact. We held in-depth interviews with Colgate subject matter experts and function leads to align our findings with business priorities and analyzed data from our consumers to identify moving trends in the market. We received nearly 8,000 responses from over 100 countries. As a result, we have developed the "Sustainability Impact Matrix" presented below.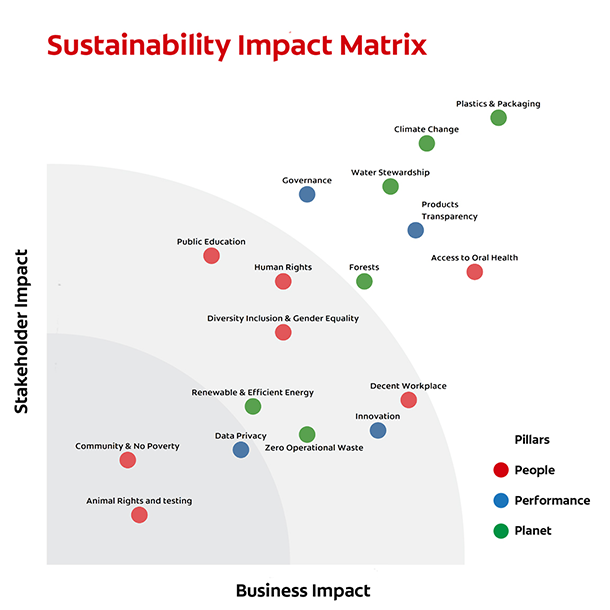 The matrix above shows our key sustainability issues, categorized by the impact on our stakeholders and our business in alignment with our three sustainability pillars under our 2015 to 2020 Sustainability Strategy, People, Performance and Planet. These issues also intersect with the following GRI Standards and define the content of this report: Economic Performance, Materials, Energy, Water, Emissions, Effluents and Waste, Products and Services, Compliance, Transport, Environmental Health and Safety, Training and Education, Diversity and Equal Opportunity, Local Communities, Public Policy, and Service Labeling.
This report also addresses our efforts to respond to the COVID-19 pandemic and to become an even more diverse, equitable and inclusive company. While we have not changed the sustainability impact matrix we created in 2019, we plan to continue our materiality assessment and to update it in light of these events and our 2025 Sustainability and Social Impact Strategy. We plan to include this new matrix in our 2021 Sustainability Report.
Colgate is managing risks and opportunities related to these issues through the implementation of our 2025 Sustainability and Social Impact Strategy. Through our Enterprise Risk Management process, we are focused on sustainability as a critical risk, including the environmental and social impact risk of plastic waste, climate change and water scarcity and access. These same issues also provide an opportunity to drive innovation and growth, strengthen brand reputation and demonstrate our commitment to responsible business practices. Additional detail on each of the issues and our actions to address them is provided throughout the content of the website.
As reflected in the Risk Factors identified in our 2020 Annual Report on Form 10-K and our subsequent Quarterly Reports on Form 10-Q, responsible sourcing and deforestation, the use of plastic, energy and water, the recyclability or recoverability of packaging, including single-use and other plastic packaging, and ingredient transparency are addressed among the sustainability-related risks facing the company.
---
(1)This report reserves the term "materiality" only to address issues that are deemed material from the point of view of the U.S. Securities and Exchange Commission (SEC). Topics that are important from a sustainability point of view in relation to our business, as defined in the GRI Guidelines and other reporting frameworks, are listed under the Key Sustainability Issues section. As a publicly traded company, Colgate files periodic reports with the U.S. Securities and Exchange Commission (SEC). Our 2020 Annual Report on Form 10-K and subsequent Quarterly Reports on Form 10-Q include material factors that make an investment in our company speculative or risky, including, but not limited to, those relating to sustainability, namely: volatility in commodity prices; changes in regulatory requirements relating to ingredients in our products; changes in policies or practices of retail trade partners, such as with respect to the environment or sustainability; damage to our reputation relating to environmental impacts or other sustainability issues; disruption to our global supply chain or key office facilities by environmental events; disruptions in logistics; damage from industrial accidents or other occupational health and safety issues; losses caused by natural disasters, including climate events; the impact of epidemics, pandemics and other widespread health concerns, including the COVID-19 pandemic; and the adverse impact of climate change and other sustainability matters. Refer to "Risk Factors" in Part I, Item 1A of our Annual Report on Form 10-K for the year ended December 31, 2020 and Part II, Item 1A of subsequent Quarterly Reports on Form 10-Q for additional information. In determining whether information is material, we also consider if there is a substantial likelihood that a reasonable investor would consider such information important in deciding how to vote or make an investment decision, or if the information would alter the total mix of available information.