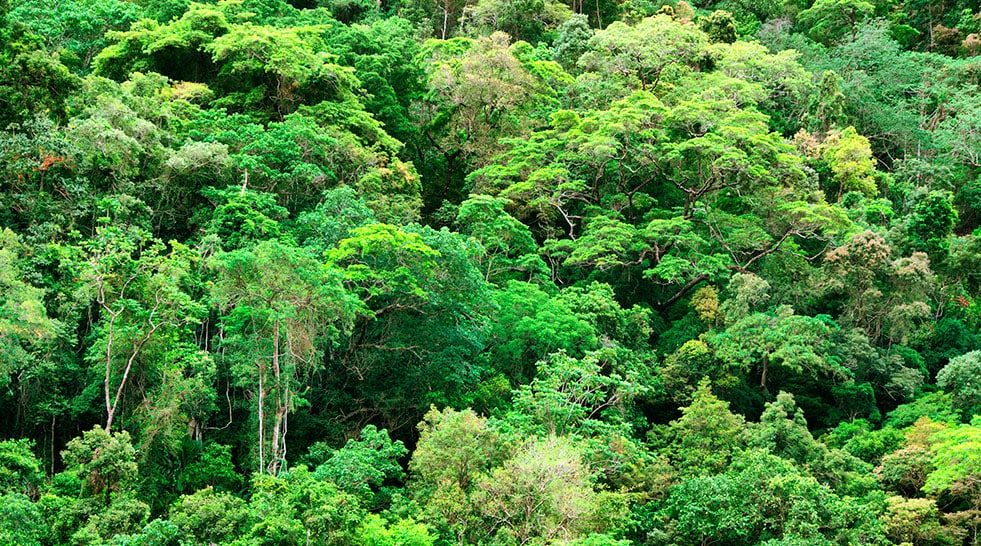 Our Policy on No Deforestation
Forests are vital to life on earth. They are a major force in countering climate change by storing carbon dioxide. They provide a livelihood for over 1.6 billion people, habitat for 80 percent of earth's terrestrial species, and are a source for a variety of products for people and industries worldwide.
It is estimated that over the past 50 years, over half of the world's forests have been lost. This has led not just to biodiversity loss and social instability, but also furthered climate change. Deforestation of High Conservation Value and High Carbon Stock forests such as tropical rainforests and peatlands has been especially devastating to endangered animal species, and has led to significant release of carbon emissions.
Experts around the world now consider deforestation and climate change to be a major strategic threat, one which could affect each of us and how we live day-to-day. As a socially responsible company we are committed to addressing deforestation. This deforestation policy, based on our core values, is an integral part of the Company's strategy to combat climate change and biodiversity loss.
Colgate-Palmolive operates globally with a set of shared values: Caring, Global Teamwork and Continuous Improvement. These three values serve to guide us in providing products that make people's lives healthier and more enjoyable every day. Colgate's values are also the foundation of our commitment to Sustainability – to People, Performance and Planet.
Our commitment to Caring – for people and the environment – motivates us to do our part to end global deforestation.
Our commitment to Global Teamwork means we will work within Colgate and together with external partners on this goal. Given this enormous global challenge requiring the commitment of people around the world, we recognize that our part can only be accomplished through Continuous Improvement… getting better every day in everything we do. We are committed to transparency and believe that it is important for our employees and other key stakeholders, including shareholders, suppliers and non-governmental organizations (NGOs), to know where we stand on key environmental issues. We share a vision with concerned stakeholders for a future without deforestation. As a start on this journey, Colgate has joined the Consumer Goods Forum ( CGF ) in pledging to mobilize resources to help achieve zero net deforestation by 2020. As stated in the CGF resolution: "Together we will develop specific, time bound and cost effective action plans for the different challenges in sourcing commodities like palm oil, soya , beef, paper and board in a sustainable fashion. We will also work with other stakeholders – NGOs, Development Banks, Governments etc. – to create funding mechanisms and other practical schemes that will incentivize and assist forested countries to conserve their natural assets and enable them to achieve the goal of zero net deforestation, whilst at the same time meeting their goals for economic development." Given Colgate's product mix and our formulas, this commitment is most relevant for four major forest commodities: pulp and paper, palm oil and derivatives, soy and soy oil; and beef tallow.
Pulp and Paper
Much of Colgate's packing material utilizes wood-derived or paper-based products. Seventy percent of our expenditures on paper and board are made from suppliers with third-party certification such as the Forest Stewardship Council (FSC). Approximately 40 percent of Colgate's packaging materials globally now come from recycled sources. The Company has a goal to increase recycled content by 20 percent by 2015. We have also taken steps to ensure compliance with the U.S. Lacey Act requiring all product and disposable packaging to be compromised of legally sourced wood or other plant-based material.
Following the recommendations of the CGF , Colgate will:

Optimize the use of wood fiber, recycled content and alternative fibers.
Perform risk assessments to assure low risk of controversial sources of fiber contributing to deforestation in the supply chain.
Obtain verification that materials from high priority countries is of low risk of coming from controversial sources contributing to deforestation.
"Controversial sources" of fiber are defined as:

Illegally harvested wood
Wood harvested in violation of human or civil rights
Wood harvested from forest in which high environmental, ecosystem, and cultural values are threatened by management activities
Wood harvested from forests containing protected or endangered species, including requirements of CITES (Convention on International Trade in Endangered Species of Wild Fauna and Flora), where applicable
Wood harvested from areas where significant conversion of forests and other wooded ecosystems to plantations or to non-forest areas took place after December 31, 2010
We will give preference for verification of pulp and paper supply to Forest Stewardship Council (FSC) certification standards, but will utilize other certification schemes as geography and availability necessitate. We will focus on paper and pulp used in packaging and retail display materials, as well as our global purchase of office paper.
As part of this commitment, Colgate will continue our long-standing strategy to increase the use of recycled materials, as well as our efforts to optimize the use of other packaging materials.

Palm Oil

Palm oil is the most widely traded vegetable oil in the world and is used in many food and household products. Over 85 percent of the world's palm oil comes from Indonesia and Malaysia, where land is sometimes converted from forest to palm plantations, resulting in greenhouse gas emissions, impacts on biodiversity and social concerns.

Colgate is committed to sourcing responsible palm oil, palm kernel oil and palm oil derivatives that do not contribute to deforestation. By 2020 Colgate will source palm oil, palm kernel oil and their derivatives that are responsibly and sustainably produced and from sources that can be traced from plantation to product.
For more information, see Colgate's Policy on Responsible and Sustainable Sourcing of Palm Oils.

Soy

Soy, or soy oil, is an ingredient used in certain Colgate products. Colgate sources soy and soy oil from the United States and Brazil. As at least one organization has linked soy production in Brazil to deforestation of the Amazon and other highly biodiverse forest regions, we will commit to focusing resources to eliminate deforestation in our soy supply chain. As a minimum, we will:
Join and support the Roundtable on Responsible Soy
Support efforts such as the Soy Moratorium that help minimize deforestation from soy expansion and increase transparency in the soy sector
Map our soy usage and geography of supply
Work with our suppliers in Brazil and any other high-risk areas to assess the availability of soy that does not contribute to deforestation in our soy supply chain, such as soy certified by the Roundtable on Responsible Soy, and will increase our purchase from these suppliers.
By 2017 we will procure soy and soy derivatives that are not linked to deforestation, verifying this through independent third-party verification and monitoring.
Tallow

Tallow is a key ingredient in bar soap production and is a cattle byproduct. Colgate sources tallow from suppliers in North America, Latin America and Europe. In Brazil, there are concerns that rising demand for beef as a food source is prompting farmers to clear parts of the Amazon rainforest for cattle ranching.
Currently, we require Brazilian suppliers to certify that they are following the environmental and social requirements set forth by the Brazilian Institute of Environment and Renewable Natural Resources (IBAMA). We are also working to minimize the amount of tallow purchased from reportedly high-risk areas. We will continue to work with our suppliers to minimize the amount of tallow purchased from high-risk areas with a goal of eliminating such purchases as soon as possible.
Moving forward, we will:

Collaborate with industry and stakeholder groups such as the Global Roundtable for Sustainable Beef to work toward zero deforestation in this area.
By 2017, require all applicable suppliers to be in compliance with the "Minimum Criteria for Industrial Scale Cattle Operations in the Brazilian Amazon Biome" set in 2009.
Implementation

Colgate will work closely with employees, customers, suppliers, NGOs and other key stakeholders to increase awareness and commitment to the new no deforestation policy and to build our capability to achieve the 2015-2020 targets. The policy criteria will be included in the Colgate supplier selection process. Existing suppliers will be given reasonable time to comply with the policy. To confirm compliance, we will require extensive supplier auditing and evidence and will use independent certification and verification scenarios, along with monitoring tools such as the Global Forest Watch. Suppliers will be expected to apply the policy across their entire operations. In the event of non-compliance, Colgate will work with suppliers to create an action plan, with reasonable time commitments to meet our requirements. Suppliers failing to meet our time-bound requirements will be subject to non-renewal or termination of contracts. Colgate will continue to monitor and verify that our policies are being properly implemented.
Annual progress of the 2020 goal will be reported in our Sustainability Report, which is located on the Colgate website.
Last Updated: July 26, 2016