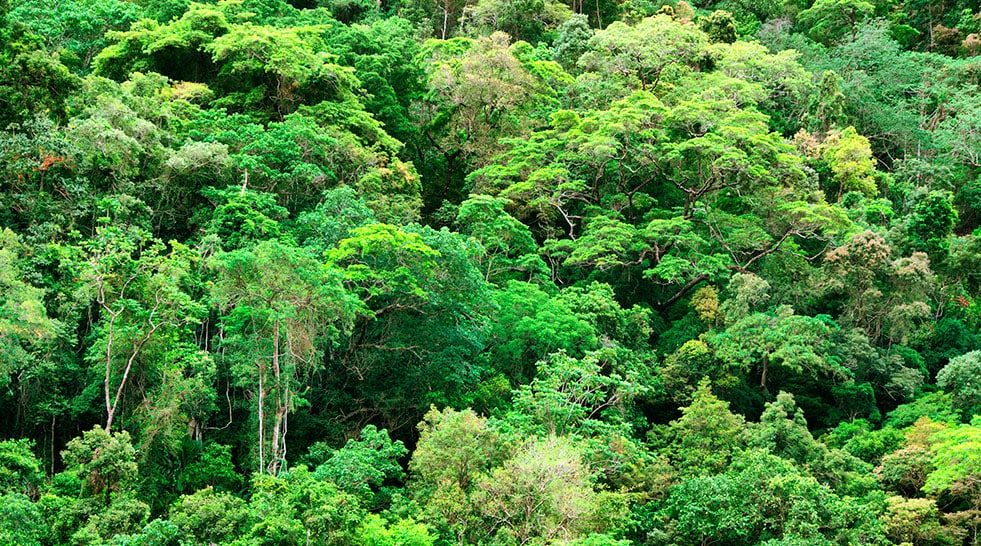 Our Policy on No Deforestation
Forests are vital to life on earth. They are a major force in countering climate change by storing carbon dioxide. They provide a livelihood for over 1.6 billion people, habitat for 80 percent of earth's terrestrial species, and are a source for a variety of products for people and industries worldwide.
It is estimated that over the past 50 years, over half of the world's forests have been lost. This has led not just to biodiversity loss and social instability, but also furthered climate change. Deforestation of High Conservation Value and High Carbon Stock forests such as tropical rainforests and peatlands has been especially devastating to endangered animal species, and has led to significant release of carbon emissions.
Experts around the world now consider deforestation and climate change to be a major strategic threat, one which could affect each of us and how we live day-to-day. As a socially responsible company we are committed to addressing deforestation. This deforestation policy, based on our core values, is an integral part of the Company's strategy to combat climate change and biodiversity loss.
Colgate-Palmolive operates globally with a set of shared values: Caring, Global Teamwork and Continuous Improvement. These three values serve to guide us in providing products that make people's lives healthier and more enjoyable every day. Colgate's values are also the foundation of our commitment to Sustainability – to People, Performance and Planet.
Our commitment to Caring – for people and the environment – motivates us to do our part to end global deforestation.
Our commitment to Global Teamwork means we will work within Colgate and together with external partners on this goal. Given this enormous global challenge requiring the commitment of people around the world, we recognize that our part can only be accomplished through Continuous Improvement… getting better every day in everything we do. We are committed to transparency and believe that it is important for our employees and other key stakeholders, including shareholders, suppliers and non-governmental organizations (NGOs), to know where we stand on key environmental issues. We share a vision with concerned stakeholders for a future without deforestation. As a start on this journey, Colgate has joined the Consumer Goods Forum ( CGF ) in pledging to mobilize resources to help achieve zero net deforestation by 2020. As stated in the CGF resolution: "Together we will develop specific, time bound and cost effective action plans for the different challenges in sourcing commodities like palm oil, soya , beef, paper and board in a sustainable fashion. We will also work with other stakeholders – NGOs, Development Banks, Governments etc. – to create funding mechanisms and other practical schemes that will incentivize and assist forested countries to conserve their natural assets and enable them to achieve the goal of zero net deforestation, whilst at the same time meeting their goals for economic development." Given Colgate's product mix and our formulas, this commitment is most relevant for four major forest commodities: pulp and paper, palm oil and derivatives, soy and soy oil; and beef tallow.
Colgate's Policy on Pulp and Paper Responsible Sourcing
Background

At Colgate-Palmolive Company (Colgate) we support a vision for a future without deforestation. This commitment is grounded in our core values of caring, global teamwork and continuous improvement. We have an overarching Policy on No Deforestation covering the following forest commodities: palm, soy, beef and pulp and paper. This is a commodity-specific policy that addresses pulp and paper based materials.
Our Commitment
Colgate-Palmolive is committed to sourcing paper and packaging from responsibly managed forests and recycled sources. By 2020 Colgate-Palmolive will only source paper and packaging from recycled and responsible sources that do not contribute to deforestation and do respect human rights.

Scope
This policy applies to our pulp and paper based materials sourced by all Colgate-Palmolive's operations, subsidiaries and joint ventures:

Paper based cartons
Corrugated for shipping
Paper based labels
Corrugated materials used to create displays
Dryer sheet products and cleaning wipes
To focus resources Colgate-Palmolive will prioritize policy implementation with our top suppliers of these products representing 80% of spend, with a long term goal of reaching 100%.

Requirements
As we strive for no deforestation in our operations and activities, we will partner with stakeholders and our suppliers to build a low risk global supply chain that maximizes use of recycled materials and meets the following criteria:

No illegally harvested wood
No exploitation of people or local communities
Protection of High Conservation Value (HCV)
No sourcing wood from forests converted to plantations or non-forest use

1. No Illegally Harvested Wood
Legally harvested wood has been harvested in accordance with all applicable laws in the location or jurisdiction from which Colgate-Palmolive's supplier is sourcing from.

2. No Exploitation of People or Local Communities
Human and Labor Rights
Guided by the UN Declaration on Human Rights, under a policy of no exploitation, Colgate-Palmolive requires its suppliers at all tiers to commit to: no child or forced/bonded labor; no unethical recruitment practices; and no discrimination or harassment in its supply chain. Suppliers will be compliant with all relevant laws and regulations and additionally commit to working conditions, health and safety, hours and wages that are in accordance with International Labour Organization standards. Written contracts, where required by law, will be provided to all workers in a language that they understand that detail the nature of the work, rate of pay and pay arrangements, working hours, vacation and other leave, and other benefits of employment. Freedom of association and right to collective bargaining will also be guaranteed.

Land Tenure Rights
Colgate-Palmolive suppliers will respect the legal or customary land-tenure and use rights of indigenous and local communities, as well as their rights to give or withhold their free, prior and informed consent for operations affecting their land or resources.
Conflict Resolution
Colgate-Palmolive suppliers will resolve complaints and conflicts through a mutually agreed upon and transparently documented system that is implemented and accepted by all relevant parties.
3. Protection of High Conservation Values
High Conservation Values have particularly high environmental and social significance, with attributes such as significant concentration of biodiversity, rare, threatened or endangered ecosystems and areas critical to the cultural identity and needs of a local community. These areas should not be cleared nor, for forest-based products, should they be harvested in a manner that threatens the HCVs.
4. No sourcing wood from forests being converted to plantations or non-forest use
Conversion is the removal of natural forest by human activity, without subsequent regeneration. Conversion may occur due to changing land use (e.g. agriculture, urban development, etc.) or where forest has been cleared by forest management practices and not regenerated. Sustainably managed selective logging of natural forests does not constitute conversion.
Next Steps
As the next step on our journey toward responsible and sustainable sourcing of pulp and paper, we will strive to meet the following goals:
Map pulp and paper supply chain to country of origin to identify controversial sources and drive actions towards policy conformance
Conduct risk assessment analysis to determine area of focus and develop roadmap for policy implementation
Conduct supplier webinars to communicate policy requirements
Purchase increasing volumes of certified or recycled pulp and paper based materials each year with a goal to source 100% by year-end 2020
Report and communicate performance and progress against policy

We will review and update our milestones and implementation plans, as well as report on our progress annually.

Verification
To ensure all paper and packaging sourced meets Colgate-Palmolive's sourcing requirements we will place a preference on materials received from Forest Stewardship Council® (FSC®) certified suppliers and provided to Colgate-Palmolive with a FSC claim. As necessary, other certification schemes and verification mechanisms will be accepted provided they comply with the requirements of this policy.

Colgate-Palmolive will survey our suppliers to understand the level of conformance with our policy. Survey responses will be collected along with documented evidence to validate supplier claims and categorize sourcing according to policy requirements. Colgate-Palmolive has partnered with Rainforest Alliance, a trusted, international non-profit organization with 30 years of experience in forestry and responsible forest practices to implement this process.
A baseline assessment is planned for 2017 from which progress will be reported against as the policy is implemented and assessed in subsequent years on an annual basis.
Colgate-Palmolive's sustainability team will work closely with the procurement team to implement, monitor and maintain this policy.
Working with Our Suppliers
Suppliers of paper and packaging are expected to meet the requirements of this policy in addition to respecting all local laws and regulations. Suppliers will be educated on and evaluated against our policy expectations. If a supplier is not able to immediately meet our policy expectations, we will work with them to develop an action plan with time-bound milestones for conformance.
If a supplier is unable or unwilling to take the necessary actions to conform to the expectations outlined in our policy, Colgate-Palmolive may terminate the business relationship with the supplier. For example, Colgate-Palmolive may terminate our business relationship with suppliers who choose not to create action plans or fail to meet time-bound milestones and/or suppliers who are suspended from FSC or equivalent organizations.
Our Progress
To be completed with results of 2017 baseline assessment.
Transparency
We will report on progress toward our goals annually in our annual Sustainability Report to be published on the Colgate-Palmolive Sustainability website. In addition, Colgate-Palmolive discloses progress on responsible and sustainable sourcing of pulp and paper via CDP Forest disclosure.

Palm Oil

Palm oil is the most widely traded vegetable oil in the world and is used in many food and household products. Over 85 percent of the world's palm oil comes from Indonesia and Malaysia, where land is sometimes converted from forest to palm plantations, resulting in greenhouse gas emissions, impacts on biodiversity and social concerns.

Colgate is committed to sourcing responsible palm oil, palm kernel oil and palm oil derivatives that do not contribute to deforestation. By 2020 Colgate will source palm oil, palm kernel oil and their derivatives that are responsibly and sustainably produced and from sources that can be traced from plantation to product.
For more information, see Colgate's Policy on Responsible and Sustainable Sourcing of Palm Oils.

Soy

Soy, or soy oil, is an ingredient used in certain Colgate products. Colgate sources soy and soy oil from the United States and Brazil. As at least one organization has linked soy production in Brazil to deforestation of the Amazon and other highly biodiverse forest regions, we will commit to focusing resources to eliminate deforestation in our soy supply chain. As a minimum, we will:
Join and support the Roundtable on Responsible Soy
Support efforts such as the Soy Moratorium that help minimize deforestation from soy expansion and increase transparency in the soy sector
Map our soy usage and geography of supply
Work with our suppliers in Brazil and any other high-risk areas to assess the availability of soy that does not contribute to deforestation in our soy supply chain, such as soy certified by the Roundtable on Responsible Soy, and will increase our purchase from these suppliers.
By 2017 we will procure soy and soy derivatives that are not linked to deforestation, verifying this through independent third-party verification and monitoring.
Tallow

Tallow is a key ingredient in bar soap production and is a cattle byproduct. Colgate sources tallow from suppliers in North America, Latin America and Europe. In Brazil, there are concerns that rising demand for beef as a food source is prompting farmers to clear parts of the Amazon rainforest for cattle ranching.
Currently, we require Brazilian suppliers to certify that they are following the environmental and social requirements set forth by the Brazilian Institute of Environment and Renewable Natural Resources (IBAMA). We are also working to minimize the amount of tallow purchased from reportedly high-risk areas. We will continue to work with our suppliers to minimize the amount of tallow purchased from high-risk areas with a goal of eliminating such purchases as soon as possible.
Moving forward, we will:

Collaborate with industry and stakeholder groups such as the Global Roundtable for Sustainable Beef to work toward zero deforestation in this area.
By 2017, require all applicable suppliers to be in compliance with the "Minimum Criteria for Industrial Scale Cattle Operations in the Brazilian Amazon Biome" set in 2009.
Implementation

Colgate will work closely with employees, customers, suppliers, NGOs and other key stakeholders to increase awareness and commitment to the new no deforestation policy and to build our capability to achieve the 2015-2020 targets. The policy criteria will be included in the Colgate supplier selection process. Existing suppliers will be given reasonable time to comply with the policy. To confirm compliance, we will require extensive supplier auditing and evidence and will use independent certification and verification scenarios, along with monitoring tools such as the Global Forest Watch. Suppliers will be expected to apply the policy across their entire operations. In the event of non-compliance, Colgate will work with suppliers to create an action plan, with reasonable time commitments to meet our requirements. Suppliers failing to meet our time-bound requirements will be subject to non-renewal or termination of contracts. Colgate will continue to monitor and verify that our policies are being properly implemented.
Annual progress of the 2020 goal will be reported in our Sustainability Report, which is located on the Colgate website.
Last Updated: April 30, 2018