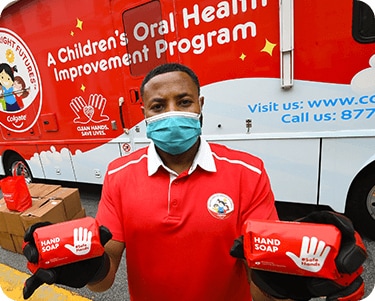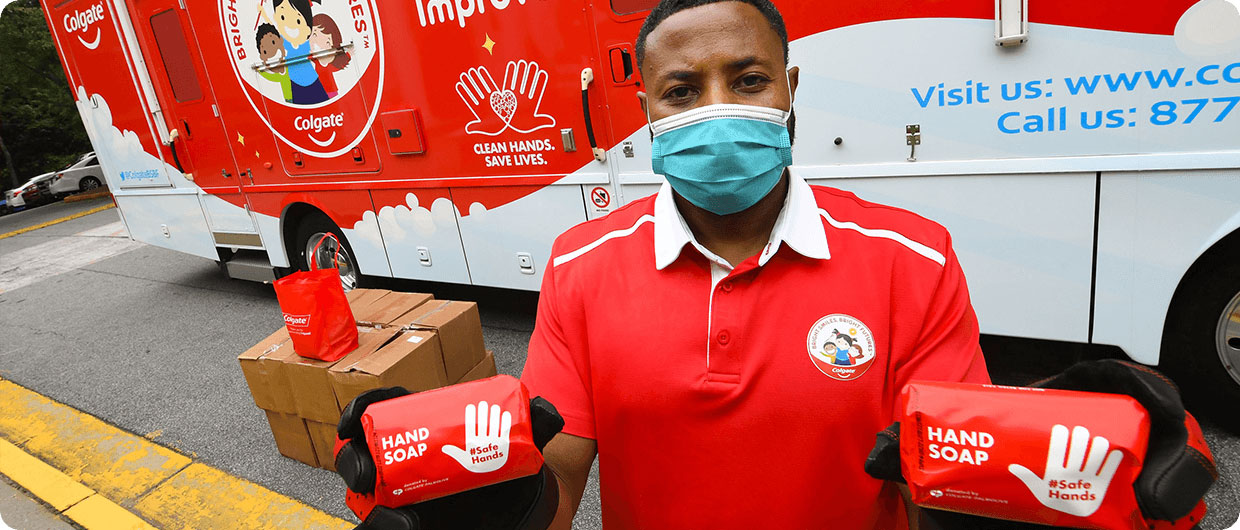 At Colgate-Palmolive, our very purpose is to advance the health and wellness of people and pets. We recognize we have a profound responsibility – now more than ever – to help protect people.
Updated November 2020
Our incredible teams around the world are working hard to support those in need and help people continue their daily routines — to brush their teeth, wash their hands, care for their skin, clean their homes, bathe and shower, and feed their pets. We are more dedicated and determined than ever.
Donating $20 Million in Health and Hygiene Products to Community-Based Organizations
We're providing $20 million in health and hygiene products to community-based organizations that are distributing the donated product to those most in need in local communities. Local Colgate teams are also supporting the most vulnerable populations including front line medical and emergency care workers through donations of health and hygiene products including 1 million bars of Protex soap in Thailand, skin care products from EltaMD and PCA Skin in the US, and products to the Red Cross in Southern Europe and other organizations including the Good+ Foundation, NHS, Good360, Habitat para la Humanidad, Salud Pública RD and United Way. PCA Skin also donated proceeds of its Daily Care Mask sales to assist in the production of Personal Protective Equipment. (PPE). In New York, Colgate has donated health and hygiene products to local hospitals including Memorial Sloan Kettering and Mount Sinai, medical professionals, and nonprofit organizations serving the homeless. We're also supporting small businesses by offering protection kits/screens in Peru and the Dominican Republic.
Supporting Healthcare Professionals and Small Business
To help aid healthcare professionals on the front lines, Tom's of Maine has donated $60,000 and nearly $500,000 worth of personal care products to Direct Relief, a humanitarian organization providing protective gear and supplies to communities hardest hit by COVID-19. The organization is also supporting 50 small businesses across the U.S. through its #NatureNurtures video experiences to help us all feel more connected, mindful and healthy. Learn more here.
Supporting Animal Welfare Partners
Our Hill's Pet Nutrition team has a strong commitment to animal welfare programs around the world. Hill's Disaster Relief Network in the U.S. has donated 36,000+ pounds of nutritional support to more than 55 organizations including shelters, pet food pantry partners, veterinary hospitals, and other nonprofits that support animal welfare. Hill's has also partnered with The Association for Animal Welfare Advancement to provide $400,000 in grants to animal shelters impacted by COVID-19. In Italy, Hill's has donated 2325kg of nutritional support to facilities in the northern Lombardy region. In Brazil, we've donated six months of food to under-resourced pet shelters. Learn more about the Hill's response to COVID-19 here.
Launching Global Employee Matching Gifts Program to Support Relief
We've launched an employee matching gift campaign for all 34,000 Colgate employees around the world. Colgate is matching $1 million in employee donations, which will go to nonprofit partners supporting those in need, such as WHO, Save the Children and CARE, among others.
You might also be interested in...
Colgate-Palmolive Update on Aid Efforts and Actions

Read more

»

Colgate Women's Games is Back for 47th Season

Read more

»

Sisters on Track Film and Colgate Women's Games Race Toward Social Impact

Read more

»