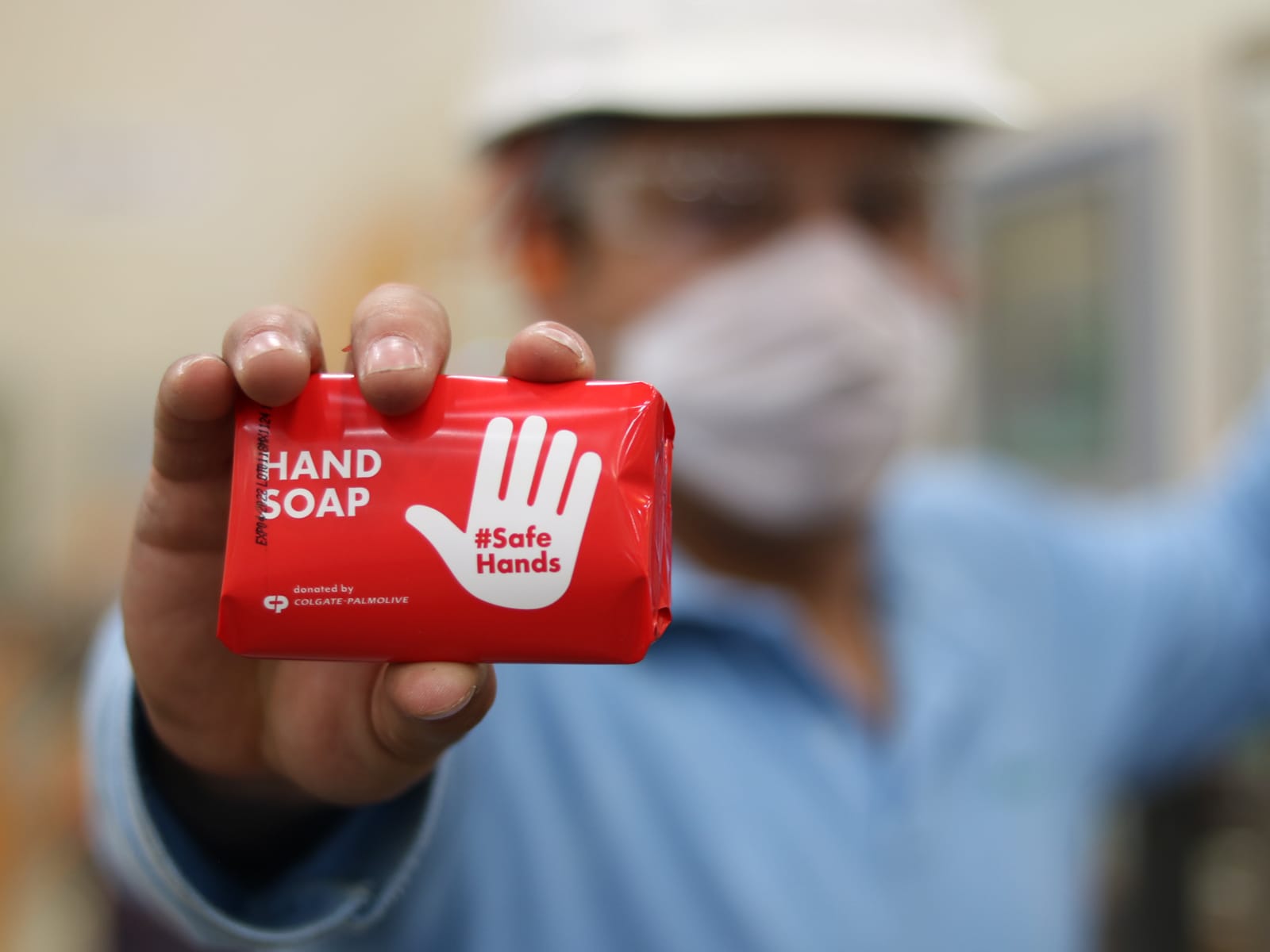 Colgate-Palmolive mobilized an international manufacturing effort to produce millions of bars of soap to slow the spread of COVID-19.
I t's difficult to overstate the sheer amount of change — the sheer amount of loss — we've experienced since COVID-19 appeared in late 2019.
Few could have predicted the scale of global transformation in those early days of the pandemic. But there were those, like the World Health Organization (WHO), who understood the importance of acting quickly and decisively to save lives. And companies like Colgate-Palmolive immediately brought its resources to bear to join the effort to stop the spread of coronavirus.
On March 13, 2020, WHO Director Tedros Adhanom Ghebreyesus launched the #SafeHands Challenge, urging everyone to wash their hands regularly and for at least 40 seconds. In the two days following the campaign's launch, the hashtag #SafeHands was used on TikTok 500 million times. People were getting the message, but without action to back it up, messaging can ring hollow.
Teams at Colgate knew they could help by bringing tangible solutions to what was then an opaque global crisis.
"Colgate's very purpose is to advance the health and wellness of people and their pets," Colgate-Palmolive President Noel Wallace said in an April 2020 statement. "We recognize we have a profound responsibility, now more than ever, to help protect people."
Colgate-Palmolive's Support During COVID-19
26.5 million bars of soap donated and distributed globally.
$20 million in health and hygiene products donated to community-based organizations.
34,000 Colgate employees are part of the matching gift campaign (up to $1 million).
$60,000 cash & $500,000 in personal care products donated by Tom's of Maine to Direct Relief.
36,000 pounds of nutritional support donated to 55 organizations by Hill's Pet Nutrition.
$400,000 in grants to animal shelters impacted by COVID-19 donated by Hill's Pet Nutrition in partnership with The Association for Animal Welfare Advancement.
Colgate would mobilize five manufacturing plants on three continents to produce a new soap that was specially packaged with instructions on proper handwashing to amplify the WHO #SafeHands message. The initiative, from concept to implementation, took two weeks. "We were aligned on a common purpose and we went fast because people needed us to," Jared Richardson, Head of Global Design at Colgate-Palmolive, said.

Each bar of soap was wrapped in special packaging that included instructions on proper handwashing to reinforce the WHO's #SafeHands directive.
The ability to align Supply Chain, R&D, Marketing, Design, Packaging Engineering, and executive teams to bring a new product to market on a global scale within two weeks is unprecedented. Richardson remarked that the #SafeHands project may be the fastest in Colgate's two centuries of business.
The intradepartmental, multinational mobilization effort resulted in 26.5 million bars of soap being manufactured and donated across 28 countries facing acute needs. Each bar of soap was wrapped in special packaging that included instructions on proper handwashing to reinforce the WHO's #SafeHands directive. It's estimated that 100 million people used the soap.
Colgate-Palmolive also promoted the #SafeHands challenge across its own media platforms, engaging global ambassadors and influencers.
What's next for #SafeHands? The world has fundamentally transformed since COVID-19 emerged, and while it's far too easy to focus on the tragedy of the pandemic, these years have also shown the world what's possible when the efforts of many are focused on accomplishing a singular goal.
We can mobilize with speed, efficiency, and impact — and change the world for the better.