We aim to capture each brand's essence and relay it to customers in a multifaceted way, giving them yet another reason to smile when using our products.
Thanks to our outstanding research and development team and a global reach that surpasses that of most companies in any sector, we have long been confident in our ability to create top-notch products and successfully market and distribute them to millions of customers around the world. Yet we're hardly content to rest on our laurels: instead, we're building on our 200-year-old foundation so we can continue meeting the needs and wants of the modern-day consumer.
A key way we're becoming more creative and innovative is by honing the user experience that surrounds each of our product lines. Our ultimate goal: to become a fully design-integrated company by 2025. We're already well on our way.
Defining Design and User Experience
In the past, brand experience was delivered almost solely through packaging, but no more. Today's people desire a deeper connection to the products they choose, and we're committed to meeting and exceeding those expectations by creating a rich design and user experience. That means every interaction a consumer has with one of our brands has to ladder back to a clear brand vision and strong product purpose.
To achieve this goal, we first challenge ourselves to distill the true essence of each of our brands and what makes them unique and successful. From there, we strive to convey a specific, consistent emotion across the brand through all touchpoints: the color of the package, the design and shape of the logo, the smell and feel of the product, in-store signage, product advertisements, and accompanying apps and social-media tie-ins are all designed to signal the same recognizable sentiment.
When a person uses one of our products, it makes an impression, however subtle. During subsequent encounters, when they have a familiar experience, we build on that impression. Over time, they gain trust and confidence in the brand.
For our iconic Colgate brand of oral care products, the overarching emotion we aim to conjure is optimism. The Colgate logo is smile-like, and the fact that our tubes are now recyclable makes users feel optimistic, as do the cheery customer service representatives who address any product inquiries. The name of our new Colgate brand extension, hum by Colgate, also signals that emotion. The packaging, website, and app experience that go along with this smart toothbrush are all designed to empower and inspire users. Even the name hum sounds optimistic.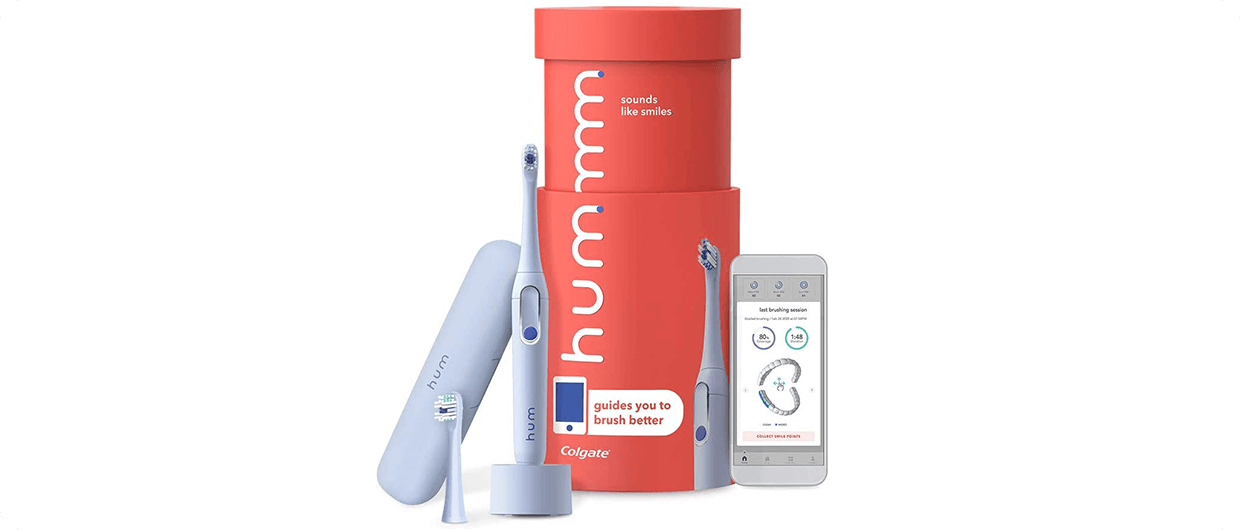 The user experience is unique to each of our distinct brands. While everything about Colgate is designed to spark optimism, Softsoap emphasizes joy. For Fabuloso, it's all about pride in having a clean home. These key emotions are already closely associated with the attributes of each brand; we simply refine and reinforce them by crafting a richer and more complete user experience.
Key Tenets of User Experience
Although each of our brands has a distinct "voice," anything that touches the Colgate master brand has to express warmth and positivity. We deliberately employ language that's human and colloquial, and all the visuals—typography, photography, illustrations, and color palettes—feel friendly and personable.
We use seven key tenets to guide us as we build and strengthen the user experience associated with all of our brands:
Delightful. The experience exceeds expectations and is memorable.
Findable. The experience is easy to navigate and easy to identify.
Accessible. The experience is accessible to everyone, including those who may have motor, vision, or other impairments.
Purposeful. The experience solves a problem or fulfills a need.
Credible. The experience is honest, trustworthy, and delivers on its promise.
Desirable. The experience evokes positive emotion and fulfills a want.
Easy to use. The experience is easy to understand and doesn't require the user to put in extensive effort, time, or resources.
The Benefits of a Richer Brand Experience
Today's consumers are discerning, and they consider—consciously or not—the products they buy to be reflections of themselves and the ideals that they value. By providing them with a consistent, multifaceted user experience for each of our brands, we are conveying and reinforcing each brand's core values.
The brand experience that surrounds each of our products, of course, is not merely for show: it is a reflection and extension of the excellent products we're proud to have created.
You might also be interested in...