A Welcome Letter From Ann Tracy, Chief Sustainability Officer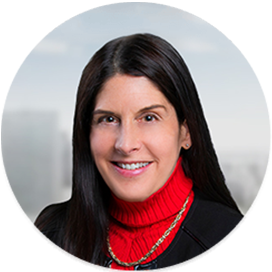 Post the 2021 United Nations Climate Change Conference (COP26), my four Gen Z kids still say that our planet is in trouble, and they're still counting on us to do something about it.
Young people—and increasingly consumers of all ages—expect the companies they support to take on the burning issues of the day: climate change, plastic waste and water scarcity, as well as health, education and diversity, equity and inclusion. At Colgate-Palmolive, we are focused on solving big problems. We are proud that our Colgate brand is in more homes than any other, and tackling these issues.
starts at home. We see that as our superpower, and we have a big responsibility to use our global reach to help the people who buy and use our products live more healthy and sustainable lives.
We are pleased to report our progress in 2021, the first year of our 2025 Sustainability & Social Impact Strategy. Our Strategy consists of three Key Ambitions with 11 actions and associated measurable targets. These actions are designed to manage both risks and opportunities for our business and to bring our purpose to life: WE are Colgate, a caring, innovative growth company reimagining a healthier future for all people, their pets and our planet.
We are focused on innovating our packaging to use more recycled plastic, less plastic or no plastic at all as we work toward our target to have 100% recyclable, reusable or compostable plastic packaging by 2025. A great example is the progress we have made to implement the first tube to be recognized by external recycling authorities as recyclable across all of our toothpaste brands. Part of our mission is to educate consumers about our recyclable toothpaste tubes, encouraging them to check locally since their community may not yet accept tubes for recycling and inviting them to learn more on our website. We are also excited to hear that other major brands have pledged to move to a recyclable tube by 2025 so that approximately 75% of the 20 billion tubes will become recyclable. We're working with our suppliers to ensure we have strong responsible sourcing programs in place, helping to reduce emissions and water use in our value chain. Finally, in the communities where we live and work, we have reached over 1.4 billion children and their families with our Bright Smiles, Bright Futures® oral health education program and helped to find over 12 million shelter pets forever homes through our Hill's Food, Shelter & Love™ program. We invite you to learn more about our progress towards our 2025 Sustainability & Social Impact Strategy through this newly designed interactive report.
While we are proud of our progress so far, we recognize there is much more work to be done. And this work cannot be done without collaboration with our consumers, suppliers, retailers, communities and, most importantly, Colgate People. We are working to fully embed sustainability into our growth strategy and across all facets of our business. Together we will tackle these problems and inspire people to live more sustainably. Together, we will smile, because we are reimagining a healthier future for all people, their pets and our planet.