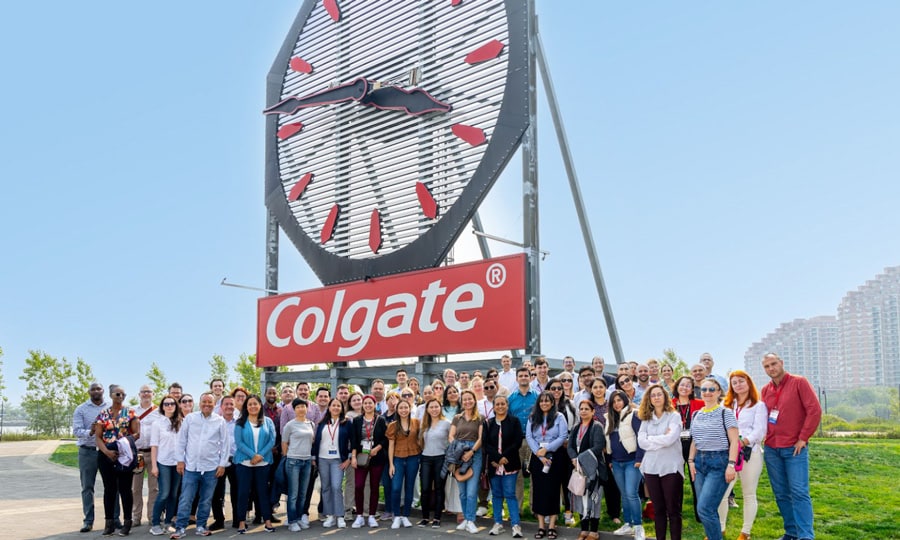 Celebrating The Chairman's 2022 You Can Make a Difference Global Award Winners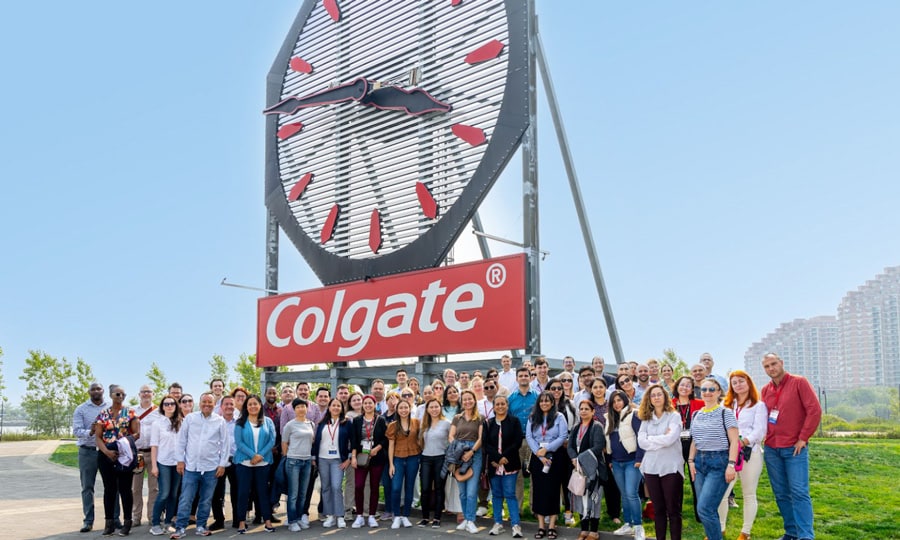 Winners recognized for advancing Colgate-Palmolive's purpose and business objectives while enjoying a week of recognition and celebrations in New York City.
Jun 30, 2023

What is The Chairman's You Can Make a Difference Program?
Colgate-Palmolive is a caring, innovative growth company that is reimagining a healthier future for all people, their pets and our planet. And each year, we celebrate the very best of our Company and our people through The Chairman's Global You Can Make a Difference (YCMAD) Program. Since 1986, this program has been Colgate-Palmolive's highest recognition of individual and team excellence – giving us all something to aspire to and smile about. It is a tradition made even more special because Colgate-Palmolive people nominate their peers for this honor.
In 2022 alone, over 10,000 people and almost 2,000 projects were nominated; 169 annual winners were selected; and among those annual winners, 45 caring Colgate-Palmolive leaders including our Chairman, President and CEO identified five global winning teams.
Once again, in June 2023 we recognized and celebrated these five amazing teams who demonstrated the highest standards of innovation, collaboration and execution – as well as our values and leadership principles. Our winners hailed from nine different countries: Argentina, Brazil, Greece, Kenya, Mexico, Poland, Turkey, Ukraine, US. The five winning teams from around the world gathered at Colgate-Palmolive's global headquarters in New York City for our Chairman's YCMAD Global Celebration Week.
Global Celebration Week Highlights
Welcome to New York – Leader Recognition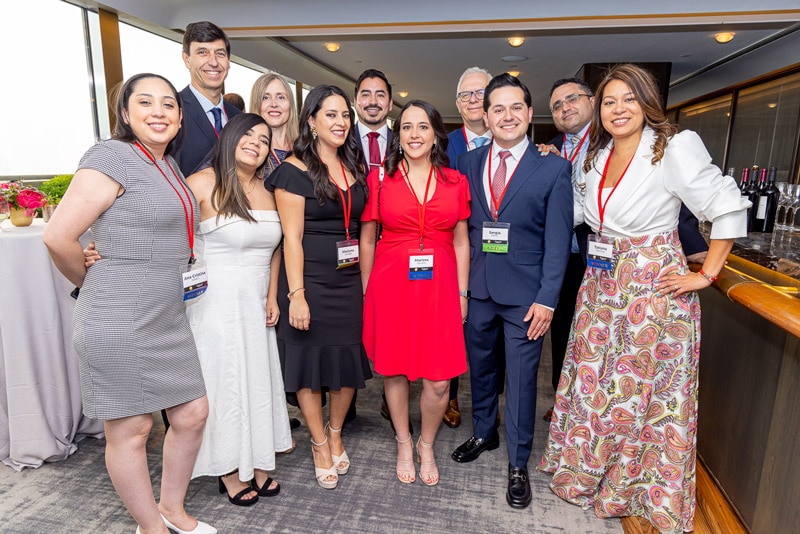 Over the course of a week, our global winners and their invited special guests with Colgate-Palmolive's Chairman, President and CEO; Board of Directors; Senior Leadership Team; and Corporate Vice Presidents based in the New York Tri-State area at a special breakfast as well as a gala dinner and awards ceremony at the iconic Rainbow Room.
Rainbow Room Gala Dinner and Awards Ceremony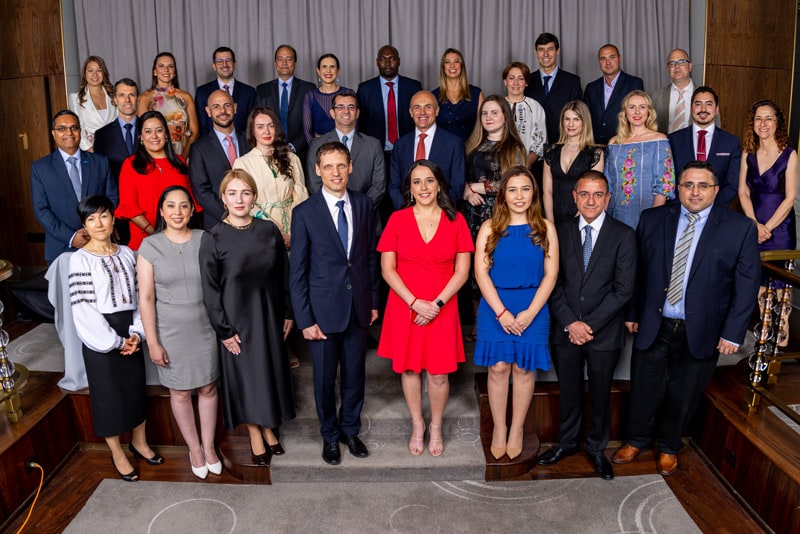 The highlight of the week was a gala dinner and awards ceremony hosted by our Chairman, Noel Wallace. Our global winners and their guests met our Board of Directors at Rockefeller Center's iconic Rainbow Room. Wallace presented each winner with a well-deserved medal for their caring, inclusive and courageous work achievements.
Global Technology Center Visit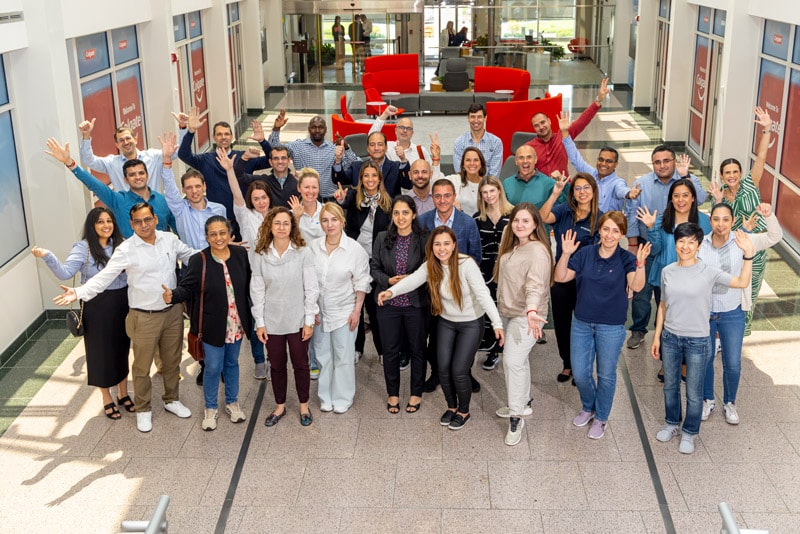 Our special winners visited our Global Technology Center in Piscataway, New Jersey, where they were hosted by Colgate-Palmolive's Chief Technology Officer, Chief Information Officer, Chief Supply Chain Officer and caring Colgate-Palmolive employee hosts. They explored how our Company innovates, including meeting with members of our R&D organization – 58% of whom are women – and learning from our scientists, including how to make Softsoap Body Wash.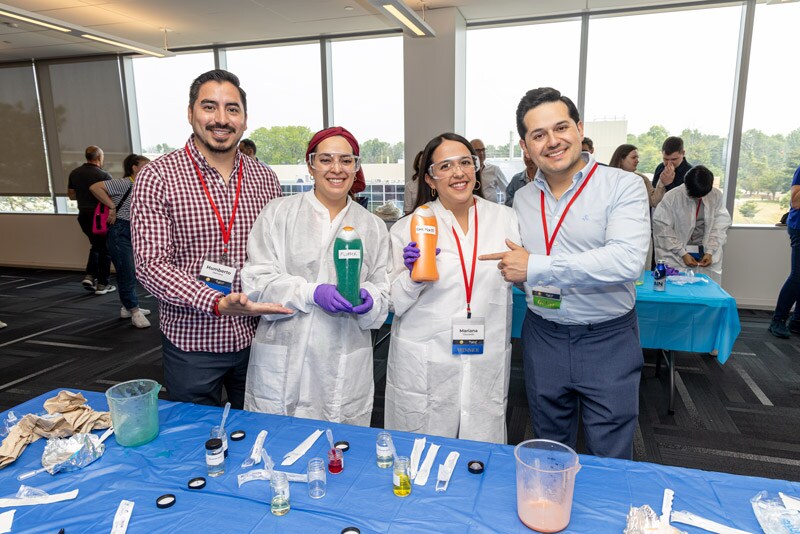 And they visited the Company's one-of-a-kind Volpe Oral Health Clinical Research Center, which is accelerating the development of the Company's cutting-edge technology and product formulas to help address the crisis of oral diseases.

Fireside Chat with retired NASA astronaut Cady Coleman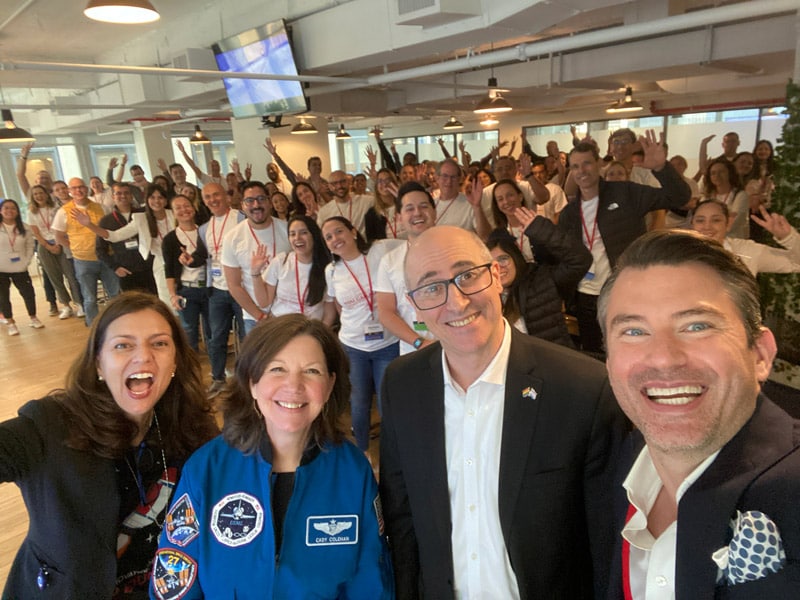 Later in the week, our winners heard from retired NASA astronaut and Colgate-Palmolive Innovation Advisor, Cady Coleman, in a fireside chat with Chief Technology officer Stephan Habif, moderated by Chief Communications Officer Paula Davis. Cady shared insights from her time in space and talked with Stephen about how Colgate-Palmolive leverages the unique microgravity environment of the International Space Station to help develop more effective and sustainable skin and oral health solutions.
Clean The Word Essential Health & Hygiene Product Kit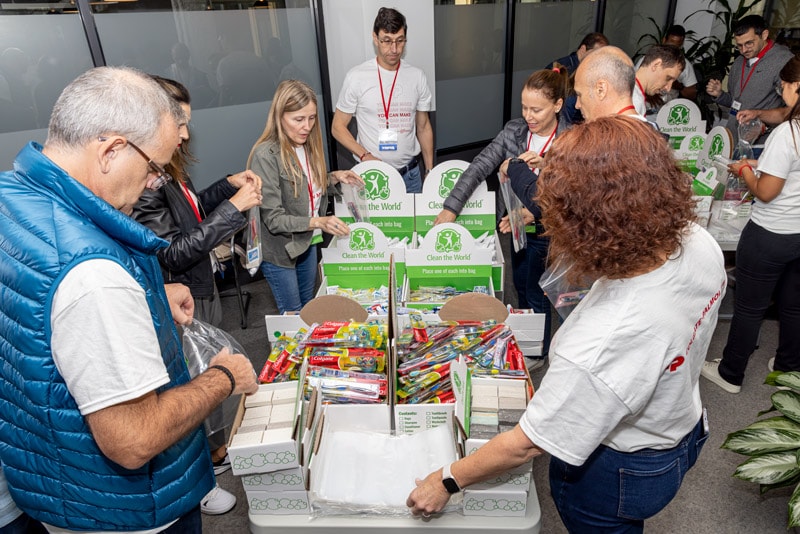 Each team worked together to assemble hundreds of essential health & hygiene kits featuring Colgate-Palmolive products to donate to local shelters around New York City. The kits, which included toothpaste, toothbrushes, soap, lotion, and more, are a part of Colgate-Palmolive's ongoing work with the nonprofit organization, Clean The World. Our teams' contributions are one more contribution as we work to fulfill our purpose of reimagining a healthier future for all.
Bracelet Ceremony – A Moment to Reflect
In addition to the special awards medal conferred at the Rainbow Room, each winner receives a commemorative bracelet, this year presented by Colgate's Chief Financial Officer Stan Sutula. The bracelet symbolizes Colgate-Palmolive's values, a subtle piece of jewelry that can be worn everyday – much like we live our values everyday. And with employees in more than 100 countries, the bracelet helps all Colgate-Palmolive identify global winners and may inspire others to think big and get things done.
2022 Winning Projects
Let's celebrate each 2022 YCMAD Award-Winning Team and their purpose-filled, impactful projects.
Team Global Supply Chain
Thinking "Out of the Box" with our First-Ever Factory-in-a-Box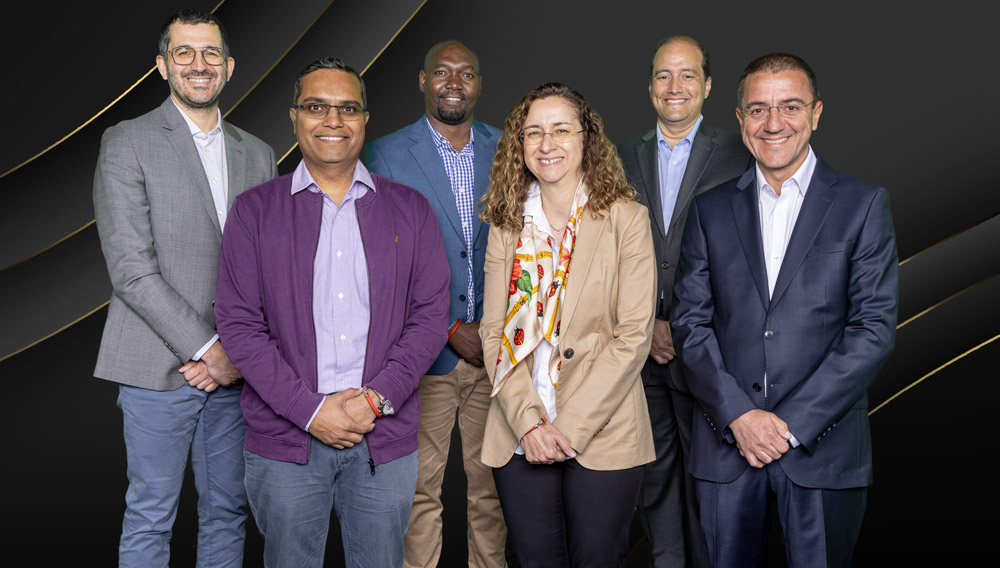 Vijay Ameta, Malaquías Jimenez, Pelin Karakas, Spyros Karapanos, Clement Morenge, Alp Tekiner
This cross-functional team developed a fully operational, mobile toothpaste-filling line that fits in a standard shipping container. The "factory-in-a-box" was quickly deployed in Nairobi, Kenya while ensuring high-quality standards. This agile and innovative solution has unlocked new growth opportunities for Colgate-Palmolive in the region while opening the door for similar concepts that may help drive growth – through agility, efficiency and resiliency – in other countries and categories.
Team C-P Brazil
Driving Profitability and Top Line Growth in a Challenging Environment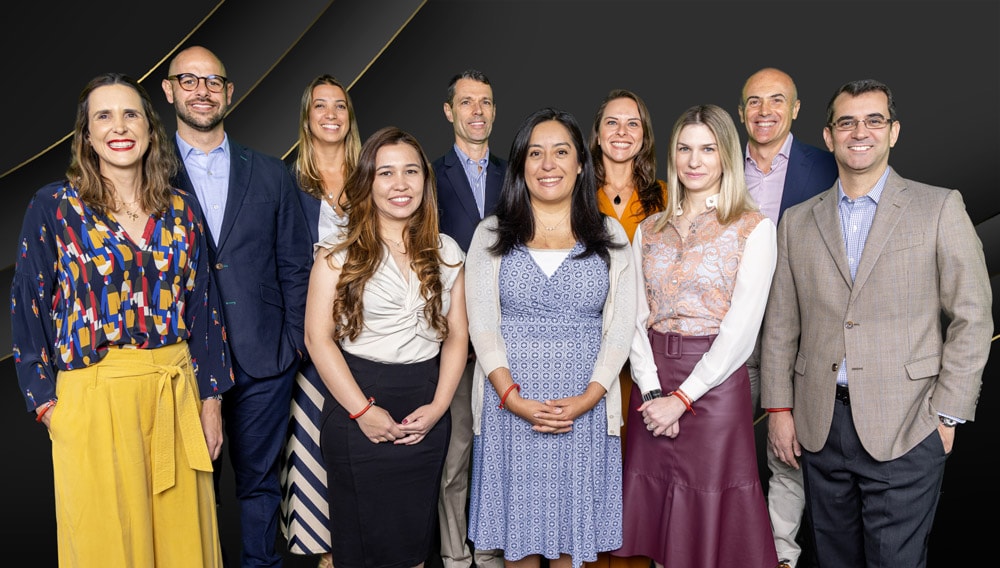 Katia Ambrosio, Laura Bachmann, André Bragantini, Daniel Fadiga, Talita Ferreira, Flavia Liberman, Nelson Malta, Nadia Mendoza, Riccardo Ricci, Luciana Tamayose
Facing unprecedented cost headwinds, C-P Brazil's commercial team sparked growth by deploying a bold, comprehensive Revenue Growth Management (RGM) strategy that included pricing and non-pricing levers such as innovative product packaging, portfolio optimization and customer training. The team assessed and analyzed over 3,000 data points to find the best combination of RGM tactics. The team's efforts helped the subsidiary achieve impressive results, including double-digit net sales and organic sales growth, a significant margin increase and significant operating profit increase.
Team C-P North America
A Holistic Approach Delivers Record Logistics Savings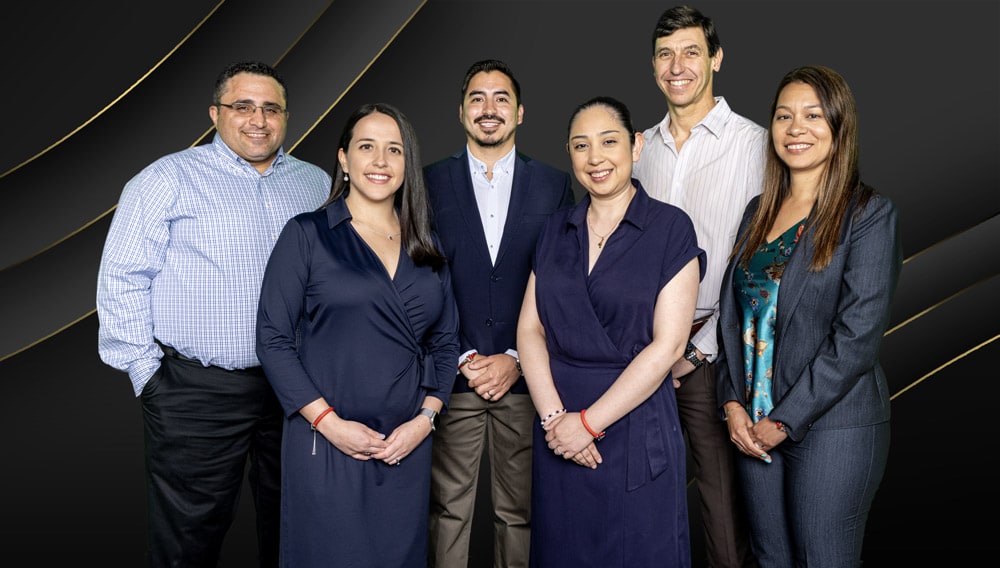 Soyer Beydilli, Mariana Guerrero, Humberto Herrera, Tatiana Martinez, Eduardo Salnisky, Mariana Saucedo, Ana Cristina Velasco
In response to major logistics cost increases caused by the pandemic that were hampering growth, this cross-functional team took a holistic approach to challenge the fundamentals of logistics by reimagining processes, elevating systems and tools. The team used data & analytics to achieve full cost visibility, identify potential efficiencies, and reduce costs and customer deductions – while also reducing carbon emissions. The team leveraged digital tools to commit to impact, achieving record Funding the Growth cost savings and also helped advance our purpose by reducing carbon emissions.
Team C-P Central Europe East
Keeping Our Colgate-Palmolive Families Safe and Connected
Bartek Żukowski
At the start of the war in Ukraine, Colgate-Palmolive People in our Kyiv office and nearby impacted areas sought refuge in other countries including Poland. Bartek Żukowski from our Warsaw office took the lead to provide crucial assistance to more than a dozen Ukrainian colleagues and their families while enlisting Colgate volunteers from Central East Europe Hub, CBS Warsaw and other countries across Europe to contribute accommodation, transportation, and supplies. Bartek's efforts not only clearly embody our Caring value, they're also a shining example of the Company's leadership principles in action - by Committing to Impact, Bartek took ownership to do what's right - helping others at a pivotal moment.
Team C-P Ukraine
Ensuring Business Continuity in Unprecedented Times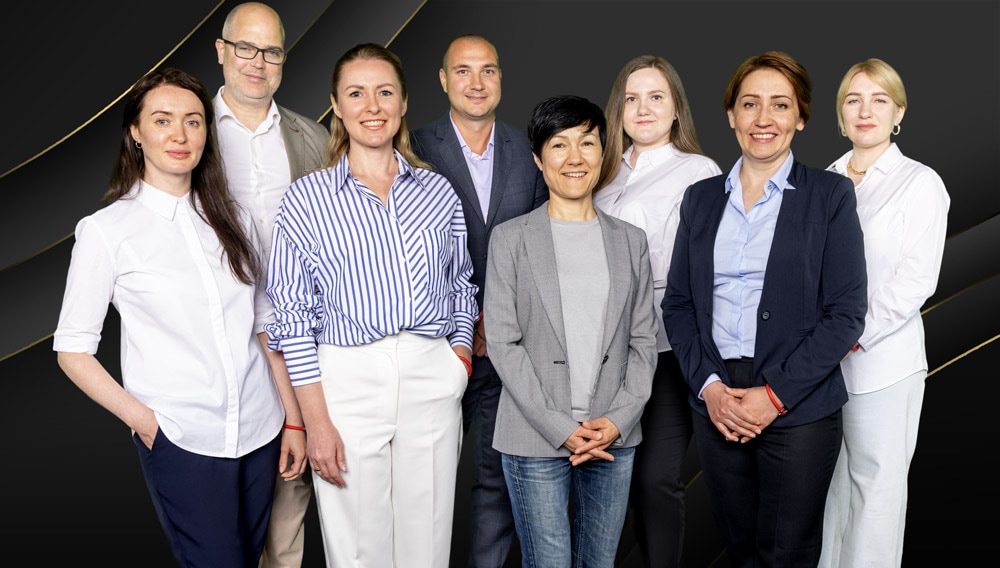 Hanna Aleksieieva, Kateryna Grosul, Gabor Koleszar, Nataliia Kornylova, Oksana Kryshchenko, Vadym Kucheriavenko, Volodymyr Mikheiev, Kateryna Savadova, Nataliia Sofiichuk, Anatolii Soloviov
Colgate's warehouse serving C-P Ukraine was destroyed in the early days of the war and the country's transportation and commercial infrastructure was in disarray. This courageous team devised innovative solutions to support business continuity that helped keep our products on shelf while diligently renegotiating terms and contracts to adapt to new realities. The team's commitment to business continuity showcased resilience and agility amid unprecedented challenges. Its efforts demonstrated innovative thinking, exceptional courage and teamwork – making a significant impact on our people and our business.
Learn more about job opportunities at Colgate-Palmolive here and follow us on LinkedIn for latest company news.
You might also be interested in...
Colgate-Palmolive Announces Recipients of its 2023 Inspire Our Future Scholarship

Read more

»

Soupline Introduces the First-of-its-Kind Softening Tablets

Read more

»

The Science Behind PCA Skin's Most Powerful Anti-Aging Serum Yet

Read more

»