Colgate-Palmolive: Spotlight on Latin employees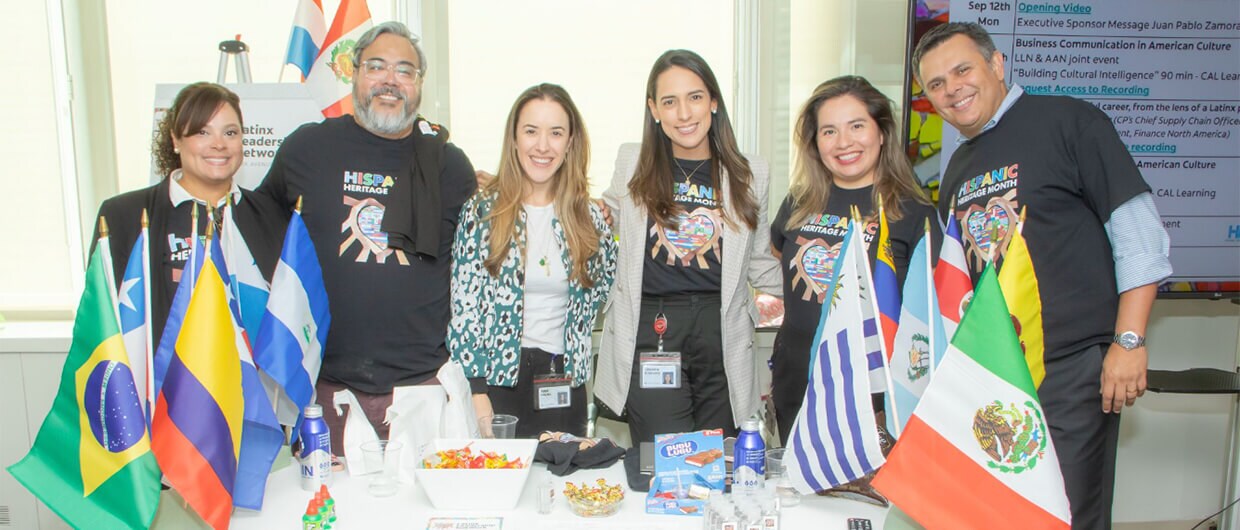 At Colgate, we are committed to our purpose of reimagining a healthier future for all people. We aim to foster a diverse and inclusive environment, where EVERYONE feels like they belong and can bring their authentic selves to work. Our Employee Resource Groups (ERGs) are a critical component of our Diversity, Equity & Inclusion (DE&I) strategy and enable us to drive inclusivity, belonging and allyship.
Our Latin Leadership Network (LLN) ERG was originally formed in 1992 as the Vistas Latinas, renamed to the Hispanic Action Network in 2005 and reimagined in 2019 as the Latin Leadership Network. Today, LLN has 3 chapters in the US, including at Colgate's headquarters in New York City, at our Innovation and Technology Center in Piscataway, NJ and at Hill's Pet Nutrition office in Topeka, KS.

The Company is committed to providing an inclusive workplace for all people, including our Latin employees. Spearheaded by employees, Colgate signed the Hispanic Promise a first-of-its-kind national pledge to hire, promote, retain and celebrate Hispanics in the workplace, in 2019. And Colgate continues to promote a culture of diversity throughout the business.

Diversity Leadership Recognition

This year, Colgate has been recognized by Latina Style Magazine as one of the 50 Best Companies for Latinas to Work for in the US, an honor the Company has received since 1998. Colgate has also been recognized by DiversityInc as a Top 50 Company for Latino executives and by Seramount as one of the Best Companies for Multicultural Women. Additional recognitions include Top Diversity Employer by the Hispanic Network Magazine and DiversityMBA's Best Place to Work for Women and Diverse Managers.
Our Commitment to Fostering the Next Generation of Leaders

Each summer, Colgate provides internship opportunities for outstanding Latin people through INROADS, a non-profit organization that creates pathways to careers for ethnically diverse high school and college students across the country. As part of INROADS, Colgate helps young people prepare for entering the business world by helping them to enhance their interviewing skills, providing assistance with resume preparation and advice on how to make business presentations.
Our Commitment to Creating Educational Pathways
For the last 13 years, Colgate-Palmolive has partnered with the Hispanic Heritage Foundation , to empower Latin high school students to pursue higher education. Our Haz la U™ is an educational grant program that helps put Hispanic youth on the track to college by providing financial assistance via educational grants totaling $100,000 each year.
Colgate is proud to be a founding sponsor of the Hispanic Dental Association (HDA), the leader for Hispanic Oral Health that provides service, education, advocacy, & leadership for Hispanic & other communities that are underserved communities. This video highlights Colgate's commitment to service in the community.
We also work to further educational opportunities for Latin people. We've partnered with the Hispanic Dental Association Foundation - for scholarships to future dental professionals..
In Latin America, Colgate works with the Latin American Oral Health Association (LAOHA) and the Caribbean Oral Health Initiative (COHI) to improve the oral health of Latin American and Caribbean populatios through research and education. Colgate supports their Doctoral Scholarship Program, which provides scholarships to young leaders from Latin America, the Caribbean and some African countries that have a lack of postgraduate courses.
And, Hill's Pet Nutrition partners with the Latinx Veterinary Medical Association, providing yearly scholarships to three veterinary students of Latin American descent enrolled in veterinary colleges in the US and Canada.
Our Bright Smiles, Bright Futures® program is committed to providing free dental screenings and oral health education to people that need it most. Colgate's fleet of mobile dental vans travel to communities all over the United States to provide access to oral health education and treatment referrals to more than 10 million children in partnership with retail to celebrate Hispanic Heritage month.
The Power of WE
All of these efforts are energized by Colgate people working together to create a meaningful impact. Through the power of WE, Colgate-Palmolive is empowering a brighter future for people with disabilities, caregivers, employees and allies within our company and within the communities we serve.
To learn more about how Colgate-Palmolive is reimagining a healthier future for all people and building a more inclusive culture, check out our 2023 Diversity, Equity and Inclusion Report and follow us on LinkedIn.
You might also be interested in...
How Interns are Helping Colgate-Palmolive Create the Future

Read more

»

Colgate-Palmolive: A Safe and Inclusive Workplace for People with Disabilities

Read more

»

How Colgate's Global Technology Organization Is Cultivating an Inclusive and Innovative Culture

Read more

»