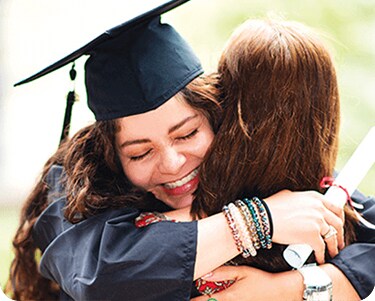 Reaching college is one of the biggest dreams of Hispanic families and you are on your way to achieving it.
"Make the U" is an educational program from Colgate-Palmolive in partnership with the Hispanic Heritage Foundation that offers financial relief to Hispanic youth on their path to higher education.
If you have maintained academic excellence, have dedicated service to the community, and have demonstrated leadership, your effort could be rewarded by winning one of: 100 SCHOLARSHIPS WORTH $1,000 EACH* for a grand total of $100,000 in support of higher education for Hispanics.
If you:
MAKE THE U AND PREPARE TO GO FARTHER!
Applications will be available from September 1 through December 6, 2020.
*NO PURCHASE NECESSARY. Colgate-Palmolive will grant a total of 100 scholarships worth $1,000 each. Program Eligibility Criteria: Rising Senior (student graduating in the Spring of 2021), planning to enroll in college in the Fall of 2021, of Hispanic/Latino descent, minimum 3.0 GPA (on a 4.0 scale) or 7.5 (on a 10.0 scale), U.S. citizen, legal permanent resident or DACA eligible. Applications must be submitted online between 9/01/20 - 12/06/20.
You might also be interested in...
Colgate-Palmolive's Inaugural "Inspire Our Future" Scholarship Empowers Emerging Leaders

Read more

»

Colgate Cares: Supporting the LGBTQI+A Community

Read more

»

Using the Power of We to #BreakTheBias at Colgate-Palmolive

Read more

»