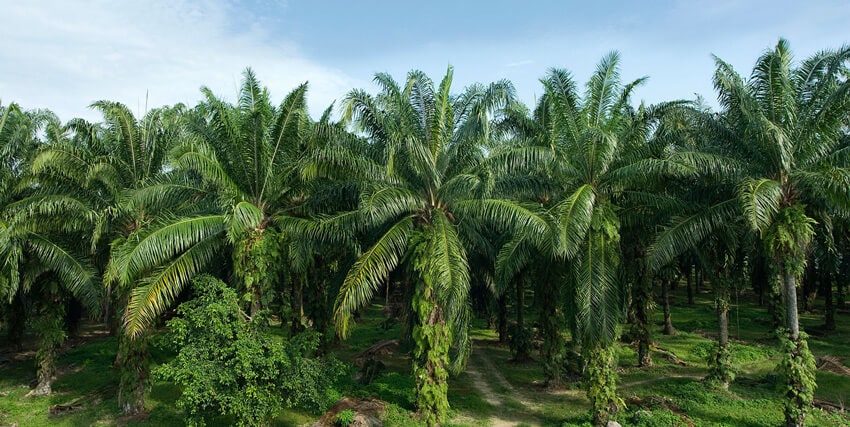 Background
At Colgate-Palmolive Company (Colgate) we support a vision for a future without deforestation. This commitment is grounded in our core values of caring, global teamwork and continuous improvement. We have an overarching Policy on No Deforestation covering the following forest commodities: palm, soy, beef and pulp and paper. This is a commodity-specific policy that addresses palm.
Palm oil is the most widely produced vegetable oil in the world and continues to grow in its use, replacing other vegetable oils. More than 85 percent of the world's palm oil comes from Indonesia and Malaysia, where land is sometimes converted from forest to palm plantations, resulting in greenhouse gas emissions, impacts on biodiversity, and social issues linked to deforestation.
Colgate uses palm oil, palm kernel oil and palm oil derivatives in some of our soap products, toothpastes, antiperspirants, deodorants, and household cleaners.
Our Commitment
Colgate-Palmolive is committed to sourcing responsible palm oil, palm kernel oil (PKO) and palm oil derivatives that do not contribute to deforestation.
By 2020 Colgate-Palmolive will source palm oil, PKO and their derivatives that are responsibly and sustainably produced and from sources that can be traced from plantation to product.
Scope
This policy applies to the sources of all Colgate-Palmolive's operations, subsidiaries and joint ventures.
Our suppliers will be expected to apply this policy across all operations including landholdings, joint ventures and third-party suppliers.
Requirements
As we strive for zero deforestation in our operations and activities, we will partner with stakeholders and our suppliers to build a transparent global supply chain that meets the following criteria:
No deforestation of High Carbon Stock (HCS) forest
No deforestation of High Conservation Value (HCV) areas
No use of fire for land clearance
No new development on peat lands, regardless of depth
Reduction of Greenhouse Gas Emissions
No exploitation of people or local communities
1. No Deforestation of High Carbon Stock Forests or High Conservation Value Areas
High Carbon Stock Forests
High Carbon Stock forests encompass primary forests as well as High, Medium, Low Density and Regenerating forests. Young Scrub, Cleared/Open Land areas, existing plantations or other land already in agricultural production may be developed. We recognize and support the HCS Approach developed by the HCS Steering Group.
High Conservation Value Areas
High Conservation Value areas are lands that have particularly high environmental and social significance, with attributes such as significant concentration of biodiversity, rare, threatened or endangered ecosystems and areas critical to the cultural identity and needs of a local community. These areas should not be cleared nor, for forest-based products, should they be harvested in a manner that threatens the HCVs.
2. No Use of Fire for Land Clearance
Colgate-Palmolive will source from suppliers who prohibit the use of fire as part of land preparation, replanting or other developments.
3. No New Development on Peatlands, Regardless of Depth
Colgate-Palmolive will not accept new development of any peatland, regardless of its depth. In instances of existing plantations on peat, best management practices should be followed and, where possible, peat restoration should be attempted.
4. Reduction of Greenhouse Gas Emissions
Suppliers will be expected to work continuously to reduce greenhouse gas emissions and pollutant emissions from existing mills and agricultural activities.
5. No Exploitation of People or Local Communities
Human and Labor Rights
Guided by the UN Declaration on Human Rights, under a policy of no exploitation, Colgate-Palmolive requires its suppliers at all tiers to commit to: no child or forced/bonded labor; no unethical recruitment practices; and no discrimination or harassment in its supply chain. Suppliers will be compliant with all relevant laws and regulations and additionally commit to working conditions, health and safety, hours and wages that are in accordance with International Labour Organization standards. Written contracts, where required by law, will be provided to all workers in a language that they understand that details the nature of the work, rate of pay and pay arrangements, working hours, vacation and other leave, and other benefits of employment. Freedom of association and right to collective bargaining will also be guaranteed. Colgate supports the Consumer Goods Forum (CGF) Industry Resolution on Forced Labor and the Priority Industry Principles in which every worker should have freedom of movement, no worker should pay for a job and no worker should be indebted or coerced to work.
Land Tenure Rights
Colgate-Palmolive suppliers will respect the legal or customary land-tenure and use rights of indigenous and local communities, as well as their rights to give or withhold their free, prior and informed consent for operations affecting their land or resources.
Conflict Resolution
Colgate-Palmolive suppliers will resolve complaints and conflicts through a mutually agreed upon and transparently documented system that is implemented and accepted by all relevant parties.
Smallholders
Colgate-Palmolive commits to work with our suppliers to ensure that this policy is implemented in such a way that supports the inclusion of smallholders in our supply chains.
In addition, we require all palm oil suppliers to source oil from origins that do not come from areas cleared after December 31, 2015.
Next Steps
As we continue on our journey toward responsible and sustainable sourcing of palm oils, we will strive to meet the following goals:
Continue to work with suppliers and external expert organizations to identify potential social or environmental risk in our supply chain and to address those risks through transformation actions
Achieve full traceability of our palm oil, palm kernel oil and palm oil derivatives supply chains back to the first refineries, mills and to the plantation by year-end 2020
Continue to purchase increasing volumes of physical certified sustainable palm oil derivatives
Communicate the expectation that suppliers publish concession maps
Measure suppliers' conformance with Colgate-Palmolive's Policy on Responsible and Sustainable Sourcing of Palm Oils.
Implementation of the satellite monitoring system across supply chain in high-risk landscapes
Include palm suppliers in our initiative to eradicate forced labor
We will review and update our milestones and transformation plans, as well as report on our progress twice per year.
Verification
We will take a step-wise approach to verification. As an interim measure, Colgate-Palmolive will strive to procure only palm oil, PKO and palm oil derivatives certified by the Roundtable on Sustainable Palm Oil (RSPO) or equivalent standard. We will give preference to physically certified oils.
We recognize that our policy sets requirements above the RSPO Principles and Criteria and will use various independent verification systems to determine if suppliers are progressing towards full conformance with our policy.
We will give preference to suppliers whose palm oil, PKO and palm oil derivatives have been verified by an independent third party against a standard that meets the expectation in our policy.
Working with Our Suppliers
Encouraging transparency and traceability is only one aspect of Colgate's work to drive change upstream. Equally important is our work to understand our suppliers' plans and existing activities geared toward transformation and bringing their supply base into compliance with Colgate's responsible and sustainable sourcing policy.
Suppliers of palm oil, PKO and palm oil derivatives are expected to meet the requirements of this policy. Suppliers are evaluated against our policy expectations. If a supplier is not able to meet the expectations outlined in our policy, we will work with them to develop an action plan with time-bound commitments.
If a supplier is unable or unwilling to take the necessary actions to conform to the expectations outlined in our policy, Colgate-Palmolive may terminate the business relationship with the supplier. For example, Colgate-Palmolive may terminate a business relationship with a supplier who chooses not to create action plans or fail to meet time-bound commitments and/or suppliers who are suspended from RSPO or equivalent organizations.
Colgate implements structured engagement with direct suppliers through Earthworm Foundation's Engagement for Policy Implementation (EPI) tool. EPI is a supplier engagement tool which promotes a better understanding of direct suppliers' challenges, progress, and opportunities for improvement in implementation of responsible sourcing policies for palm. Through EPI, Colgate gathers information about supplier implementation activities and compliance Colgate's policy, and measures supplier progress over time. Our EPI program is focused on the development of suppliers' own policies and commitments, transparency and traceability status, grievance process, social and environmental transformation, and verification activities. The approach measures the supplier's performance on achieving goals related to No Deforestation and No Exploitation, and identifies gaps. We then work with suppliers to close the gaps identified through time-bound action plans.
Colgate will continue to engage our suppliers to ensure we make adequate progress toward full policy implementation. Earthworm Foundation will also continue to support Colgate's development with strategies to meet our palm oil sourcing requirements.
Transparency
Understanding that transparency in the sourcing of palm oil is very important in order to understand and address risks, Colgate-Palmolive, in collaboration with our palm oil suppliers, started the journey to achieve 100% transparency of our palm supply chain. Colgate is currently disclosing our direct suppliers and mill traceability information.The company is also building traceability to the plantation level.
We recognize that transparency is critical to support on the ground supplier transformation work, assess risk and evaluate supplier's performance achieving compliance with Colgate's policy requirements. We expect RSPO suppliers to publish concession maps where legally permissible and will continue encouraging suppliers to publicly disclose their refiner and mill sources.
Additionally, Colgate has been working with NGOs and other stakeholders to increase our transparency and traceability of palm mills in our supply chain.
To support such transparency, we are publishing our list of suppliers for palm oil and PKO and the mill list. This snapshot reflects our palm oil and PKO supply network refresh of December 2019. We will update the data every six months.
Colgate-Palmolive's suppliers for palm oil and palm kernel oil and mills.
We will report on progress toward our goals twice a year – in our annual Sustainability Report, as well as a semi-annual report, both to be published on the Colgate-Palmolive Sustainability website. In addition, Colgate-Palmolive discloses progress on responsible and sustainable sourcing of palm oil via our RSPO Annual Communication of Progress, the World Wildlife Fund Palm Oil Buyers Scorecard and the CDP Forest disclosure.
Transformation Through Collective Action
Colgate-Palmolive recognizes that we alone cannot transform the palm oil supply chain. We are partnering with others to accelerate the pace of change.
Colgate is a member of the RSPO, a member of the Tropical Forest Alliance, a Earthworm Foundation member, and a member of the Consumer Goods Forum (CGF) Colgate is also a member of the CGF's recently established Forest Positive Coalition of Action and has been actively engaged in the development of commodity roadmaps , including the Palm Oil Roadmap, supporting Coalition actions.
Colgate-Palmolive has signed on to remove commodity-driven deforestation from our supply chain through the We Mean Business Take Action Platform. We have also publicly supported the Indonesian government's policy to protect intact and restore degraded peatlands.
Through our risk assessment analysis and policy implementation activities, Colgate can make informed decisions about which producing suppliers and regions to support in transformation. This direct transformation work is supported by ongoing monitoring and progress management of Colgate suppliers' own transformation efforts. We continue mapping our supply chain, to continuously assess risk and prioritize regions and suppliers for targeted engagement and contribute to transformation.Colgate, in collaboration with our partner Earthworm Foundation, is supporting on-the-ground transformation activities, Transformation projects are selected based on Colgate's palm oil supply network, identified hot spots and risks, Colgate priorities, and ongoing industry transformation initiatives. To date, Colgate has prioritized engagement on deforestation and smallholder challenges in Indonesia,and has also engaged in Malaysia and Latin America.
Transformation: Landscapes
In 2017, we began to support the Earthworm Foundation's Indonesia landscape initiative, APT. APT is a multi-stakeholder program that tackles environmental and social issues at scale in an important palm oil sourcing geography encompassing the unique Leuser Ecosystem. APT's four objectives are: 1) Government Support and Multi-stakeholder Capacity Building, 2) Eliminating In-concession Deforestation of HCV/HCS Areas, 3) Reducing Smallholder-driven Deforestation of HCV/HCS Areas, and 4) strengthening NDPE practices among palm oil producers. Colgate has continuously supported APT for the last three years, as part of a diverse coalition of industry stakeholders.
In Malaysia, Colgate is supporting Earthworm's collaborative Prioritized Landscapes initiative. Colgate is contributing to the development of landscape driven initiatives in Malaysia by supporting spatial diagnostics and multi-stakeholder engagement. The foundation built by these activities will facilitate evidence-based, multi-stakeholder transformation interventions in the future.
Transformation: Smallholders
Colgate has supported Rurality, an Earthworm Foundation smallholder initiative, in Riau Indonesia for the last two years. Colgate's support advances the following two goals in this important palm oil sourcing region: 1) Create a safe environment and working conditions for farmers, families and workers, and 2) Develop youth interest and capacity to adopt stable and sustainable farming businesses.
Rurality facilitated the provision of basic personal protective equipment (PPE) such as helmets and boots to farmers' groups, expanding across 3 villages and 10 farmers' groups in 2019. Rurality also delivered training on Best Management Practices, including Occupational Health and Safety, to 226 farmers.
With Colgate's support, Rurality launched an agricultural education program in a junior high school, including a ½-hectare demonstration lab. Rurality partnered with Soedirman University to create an agricultural education curriculum for youth, and trained 16 junior high school teachers to deliver the curriculum. By the end of 2019, 57 intra-curricular sessions had been conducted with a total of 167 teachers and students participating.
Transformation: Human Rights and Social Resilience
Colgate also supported a Centre of Social Excellence (CSE) training in Aceh Tamiang, Indonesia, which strengthened APT implementation. Aceh Tamiang is in a province with remarkable biodiversity and natural resources, which are vital to the livelihoods of local people and to regional economic development. CSE is an educational initiative focused on cultivating the skills of social practitioners in order to create an enabling environment for social harmony and respect for human rights. With Colgate support, CSE convened a multi-stakeholder workshop in Indonesia, focused on improving stakeholders' understanding of land use planning issues, discussing natural resource management, and building relationships between local actors. Approximately fifty representatives attended from over two dozen local and national government offices, palm oil companies, communities, and civil society organizations. This event was instrumental in enabling stakeholder collaboration, including the local government inviting Earthworm to lead stakeholder engagement for local land use planning, and later announcing that new palm oil concessions would be halted until verified that they would not lead to deforestation.
In Latin America, Colgate is collaborating with a direct supplier to strengthen existing efforts to respect and promote human rights in their operations. Earthworm Foundation will support in identifying and prioritizing challenges and opportunities in alignment with the United Nations Guiding Principles on Business and Human Rights, and creating an action plan to address salient human rights issues.
We also continue to partner with our key strategic suppliers to drive changes on the ground and transform practices. In collaboration with Wilmar, Business for Social Responsibility (BSR) and several palm oil buyers, we continued our support of collective actions to improve working conditions and livelihoods of workers across the wider palm oil supply chain in Indonesia. This transformation project included a series of workshops to heighten awareness on wages, employment contract status and grievance mechanisms in Indonesia.
Our Progress
Colgate-Palmolive has recognized the need for a strategy to source responsibly produced palm oil since 2007, when we became a member of the RSPO. Detailed here are actions Colgate has taken:
Developed a cross-commodity Policy on No Deforestation, highlighting palm oil as one of four commodities to target for implementation (March 2014)
Communicated our policy to our direct suppliers
Began palm oil membership with Earthworm Foundation to map our supply chain, engage our suppliers and drive transformation in the supply chain (May 2015)
Identified all palm oil derivatives in our supply chain (2015)
Requested information on traceability to the mill level from 100 percent of our direct suppliers of palm oil and palm kernel oil and capturing the majority of derivative's volume and continuously increasing the volumes covered (ongoing)
Requested information on traceability to plantation from 100% of palm oil and palm kernel oil suppliers (ongoing)
Engaged direct suppliers of palm oil and palm kernel oil to encourage increased transparency and holding suppliers accountable to time-bound action plans to transform their supply chain (ongoing)
Issued a commodity-specific Policy on Responsible and Sustainable Sourcing of Palm Oils (July 2016)
Incorporated sustainability and responsible sourcing requirements in the supplier selection criteria and process
Discontinued relations with certain suppliers who are not making adequate progress toward our policy commitments and time-bound action plan (ongoing)
Committed to procure 100 percent certified palm oil and palm kernel oil (ongoing)
Included palm oil suppliers in our Supplier Responsible Sourcing Assessment program (ongoing)
Included 100 percent of palm oil and PKO suppliers in the Engagement for Policy Implementation program, working in collaboration with Earthworm Foundation (2018)
Established Governance team for palm oil suppliers to enhance current due diligence process (2017)
Initiated use of WRI-GFW satellite monitoring system to identify and manage potential deforestation alerts within our supplier's palm oil supply network (2018)
Conducted a pilot using Starling-Earthworm Foundation satellite monitoring system to enhance our current risk management program for palm oil suppliers (2019)
Supported transformation work in palm oil sourcing regions in Malaysia, Indonesia, and Latin America, focused on smallholders, landscapes, and human rights (2017-2020)
Colgate-Palmolive Statement Regarding Amnesty International Palm Oil Report.
Traceability
Colgate-Palmolive is committed to 100 percent traceability for all palm oil, PKO and derivatives. In 2019 we have sourced 74,910 metric tonnes of palm oil and PKO, and 98,843 metric tonnes of palm derivatives.
We have engaged 100 percent of our direct suppliers of palm oil and PKO to understand the source of their supply, down to the mill level. By tracing palm oil back to known mills, we can better understand social and environmental practices at the plantations and smallholder farms the mill sources from, and collaborate with our suppliers to help transform the supply chain.
The percentages in Table 1 below reflects the percentage of palm oil and PKO for each purchasing market that can be traced back to the origin mill. Being able to identify the mill sources for our palm supply allows us to prioritize upstream suppliers for engagement based on associated risk. It also allows us to seek further information and respond if concerns arise against stakeholders within our supply chain.
Table 1 Colgate Global Traceability to the Mill

Market
USA
Palm Oil
N/A
Palm Kernel Oil
99%
Market
Latin America
Palm Oil
100%
Palm Kernel Oil
10%
Market
Thailand
Palm Oil
100%
Palm Kernel Oil
99%
Market
Europe, Middle East, and Africa
Palm Oil
100%
Palm Kernel Oil
73%
Weighted Total
Palm Oil
100%
Palm Kernel Oil
90%
| | | |
| --- | --- | --- |
| Market | Palm Oil | Palm Kernel Oil |
| USA | N/A | 99% |
| Latin America | 100% | 100% |
| Thailand | 100% | 99% |
| Europe, Middle East, and Africa | 100% | 73% |
| Weighted Total | 100% | 90% |
Our traceability work helped us to identify from which country we source our Palm oil and PKO materials:
Table 2 Colgate Palm and PKO Global Sourcing per Region:

| | |
| --- | --- |
| Palm Oil & PKO Sourcing Region | % Annual Volume |
| Malaysia | 28% |
| Indonesia | 35% |
| Latin America | 21% |
| Thailand | 16% |
| | |
| --- | --- |
| Palm Oil & PKO Sourcing Region | % Annual Volume |
| Malaysia | 16% |
| Indonesia | 35% |
| Latin America | 21% |
| Thailand | 16% |
For Palm Oil Derivatives, in 2017 we started to engage with our suppliers to start the traceability journey in partnership with Earthworm Foundation. We started by focusing on the suppliers that represent 80% of our global palm and PKO derivatives volume. Based on the portfolio analysis Earthworm Foundation and Colgate-Palmolive have determined key supply chain points for achieving traceability goals in these complex supply chains which include:
First importer: the company (usually a refiner/trader) that has imported palm oil/palm products from a producing country to the country of ingredient manufacturing
First refiner: refiner in the country of production that sources crude palm oil or palm kernel oil directly from mills or from aggregators like crushers, traders or dealers
Mill: the first major aggregation point for fresh fruit bunches after having been harvested
Plantation: farms, estates, smallholder operations, etc. where the oil palm is planted and fresh fruit bunches are harvested
Many of Colgate's suppliers act as first importers themselves, and so our current focus is on identifying the origin refiners in Colgate's supply. The origin refiners will have visibility into the mills in Colgate's supply base, and represent a crucial leverage point to engage with the suppliers on transformation.
Table 3 Colgate Global Palm Oil Derivatives Traceability to the Mill

Colgate Derivatives Volume
(focus on 80% of
palm oil derivatives
total volume)

First Importer
49%
First Refiner
69%
Mill
60%
First
Importer
First
Refiner
Mill
Colgate Derivatives Volume
(focus on 80% of palm oil
derivatives total volume)
49%
69%
60%
Verification
As indicated above, Colgate-Palmolive will strive to procure only palm oil, PKO and palm oil derivatives certified by the RSPO or equivalent standard. For full year 2019 our sourcing of certified oils was as follows:
Certified Oils (% by weight)
Palm Oil & Palm Kernel Oil %
100%
Palm Oil % Derivatives
5%
Book and Claim Certificate (% by weight)
Palm Oil & Palm Kernel Oil %
0%
Palm Oil % Derivatives
28%
Total Coverage
Palm Oil & Palm Kernel Oil %
100%
Palm Oil % Derivatives
33%
Total
62%
Palm Oil &
Palm Kernel Oil %
Palm Oil %
Derivatives
Total
Certified Oils
(% by weight)
100%
5%
Book and Claim Certificate
(% by weight)
0%
28%
Total Coverage
100%
33%
62%
To monitor on the ground activities; In 2018, Colgate Initiated use of WRI-GFW satellite monitoring system to identify and manage potential deforestation alerts within our supplier's palm oil supply network. To further enhance our current risk management program for palm oil suppliers Colgate also conducted a pilot using Starling-Earthworm Foundation satellite monitoring system through 2019. Building on our learnings from 2018 and 2019, Colgate will be looking to expand coverage of satellite monitoring across all of our high-risk landscapes.