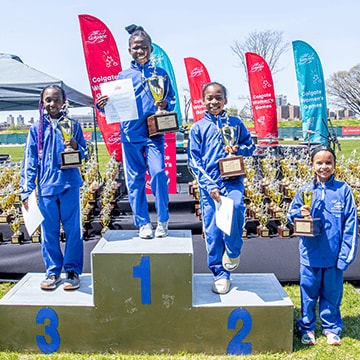 Newly Reimagined Colgate Women's Games Races to the Finish Line of 47th Season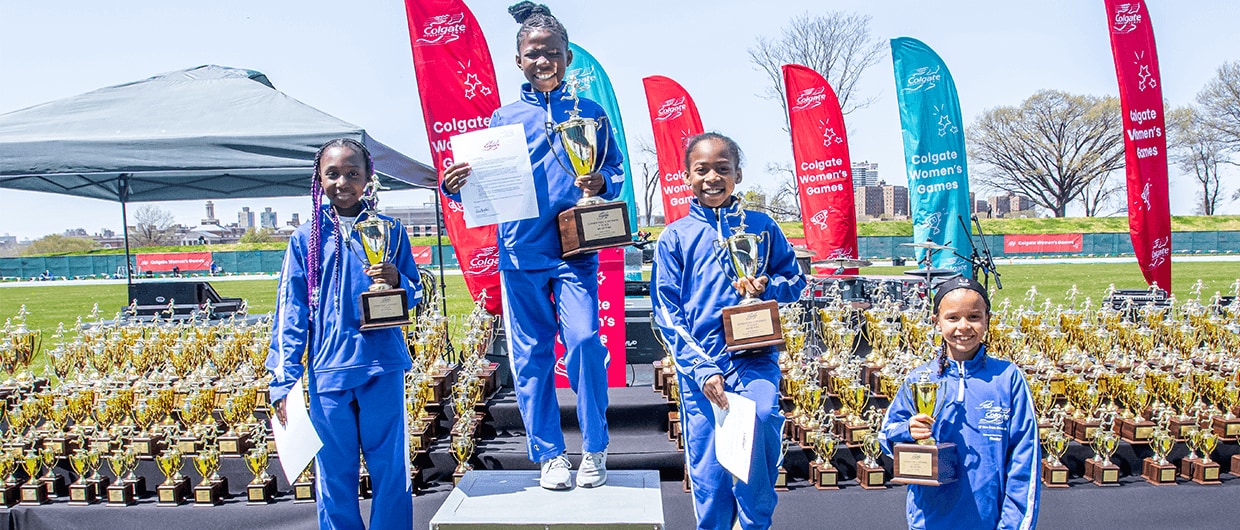 Nation's Longest-Running Track & Field Series for Girls and Women Returns with First-Ever Outdoor Competition in New York City
Colgate Women's Games was back on track this spring for its 47th season of empowering the next generation of female athletes and leaders to achieve their dreams through the power of athletics, mentorship, and education.
After a hiatus driven by pandemic-related health and safety considerations, Colgate Women's Games reimagined this season to continue providing opportunities for girls and women to develop a sense of personal achievement, foster close connections with mentors and coaches who share a passion for teamwork and personal growth, and pursue educational scholarships. More than 110 scholarships were awarded at this year's Finals.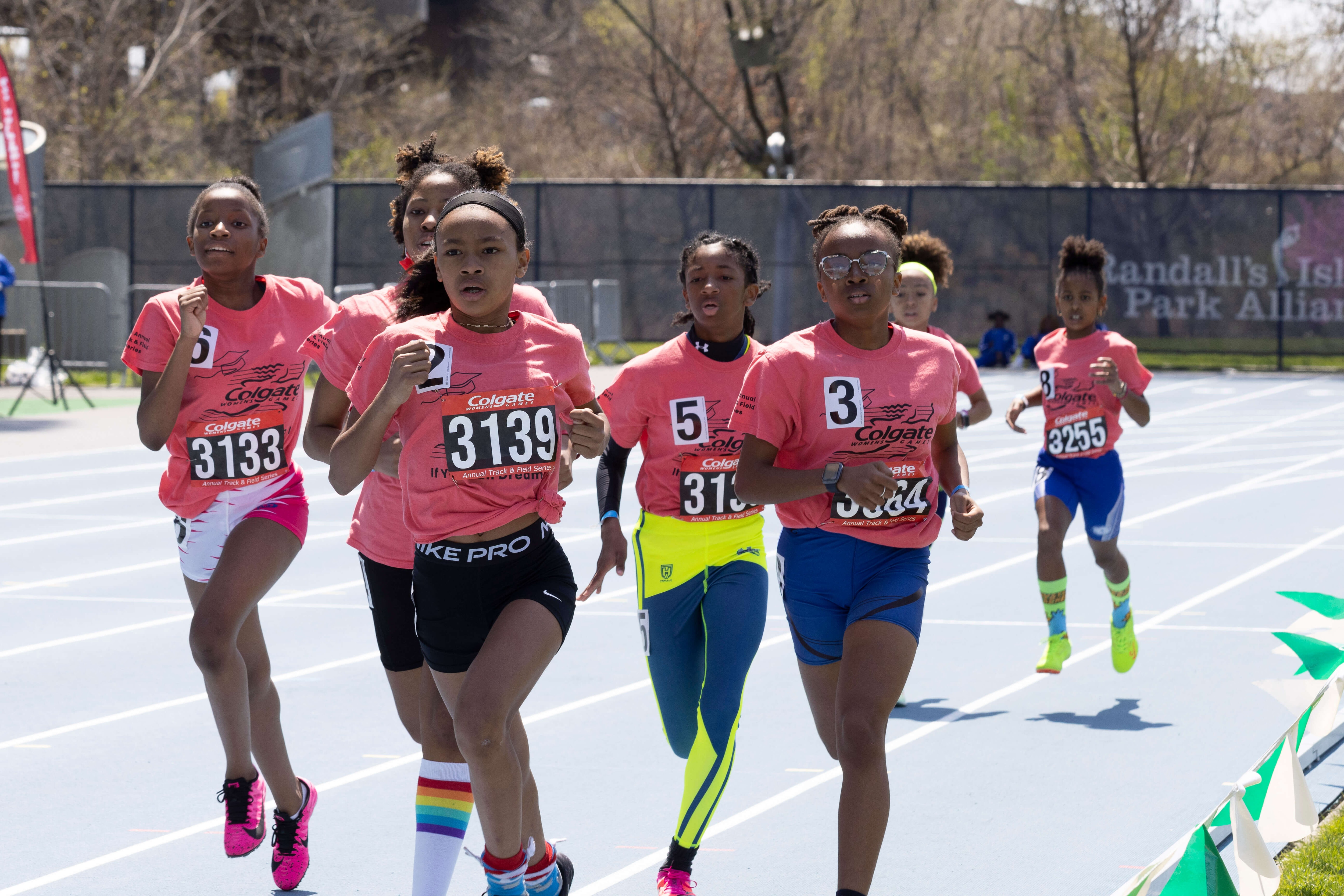 For its 47th season, Colgate Women's Games hosted its first-ever outdoor track and field competition at St. John's University for the preliminary meets and at New York City's iconic Icahn Stadium for the Semi-Finals and Finals. Also new this year is a Colgate Women's Games anthem written and performed by critically acclaimed band Tank and the Bangas. And to honor the program's return, members of the Colgate Women's Games community rang The Closing Bell® at the New York Stock Exchange.
Back on Track
Colgate Women's Games returned in full speed for its 47th season. Over the course of the season, which spanned two preliminary events, a semi-final qualifier, and the Finals, nearly 2,000 athletes competed in track and field events – on par with pre-COVID participation. The exceptional turnout this season is a testament to the strength of the program, resilience of our competitors, dedication of the coaches and staff, and transformative power of the Games.
"It was incredible to return to the track with our Colgate Women's Games community this year and to once again witness the determination, perseverance, and success of all our new and returning athletes," said Cheryl Toussaint, Meet Director of Colgate Women's Games. "The spirit of Colgate Women's Games could truly be felt throughout the season, and it was an honor to encourage and support so many young girls and women as they took another step forward in their athletic, educational, and life journey."
The Biggest and Brightest Season Yet
Colgate Women's Games brought star power to this season by enlisting Grammy-nominated singer, poet, and author Tarriona "Tank" Ball to create a brand new anthem, intended to inspire participants and spread the empowering message of the Games. Stream Colgate Women's Games anthem "Believe" here.
The excitement and energy at Icahn Stadium was palpable as Tank's critically acclaimed band Tank and the Bangas took to the stage to open the Finals with an energetic and rousing musical performance.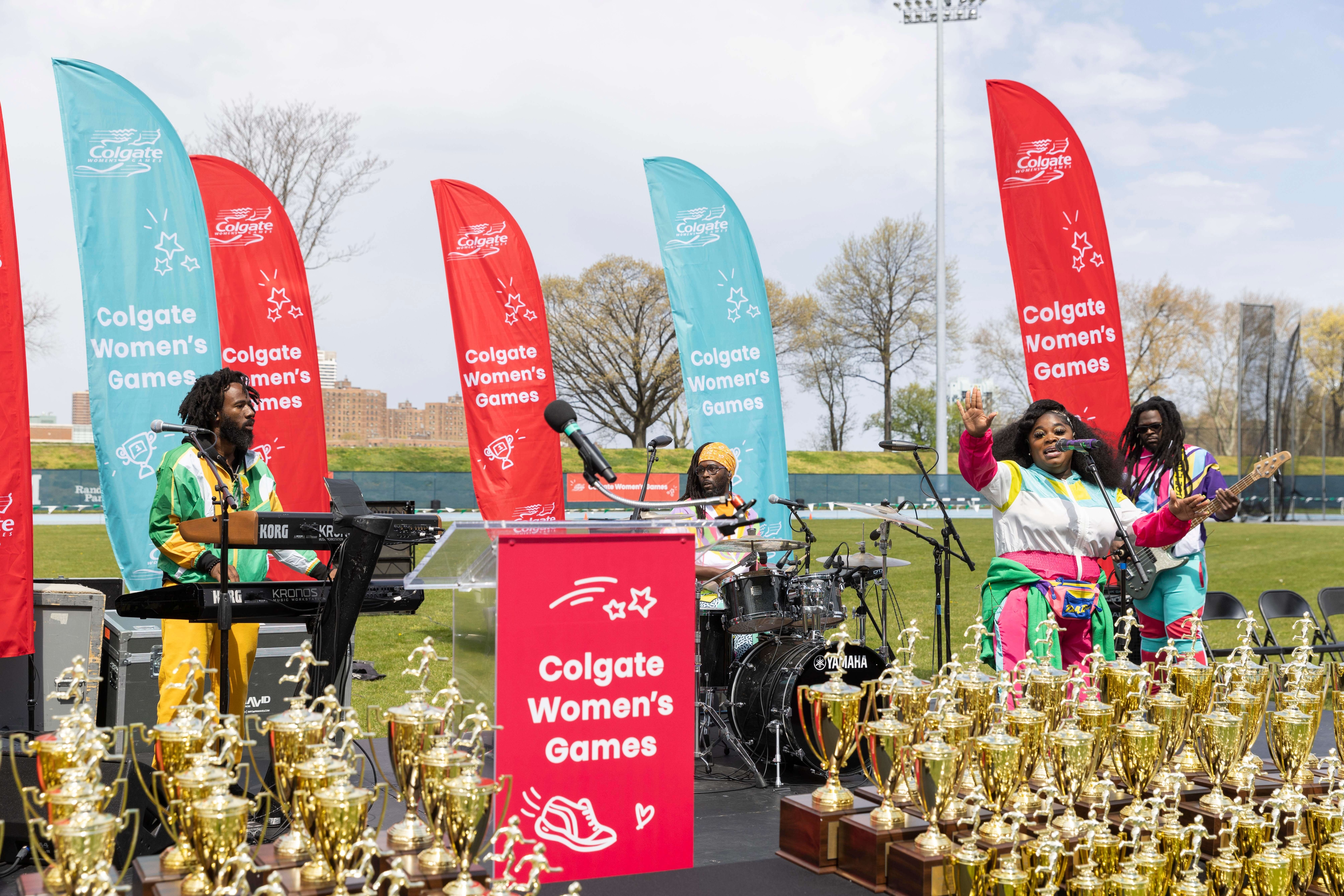 The impact and success of Colgate Women's Games is always cause for a celebration, and Colgate-Palmolive honored the Games' return at the New York Stock Exchange on April 22nd, where Cheryl Toussaint was joined by members of the US Olympic Track & Field team, Jeuness Track Club Head Coach Jean Bell, current and former Colgate Women's Games competitors, and Colgate-Palmolive leadership to ring The Closing Bell®. Check out this interview with Cheryl, live from the trading floor.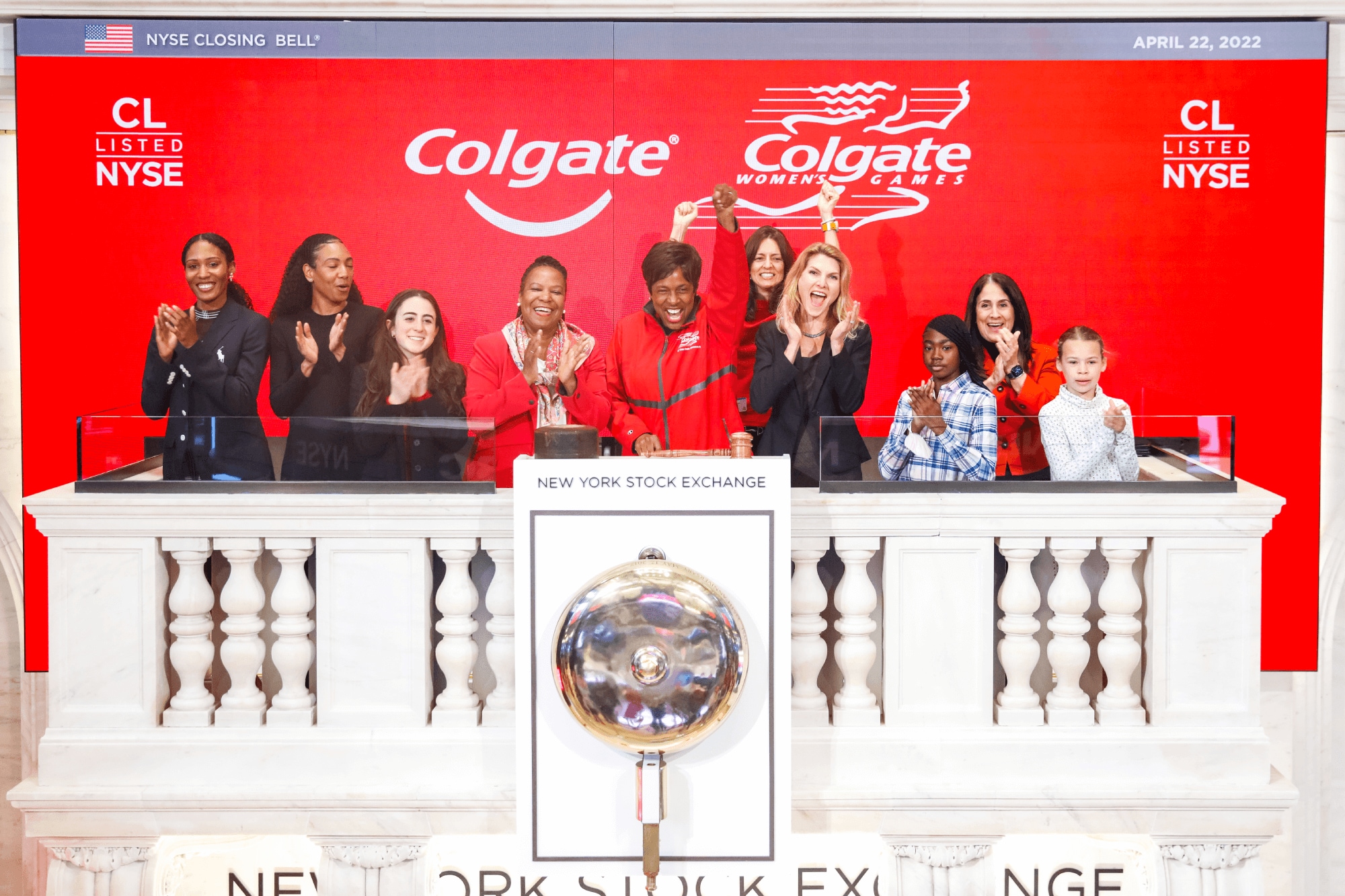 Highlights from the 47th Season
After two preliminary events and a semi-final qualifier held on three consecutive weekends, 255 competitors advanced to the April 24th Finals at Icahn Stadium in New York City, where approximately 1,500 spectators were in the stands to support and cheer on the athletes.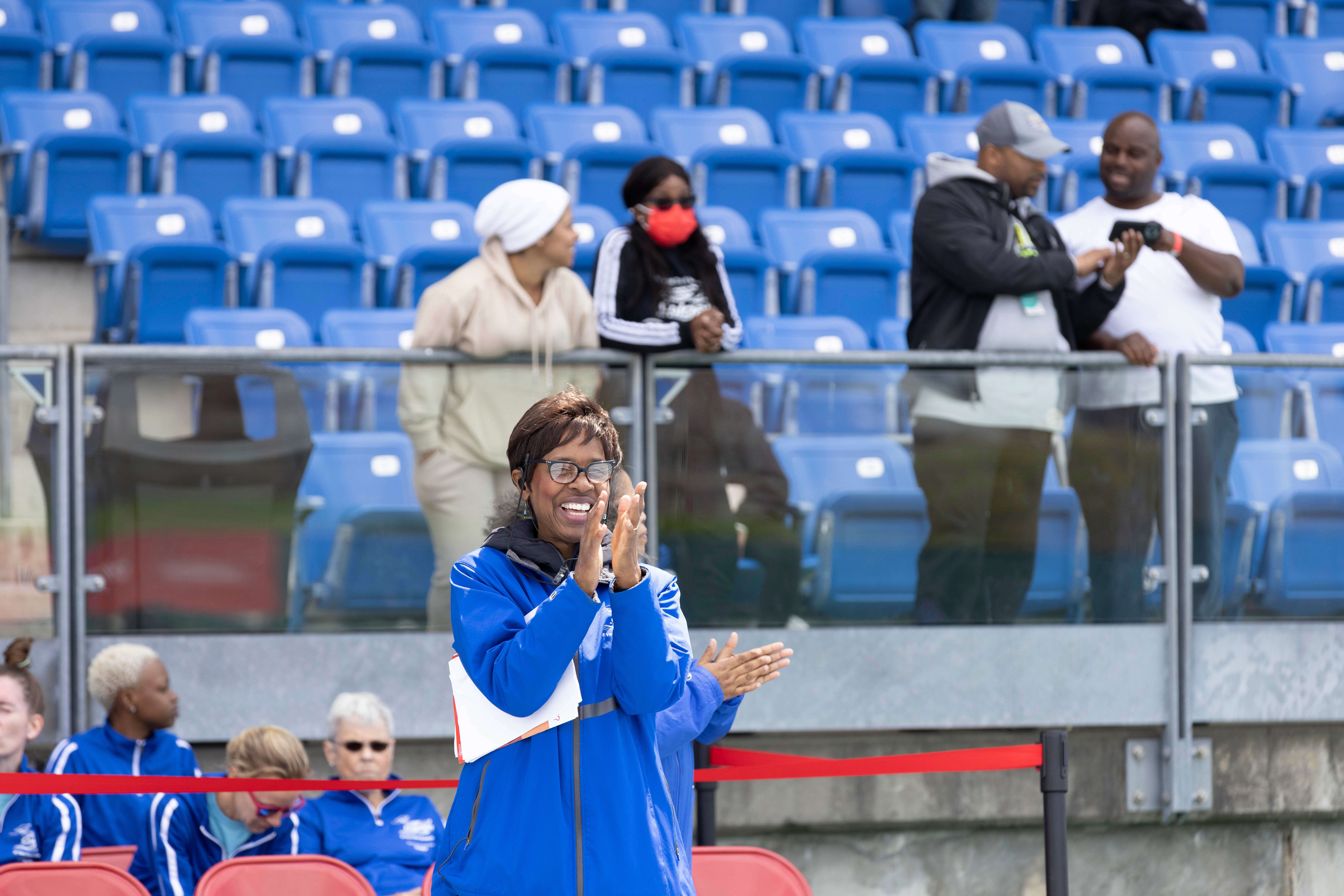 Following opening remarks from Colgate-Palmolive's Chief Legal Officer Jennifer M. Daniels, and Cheryl Toussaint, we were off to the races!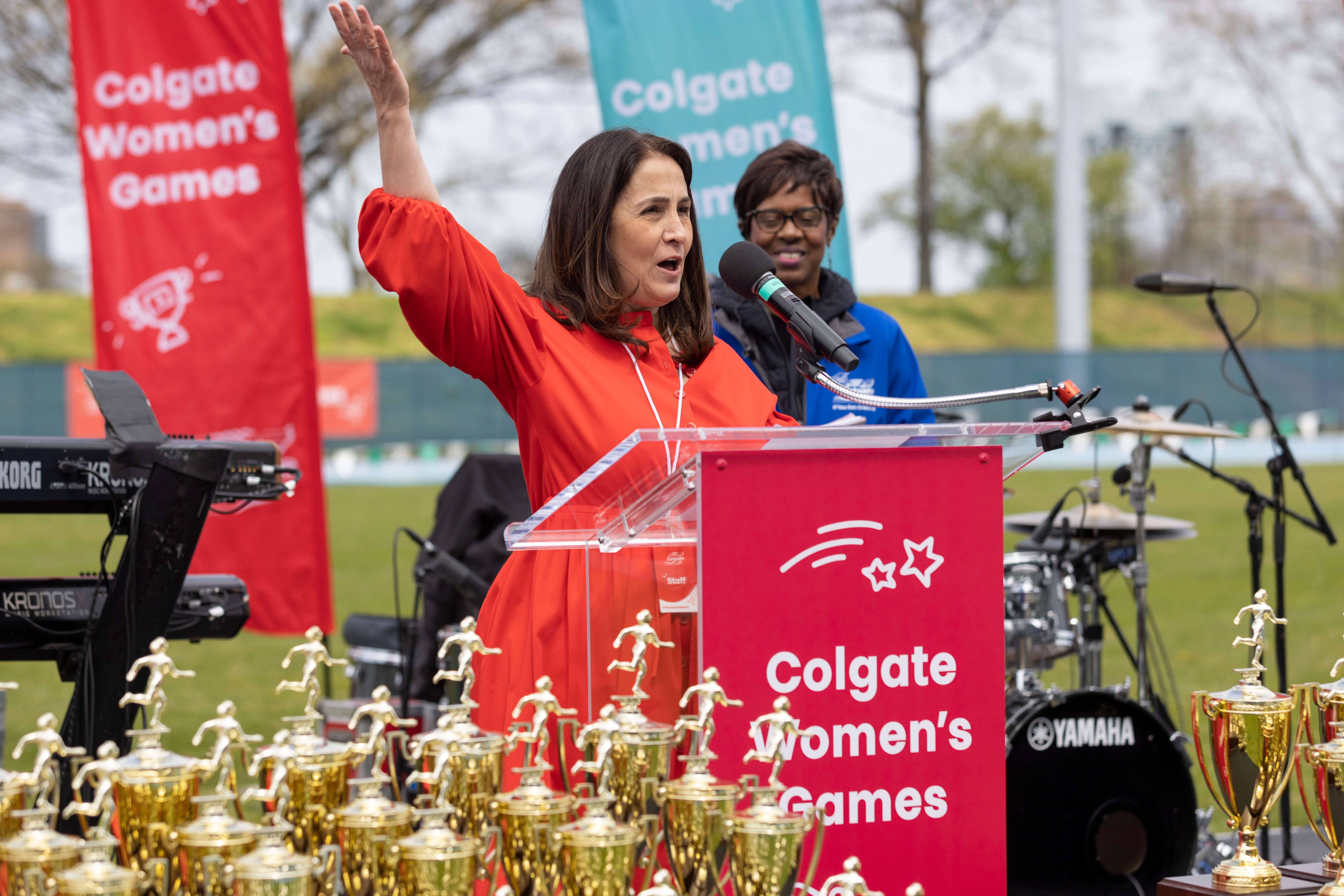 Standout performances from this season's athletes include:
Victoria Vidolova, All-American and USATF 800-meter national champion, represented Baruch College Campus High School, taking home the gold in the 800-meters, High School Division and received the "Outstanding Competitor at the Finals" award

Chante Moore-Torres of Philadelphia, PA, returned to Colgate Women's Games this year and secured a first place finish in the 200-meter dash, College -- Open Division, a mere seven months after giving birth to her baby girl.

Kaddel Howard of PS 33 in Upper Darby, PA, set a new Colgate Women's Games outdoor meet record in the 200-meters for the middle school division with a time of 25.97 seconds.

Kylie Comas, representing Renaissance Middle School in Queens, NY, finished the middle school division 800-meter race with a time of 2:22.64 -- a time that would have won her second place in the high school division Finals

Jada Fitzgerald of John Adams High School in Ozone Park, NY, claimed first place in the 200-meters high school division in an upset victory over the first-ranked athlete heading into the race.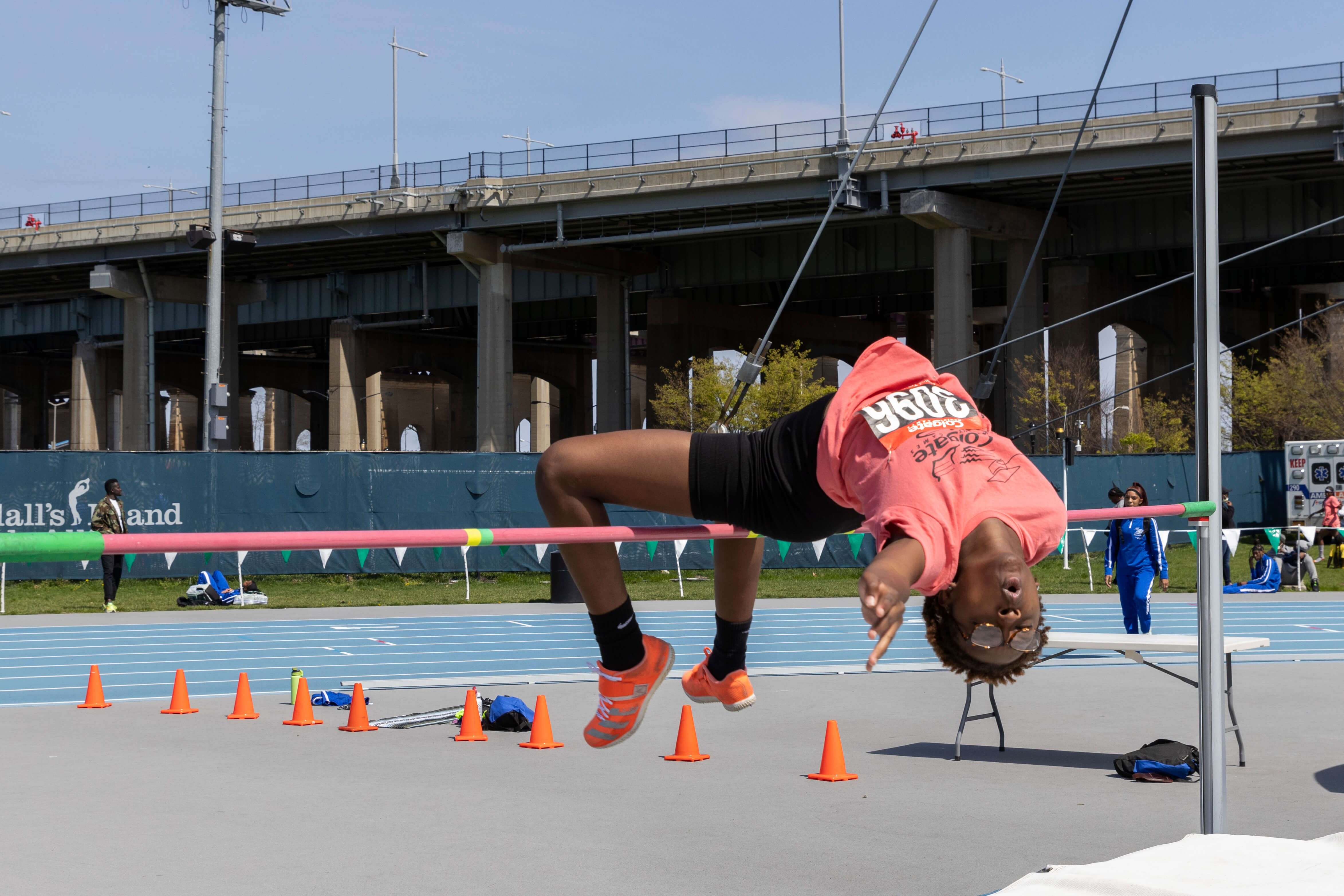 The results of each race are also available on the event website, here. Beyond athletic prowess, Colgate Women's Games applauds all competitors' resilience, discipline, and optimism. To send this message, all participants receive a trophy, regardless of finishing position.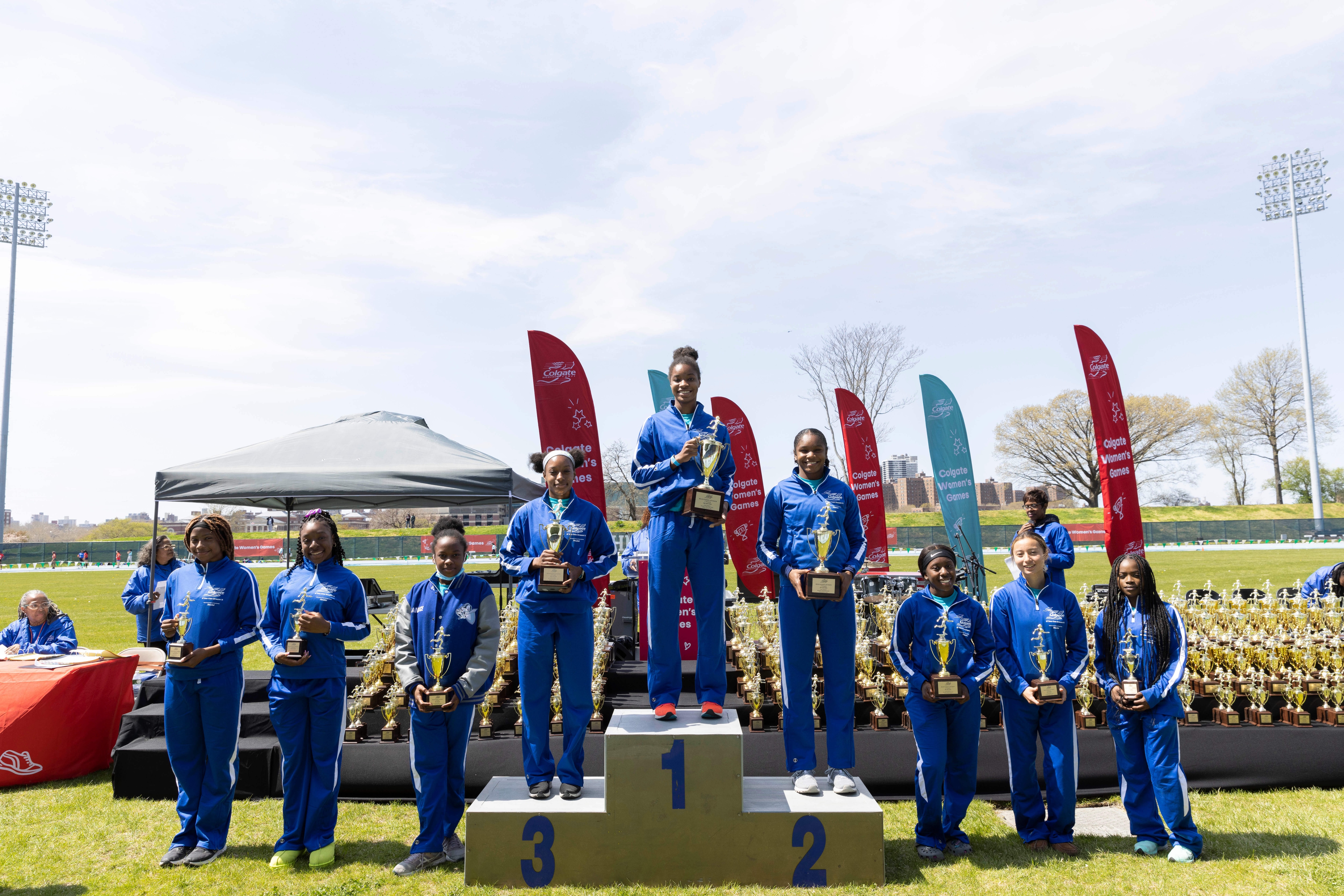 At this year's Finals, over 110 educational scholarships were awarded to competitors for their feats of athleticism.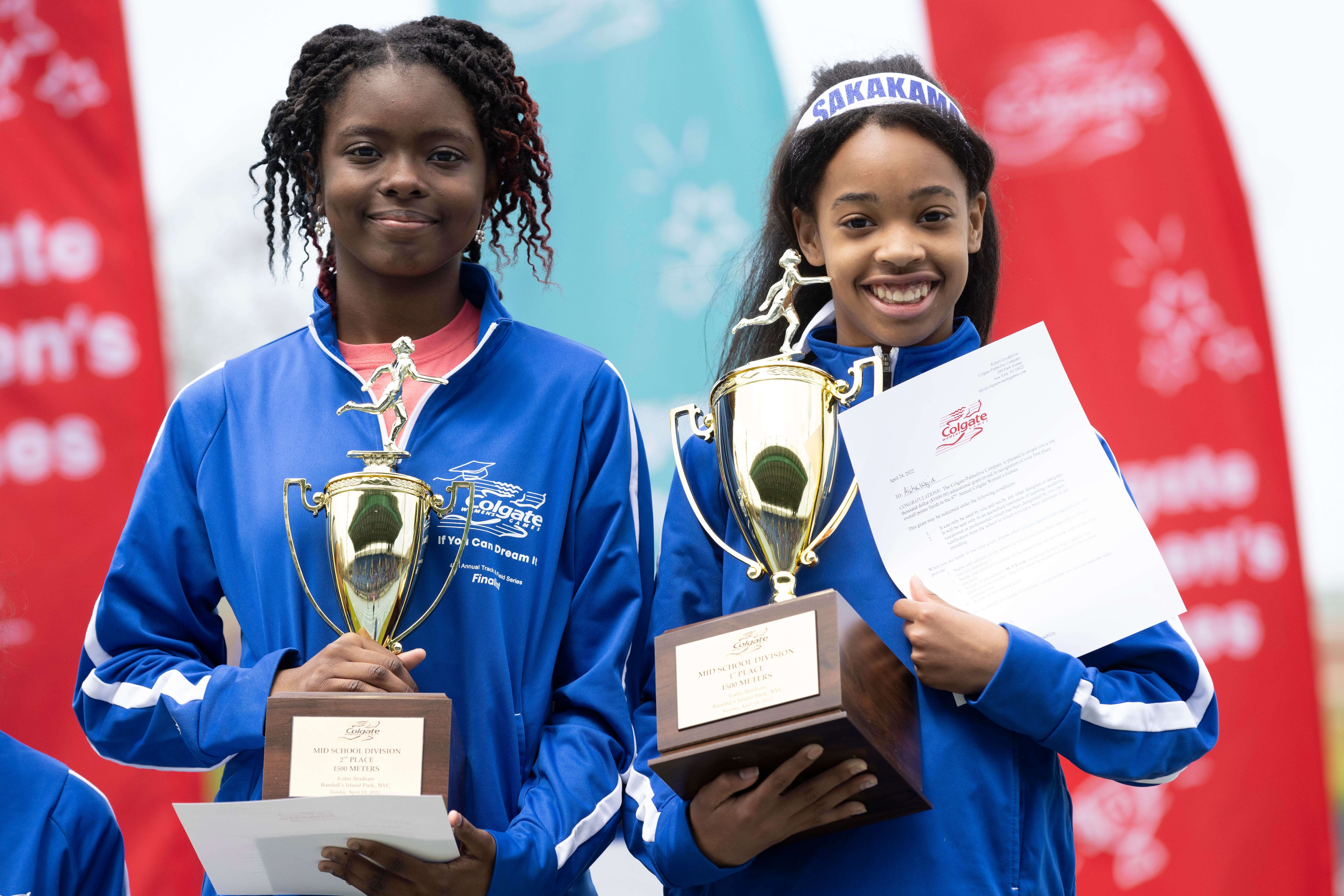 In addition to the scholarships distributed this year, special awards including, "Most Promising Newcomer," "Outstanding Competitor at the Preliminaries and Semi-Finals," "Most Improved Competitor," and "Outstanding Competitor at the Finals" were also presented to finalists.
Racing Toward Impact
Since its founding in 1974 by the late Fred Thompson, a Brooklyn track coach, and with the support of Colgate-Palmolive for the past nearly 50 years, Colgate Women's Games has produced 29 Olympians and hundreds of national champions, created educational pathways for thousands of young women, and changed countless lives.
In total, more than 5,000 scholarships have been awarded throughout Colgate Women's Games history.
By participating in the Games, girls and young women gain the opportunity to train and compete in a supportive environment; learn valuable lessons from role models and mentors; and build confidence to pursue their goals.
The program's impact is on display within the critically-acclaimed documentary Sisters on Track, which follows the inspiring journey of the Sheppard sisters and their formative experience with Colgate Women's Games. Colgate-Palmolive sponsored the film's #anybodyseethedream Social Impact Campaign, which brings the documentary's themes to life and focuses on empowering girls across three lanes of impact: Athletics, Mentorship, and Education.
Looking Ahead
After an incredible return this year, it's hard to imagine a more exciting season, but Colgate-Palmolive is eager to continue reimagining the program to create a brighter, healthier future for Colgate Women's Games competitors, coaches, and communities.
For more information on Colgate Women's Games and to stay up to date on how to get involved with the upcoming 48th season, visit: www.colgatewomensgames.com and sign up for updates.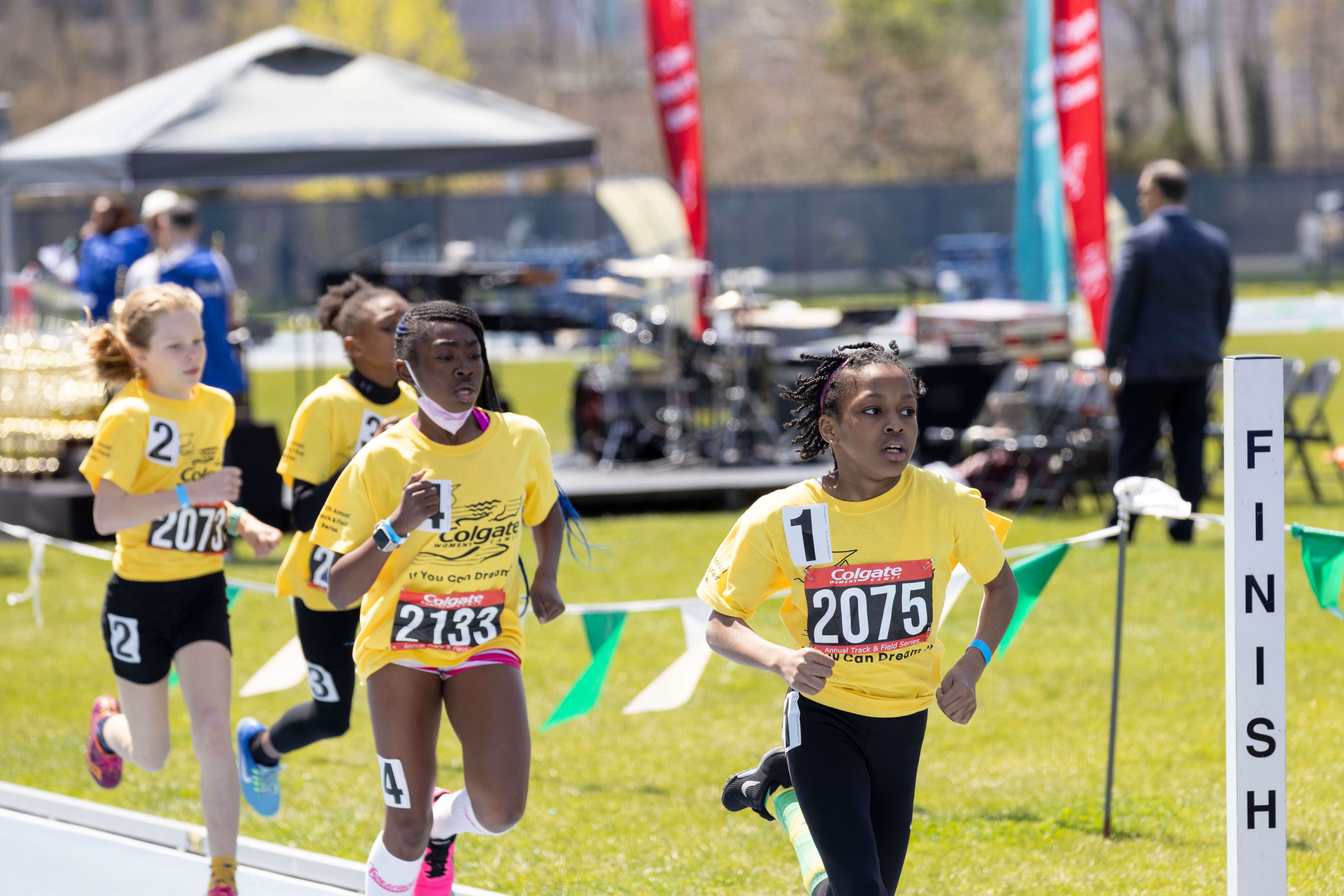 You might also be interested in...
Advancing Our Purpose, Sharing Our Progress

Read more

»

Discover the Science Behind Filorga's Revolutionary Approach to Skincare

Read more

»

Evolving Our Company's Values

Read more

»