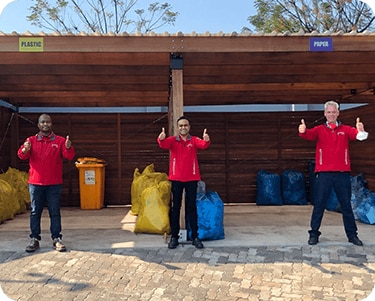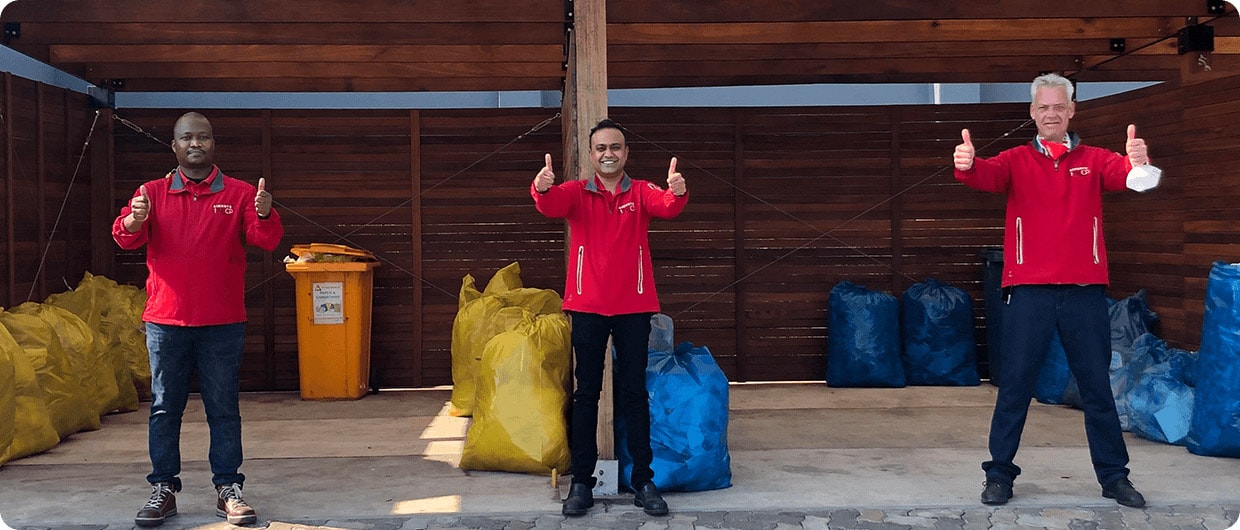 At Colgate-Palmolive, we're leading the charge toward that healthy, sustainable future with our TRUE Zero Waste certified facilities.
By Casey Mahalick, Senior Technical Associate - Environmental Sustainability
October 2020
Zero waste. Imagine it! Resources used — and re-used — to their full potential. High efficiency, low impact. Always.
It's possible. And at Colgate-Palmolive, we're leading the charge toward that healthy, sustainable future.
Colgate has more TRUE Zero Waste certified facilities than any other company on the planet. As of this writing, 18 sites in 10 countries on 5 continents, including the first facilities ever TRUE Zero Waste certified in Africa, Latin America, continental Europe, India, China and Vietnam.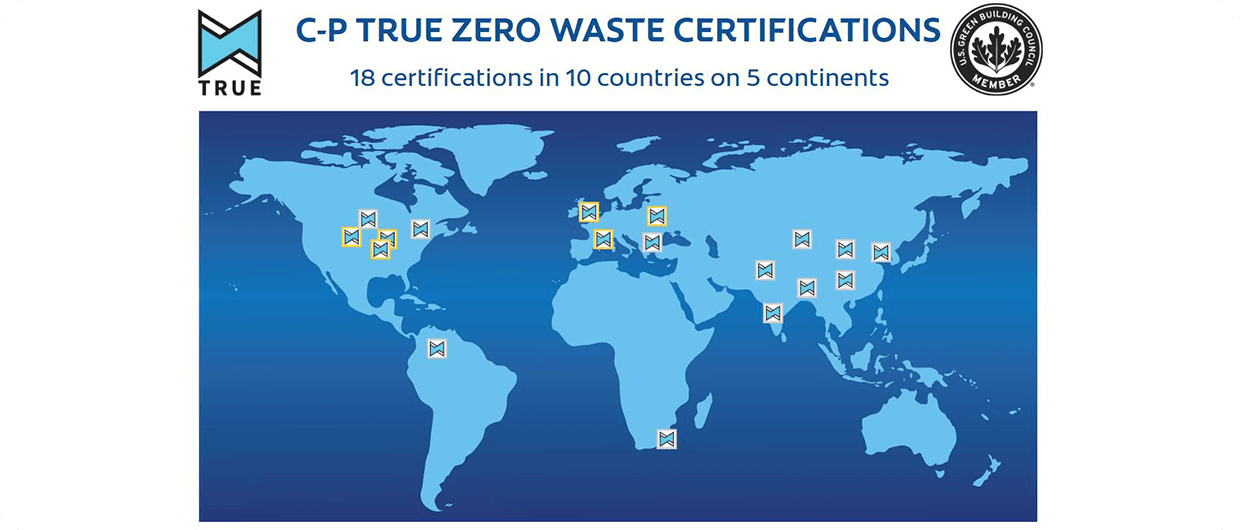 And there are many more on the horizon. A core ambition of our 2025 Sustainability Strategy is to Lead with Zero Waste Facilities. Our key 2025 targets:
How will we get there, and how can your company join us in the journey to zero waste? Here are some best practices that have guided our success thus far.
Partner with GBCI
Collaborating with Green Business Certification Inc. (GBCI) has been a real accelerator for our progress. GBCI's TRUE Zero Waste certification program enables facilities to define, pursue and achieve their zero waste goals, cut their carbon footprint and support public health.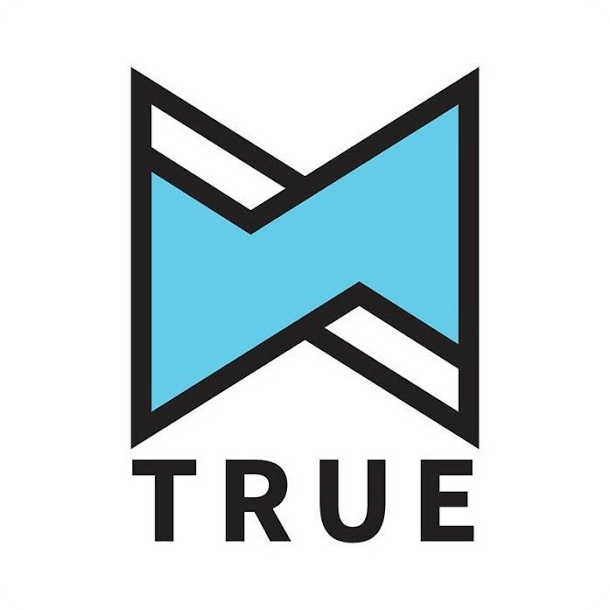 TRUE stands for Total Resource Use and Efficiency and "zero waste" in this context means at least 90% of all solid waste is diverted from landfills and the environment, with no incineration (waste to energy) of any materials. In our case, solid waste includes everything from copy paper to ingredient shipping drums. Finding productive uses for such varied materials requires creativity and commitment from motivated people.
Galvanize Your Green Teams
At each Colgate facility, a zero waste champion heads up a green team dedicated to holistically rooting out and solving waste issues.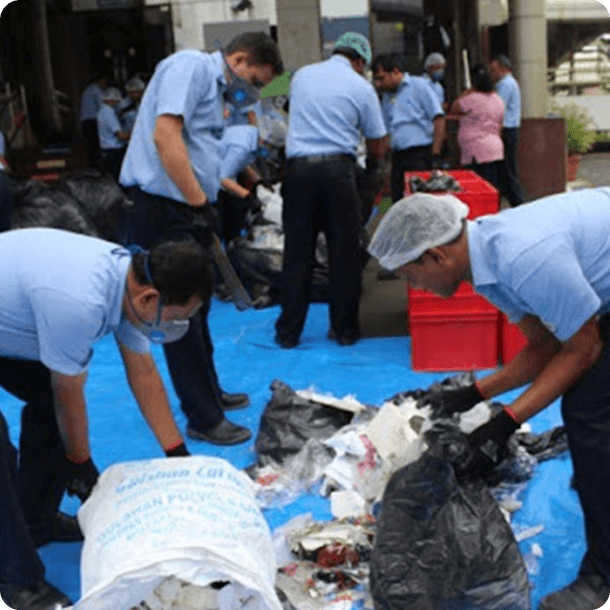 We often start with an illuminating "dumpster dive" to get up close and personal with all of the waste generated and start generating ideas to eliminate it. This frequently leads us to work directly with suppliers to reduce/rethink/redesign better ways to ship goods to our factories.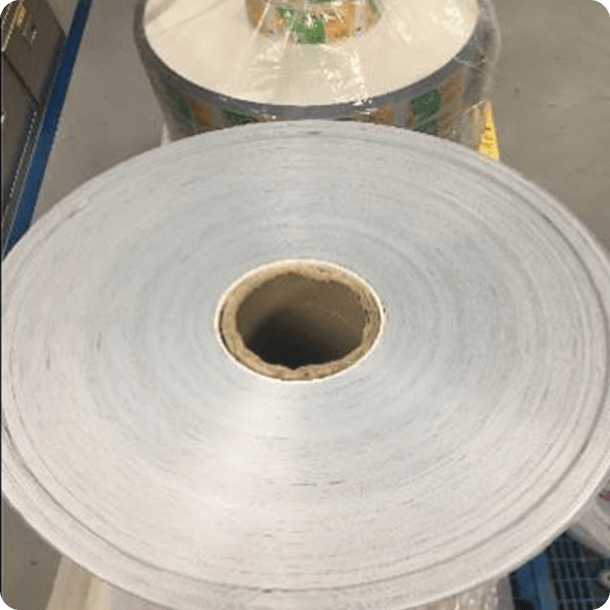 Take, for example, the giant rolls of shrink wrap needed to secure pallets of goods. At the center of each used to be a disposable cardboard core. We asked to have those replaced with recyclable plastic cores that are returned to the supplier for continuous reuse. Plastic in perpetuity turns out to be a more sustainable choice than one-off cardboard.
We examine our own assumptions and habits as well. For years, we would add a "top sheet" of cardboard to the top of each pallet of pet food we shipped. Then someone questioned that practice. We discovered that eliminating that top sheet had no impact on efficacy, but did save us significant expense while reducing waste.
Once teams start seeing the impact of their diligence, they get even more determined to solve every last waste conundrum. Nothing brings a smile to my face quite like emails that start, "We found a re-use home for those weird box corners!"
Work the Zero Waste Hierarchy
Getting to zero waste requires us to be brutally honest about mapping our waste streams and identifying opportunities for change.
The Zero Waste Hierarchy, developed by the Zero Waste International Alliance, serves as a clarifying progression of policies and strategies, from highest and best to lowest use of materials, helping to guide our thinking and decisions.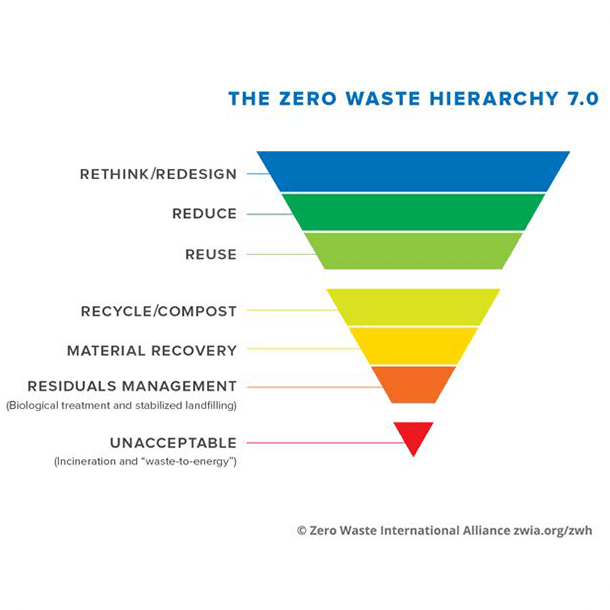 When the challenges feel daunting, it's useful to be deliberate about attacking one type of waste at a time, working our way down solutions options. Is there a redesign that would eliminate this problem? If yes, we pursue it. If not, we move down that triangle until a workable solution appears.
Start Now
Colgate embarked on our zero waste quest back in 2010 with a focus on our manufacturing facilities. We'd been tracking their waste-to-landfill numbers, but were uncertain of how much we could reasonably reduce them. We set an initial goal of 15% and promptly blew right past it, achieving a 50% reduction in very little time.
In 2017 we won our first site certification, and others soon followed. Our momentum has driven us to aim for our current target of 100% TRUE Zero Waste certification for our global operations. Do we know exactly how we will achieve it? Especially with offices and other sites beyond our current expertise in transforming waste at manufacturing plants? No, we don't.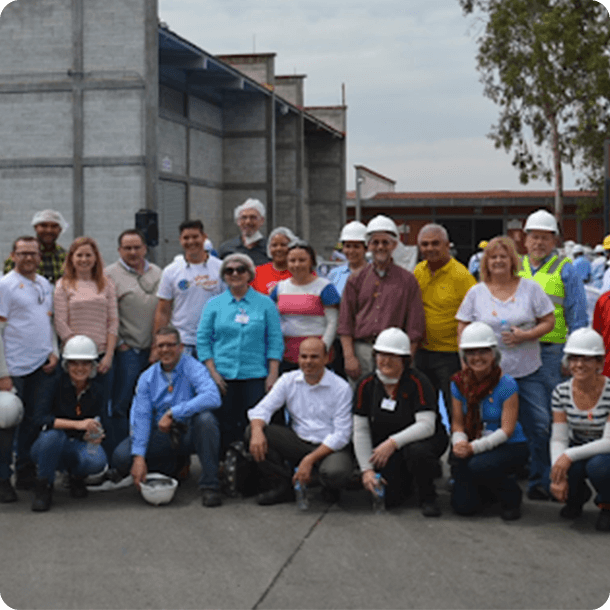 But with enthusiastic teams, guiding oversight from our GBCI partners (and their parent organization the U.S. Green Building Council) and a steadfast, step-by-step approach down that zero waste triangle, we feel confident in our ability to make it happen, and encourage you to be as well.
Go big or start small. The important thing is to start today.
You might also be interested in...
Colgate-Palmolive Earns 13th Consecutive ENERGY STAR® Partner of the Year Award

Read more

»

The Power of Innovative Partnerships to Advance Health & Wellbeing

Read more

»

Colgate-Palmolive S&P Dow Jones Sustainability Indices and CDP Achievements

Read more

»