How We're Revolutionizing the Pet Microbiome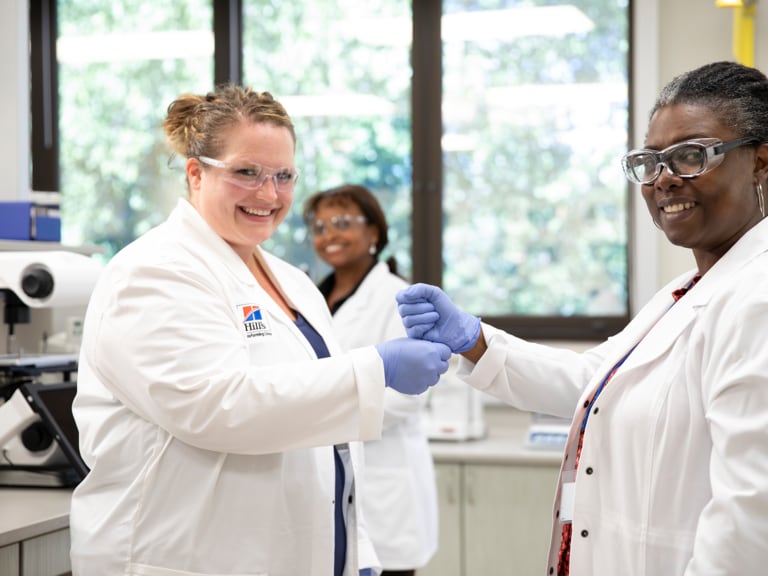 Hill's has pushed the boundaries to create foods that improve pet health. ActivBiome+ is one of their latest breakthroughs.
Every animal has billions of microorganisms living in and on its body. People and pets, the squirrels in the park, and the penguins at the bottom of the world — we all have them. The scientific name for this family of microbes?
The microbiome.
Keeping the gut microbiome happy can go a long way to ensuring healthy digestion, immune health, organ function, and more. The study of the household pet microbiome has become such a point of emphasis in recent years that the microbiome products market is predicted to increase more than twofold by 2030.
As an industry leader in prebiotic microbiome nutrition, Hill's is leveraging cutting-edge techniques used to decipher the riddles of human health, ultimately creating a new category of pet food that is formulated for the digestive benefits of cats and dogs, giving them what they need to live the longest, healthiest life possible.

At our Pet Nutrition Center, researchers are applying cutting-edge techniques to create new categories of pet food.
Creating ActivBiome+ Technology
As the saying goes, we are what we eat. The same can be said for our pet companions.
At Hill's 180-acre Pet Nutrition Center in Topeka, Kansas, scientists work with hundreds of cats and dogs every day to analyze how foods affect their health and well-being. In 2012, that work focused on researching and analyzing how nutrients can feed the pet, as well as the pet microbiome, for optimal gastrointestinal and digestive health.
"We understood that a healthy microbiome would result in healthy digestion," Jennifer Radosevich, Worldwide Director of Research & Innovation, said. "We set out to figure out how to feed that microbiome so that pets and their microbiome could be healthier."
So, to understand what makes pets healthy, Hill's scientists first needed to understand what constitutes a healthy, as well as unhealthy, microbiome. The most common pet health conditions searched online, as well as those that veterinarians see most often, are digestion-related issues: diarrhea, vomiting, and constipation.

A look inside Hill's Pet Nutrition Center.
These conditions acted as guideposts for Hill's scientists, who, over the course of more than four years, analyzed more than 10,000 microbiome samples from an array of dog and cat breeds to learn more about varying microbiomes.
In the past, Hill's scientists grew bacteria from pet samples in Petri dishes to understand the composition of these microbes. But because less than 10% of the bacteria can be grown in this type of lab environment, Radosevich said, it wasn't as accurate as the testing Hill's was looking for.
By implementing 16S rRNA amplicon sequencing technology in 2012, Hill's scientists had a breakthrough. Now, they were able to take samples from dogs and cats, extract microbial DNA from the specific sample, amplify the 16S "fingerprint" of each bacteria, and sequence the DNA to understand which kinds of bacteria are present, as well as how many and what they are doing.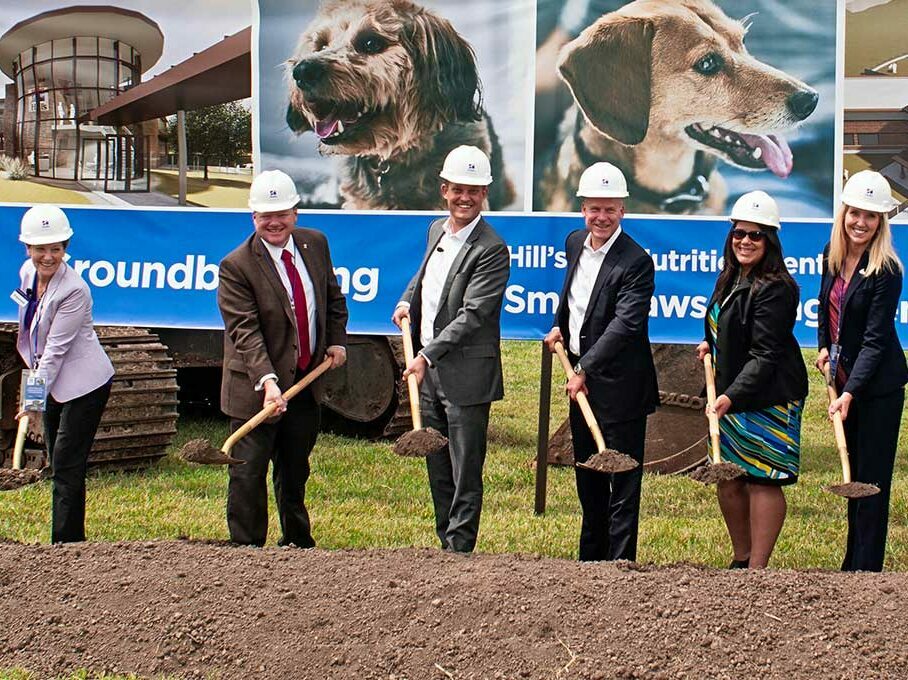 "This helped us to figure out the differences in abundance levels between 'healthy' pets and their matched counterparts that were diagnosed with digestive issues," Renea Creech, Associate Scientist, Research & Development at Hill's, said. "From there, our scientists researched extensively what could feed bacteria in the healthy pet and determine if we could shift the microbiome function of the pets who were having digestive issues to be more like those of their healthy counterparts."
With a large sample size gathered, the team determined the differences between healthy pets and those who were suffering from digestive issues, then worked to formulate foods to feed the healthy microbiomes — a years-long process that leaned on experimentation through comprehensive trials and clinical studies.
"We had to really take it one step at a time to try and understand all those interactions happening between trillions of microbes, the uniqueness of each cat and dog's microbiome, and the nutrients in Hill's food," Radosevich said.
"This was a completely new endeavor for us — we built the foundation for ActivBiome+ from scratch," Creech said. "We had to look for the right combination of prebiotic ingredients to 'feed' the gut microbiome and determine the levels of those ingredients by making many prototype recipes that provided the best benefits to pets' digestive health."
Hill's breakthroughs culminated in two key milestones. First, Hill's proprietary ActivBiome+ Technology was released in Prescription Diet Gastrointestinal Biome, with a prebiotic blend that revolutionized how veterinarians and pet parents care for their pet's digestive health and well-being. Once consumed, the proprietary blend of active prebiotics in ActivBiome+ nourishes bacteria in the gut to produce desirable compounds, as well as release and activate antioxidant and anti-inflammatory plant polyphenols — postbiotics that benefit the gut, as well as other organs and tissues throughout the pet.
Secondly, Hill's scientists published findings in the journal, Frontiers in Microbiology, in 2020, sharing their findings on the impact of the nutritional components of pet food and how microbiome health can positively impact the health of pets.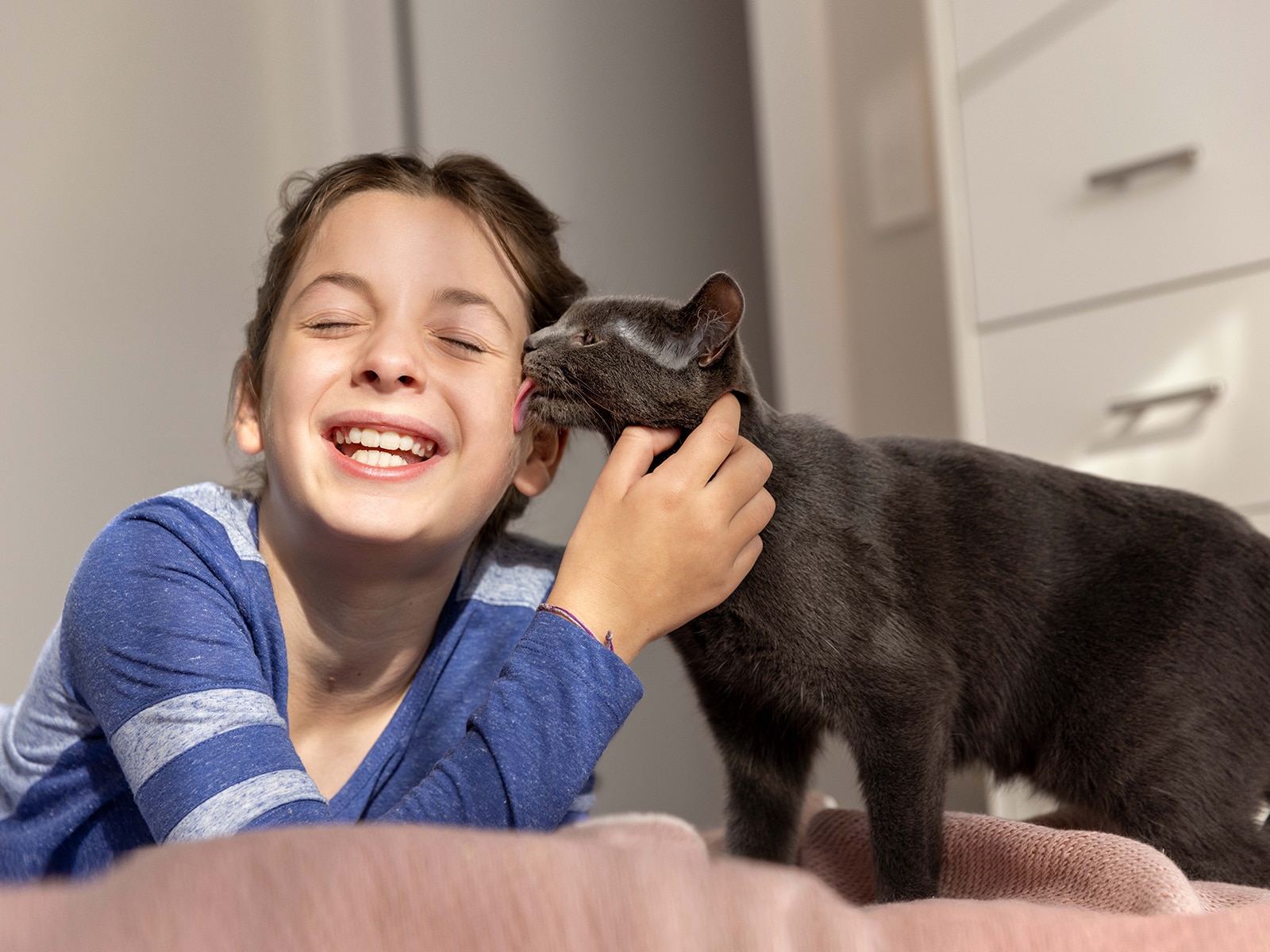 In addition to Prescription Diet Gastrointestinal Biome food, ActivBiome+ technology also can be found in some Prescription Diet i/d foods, as well as Science Diet Perfect Digestion, which helps healthy pets maintain a healthy microbiome.
The results of ActivBiome+ technology in a clinical setting paint an even clearer picture of its efficaciousness. Clinical studies for Prescription Diet Gastrointestinal Biome containing ActivBiome+ showed that all dogs in the studies had a complete or positive response to the food, and dog owners reported an increase in quality of life for their pets after just four weeks.
And in some cases, consuming foods with the ActivBiome+ blend resulted in positive changes to a pet's digestion in as little as 24 hours.
What's Next for the Microbiome
Hill's continues to invest in more state-of-the-art technologies to understand what's going on in the microbiomes of our pet partners.
In 2018, Hill's implemented a very powerful tool: shotgun metagenomic sequencing. This method doesn't require the amplification of 16S rRNA, allowing scientists to simply take a sample and extract DNA from it. Shotgun metagenomic sequencing also allows scientists to look at a snapshot of all microbes in the microbiome — bacteria, protozoa, archaebacteria, and fungi — instead of just bacteria in 16S sequencing. "It provides a much broader look at what constitutes the microbiome," Creech said.
Scientists are also exploring the oral and skin microbiome of pets, mirroring similar efforts Colgate-Palmolive's Oral Care division is making for the human oral microbiome.
"We started at the beginning with the gut microbiome in trying to understand what constitutes a healthy microbiome," Radosevich said. "We're doing the same thing for the oral and skin microbiome."