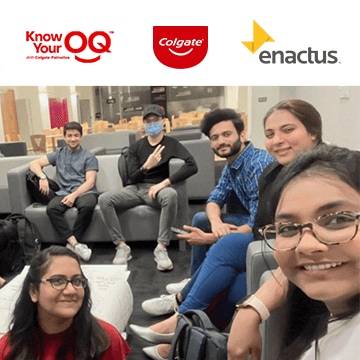 Colgate-Palmolive Crowns Global Champion of "Know Your OQ™" Enactus Accelerator Program to Promote Oral Health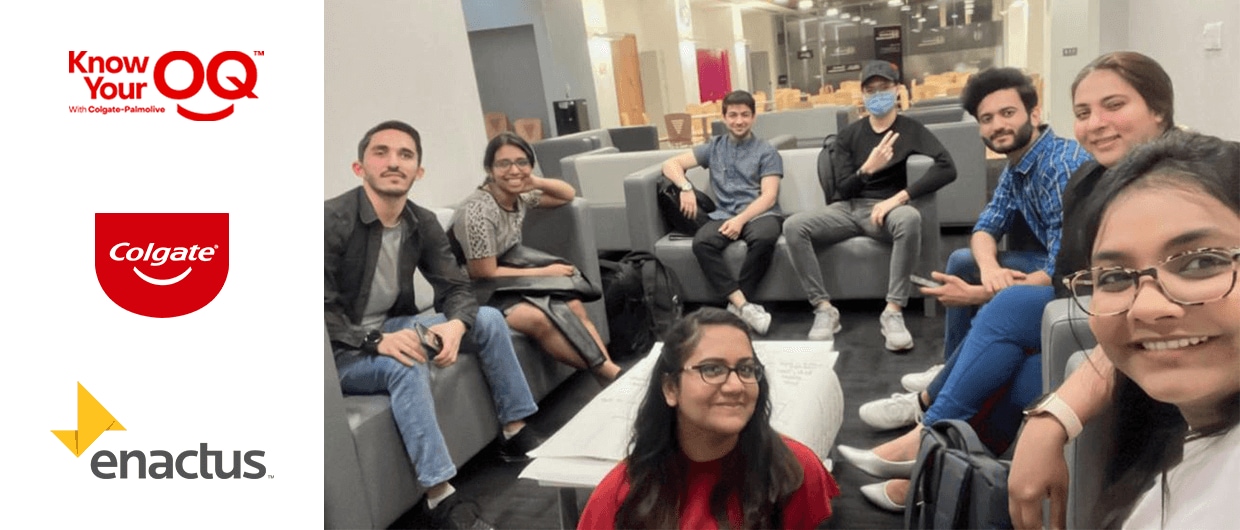 Winning Enactus team from BPP University, London, UK selected for its predictive oral health tracker app
August 9, 2022

Colgate-Palmolive Company today announced the Enactus team from BPP University in London as the winner of the Colgate-Enactus global "Know Your OQ™" accelerator program, which challenged university students from Brazil, India, Kenya, the United States, and the United Kingdom to improve oral health literacy within their communities.
Twenty-one teams participated in Colgate's Know Your OQ™ Challenge. The winning group of 18 students from BPP University in London, UK, took first place for developing "Pearls," an app that helps users track oral health with daily reminders and employs smart algorithms to predict a user's oral health condition. The team also hosted educational sessions with 160 community members across all age groups, including interactive online tutorials teaching kids how to floss, plus workshops with adults and elderly populations exploring the impacts of oral health on overall health.
"Colgate's purpose is to reimagine a healthier future for all, and that starts with a healthy mouth. Our Know Your OQ™ campaign educates people that oral health is the gateway to overall health and wellbeing, something most people aren't aware of," said Paula S. Davis, Chief Communications Officer, Colgate-Palmolive Company. "With the power and network of our partners at Enactus, we could tap into the creativity and initiative of emerging leaders around the world to join our mission, and we are thrilled with the impacts they have made for their communities."
Throughout the multi-month program, Colgate-Palmolive employees across the participating five regions mentored their local university teams, providing oral care products for use in their projects and sharing their expertise across clinical, marketing, design, and innovation functions. Colgate employees also served as judges. Throughout two rounds of judging, fifteen Colgate leaders selected the finalists and global winner based on Innovation, Entrepreneurial Leadership, Impact, and Scalability, as well as the effectiveness of their video presentation.
Colgate-Palmolive, whose Colgate brand is found in more homes than any other, challenged Enactus students to help people Know Your OQ™. Just as you may know your IQ (intelligence quotient) or EQ (emotional quotient), if you Know Your OQ™ – your oral health quotient – you recognize that a healthier future starts with a healthy mouth.
"According to the World Health Organization, nearly half of the world suffers from oral health conditions such as cavities and periodontal or gum diseases," said Dr. Maria Ryan, Chief Clinical Officer, Colgate-Palmolive Company. "These oral diseases are linked to physical conditions such as diabetes, cancers, adverse pregnancy outcomes, cardiovascular and respiratory diseases, with a recent global Colgate study identifying links to emotional well-being in children and adults. We are striving to improve oral health literacy and promote oral health worldwide across generations with our global Enactus program, recognizing that simple steps to prevent oral disease can have a far-reaching positive impact on overall health."
Colgate-Palmolive's Know Your OQ™ program helps advance United Nations Sustainable Development Goals (SDGs) three and four: Good Health and Well-being and Quality Education, respectively. The 17 SDGs serve as a framework for the sustainable business solutions that the aspiring Enactus entrepreneurs create through their projects.
"Through the Know Your OQ™ program, we are thrilled to advance Global Goal three – Good Health and Well-being – and to use NextGen Leaders' business innovation to contribute to Colgate-Palmolive's important mission of promoting worldwide oral health," said Janani Akhil, Vice President of Enactus Global Programs.
You might also be interested in...
National Children's Dental Health Month

Read more

»

5 Healthy Habits for a Healthy New Year

Read more

»

Exploring the Connection Between Oral Health and Nursing

Read more

»