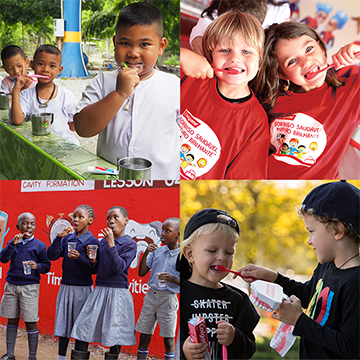 National Children's Dental Health Month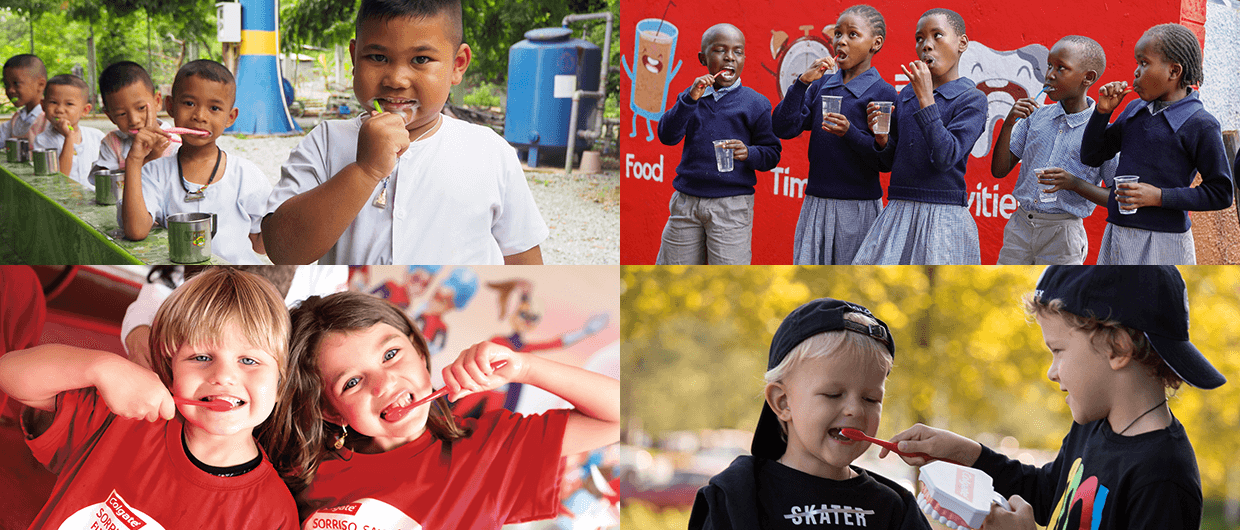 February is National Children's Dental Health Month, and Colgate-Palmolive is committed to reimagining a healthier future for all children and their families through access to the tools and education they need to live happier, healthier lives.
We know that better oral health means better overall health and well-being. A global Colgate study has linked oral health diseases like dental cavities to physical, emotional, social and economic distress for children. At Colgate, we are proud to promote the importance of oral health education through National Children's Dental Health Month and beyond.
Oral health and Physical Health
You might be surprised to learn that cavities are the most common disease affecting children in the U.S. If left untreated, children are at greater risk for physical health conditions like gum disease and other infections. Colgate conducted a study of more than 20,000 parents across 12 countries to uncover the real-world impact of tooth decay. Among the 1,800 parents surveyed in the U.S., Colgate found 62% of children suffer from cavities.
To keep your smile healthy, we recommend that you use products with these cavity prevention active ingredients:
Stannous Fluoride (0.454%). Purpose: Anticavity, Antigingivitis, Antisensitivity.
Sodium Fluoride (0.24% (0.15% w/v Fluoride Ion)) Purpose: Anticavity
Potassium Nitrate (5%). Purpose: Antisensitivity
Sodium Fluoride (0.02% (0.01% W/V Fluoride Ion)) Purpose: Anticavity
Sodium Monofluorophosphate (0.76% (0.14% w/v Fluoride Ion)). Purpose: Anticavity
Oral Health and Mental Health
Colgate's study reveals the connection between children's oral and mental health, including oral health's connection to confidence and self-esteem. When surveying U.S. parents, Colgate found that children experiencing oral health issues feel:
Embarrassed (30%)
Worried (30%)
Sad (28%)
Anxious (24%).
Also, children with cavities feel they cannot smile freely (27%) and cannot concentrate (20%).
Luckily, there are actionable steps to combat these issues early on by educating children on the importance of good oral care habits.
The importance of building good habits: For over 30 years, the Colgate Bright Smiles, Bright Futures program has provided oral hygiene education and resources to over 1.5 billion children in over 100 countries . Through this initiative, the program has ensured that children can build proper oral care habits early on and safeguard their healthy futures.
Meet Noel, a bright 9-year-old girl from Baltimore participating in the Colgate Bright Smiles, Bright Futures program. In this video, we walk through Noel's day, learning how her family and school encourage her to instill good oral health habits and the power of a smile.
Below are seven tips for creating a good oral health routine with children:

Tip #1: Step-by-step. Walk through the process, so it becomes a predictable part of their day.
Tip #2: Let's brush together! Children will feel more encouraged to follow you as you get through your morning routine.
Tip #3: Brush and floss 2x times a day. Introduce children to the schedule of brushing their teeth and flossing after they wake up and go to bed.
Tip #4: Use toothpaste with fluoride. Fluoride is added to toothpaste to improve its benefit to the health of your teeth.
Tip #5: Educate on foods to limit or avoid. Use this opportunity to teach children how sugary foods, candy, and juices can lead to cavities. If your child is eating these foods, you can use mouthwash or brush their teeth afterward to limit the impact.
Tip #6: Visit the dentist for regular checkups. You can voice any questions or concerns about keeping your teeth healthy. They can help you create a daily brushing and flossing plan that is suited to your specific needs. You can also access educational resources here: you can also access educational resources here.
Tip #7: Hydrate: Encourage children to drink plenty of water for their overall health
How We are Advocating for Healthier Futures
Colgate-Palmolive is committed to advocating for healthier futures for all children through educational and scholarship programs.
Senior Dental Leaders Programme: Senior oral health leaders advance the mission of a cavity-free world for children. First conceptualized in 2007 at King's College London by Professor Raman Bedi, DDS, the Programme is organized by the Global Child Dental Fund, the Harvard School of Dental Medicine, and this year's host, the King's College London Dental Institute. Henry Schein Cares, the Company's global corporate social responsibility programme, has supported the event, together with co-sponsor Colgate-Palmolive, since its inception.

Colgate Bright Smiles, Bright Futures: Through Bright Smiles, Bright Futures, Colgate has reached more than 1.6 billion children in over 100 countries since 1991, Our goal is to reach 2 billion kids by 2025.
You might also be interested in...
5 Healthy Habits for a Healthy New Year

Read more

»

Exploring the Connection Between Oral Health and Nursing

Read more

»

Colgate-Palmolive Crowns Global Champion of "Know Your OQ™" Enactus Accelerator Program to Promote Oral Health

Read more

»