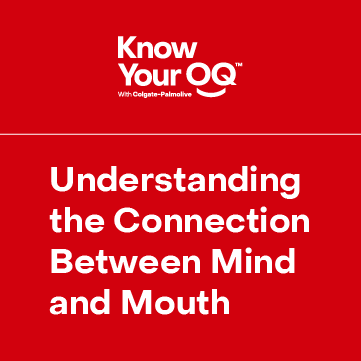 Understanding the Connection Between Mind and Mouth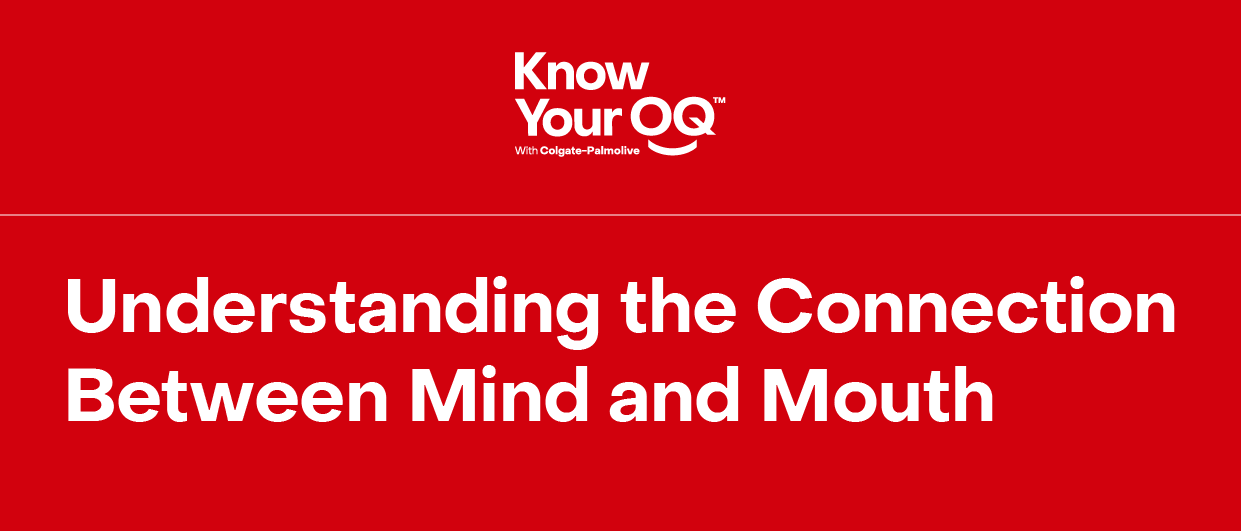 Colgate-Palmolive Research Explores the Links Between Oral Health and Mental Health in order to Reimagine a Healthier Future for All
By Regina Hourigan, Director of Insights, R&D
May 27, 2022
"The smallest thing can be overwhelming. Getting out of bed and brushing my teeth can seem insurmountable some days."
This quote from a participant in a recent Colgate-Palmolive study of adults with depression illustrates a strong connection that is often overlooked: Oral health is linked to mental health.
In the midst of an ongoing pandemic and cascading global crises, the importance of mental health has rightfully taken center stage. Now, Colgate-Palmolive is drawing our attention to how mental health and oral health together contribute to our overall health and wellbeing.
Here at Colgate-Palmolive, our purpose is to reimagine a healthier future for all. And we know a healthier future starts with a healthy mouth, body, and mind. So we need to understand the links between these elements. And as a caring, innovative growth company, we are committed to learning more about how to support people who are struggling with mental health issues such as anxiety or depression.
We formed a research team to dig deeper into the links between oral health and mental health, and explore how we can be an ally for people with mental health issues.
Exploring the Links Between Oral Health and Mental Health
The overlap among mental health and oral health conditions has been reported in a secondary analysis of the US National Health and Nutrition Examination Survey where more than half of the adults with moderate depressive symptoms had periodontal diseases, and more than one-third had teeth with untreated dental caries.
A systematic review revealed that people with depression have a higher rate of cavities compared to the general population, and in the past year, almost two-thirds of people with depression reported having a toothache – again significantly higher than the population on average.
These statistics implore us to investigate the level of oral care among people with depression, which many studies reveal is insufficient. For example, based on findings from Colgate's recent quantitative survey, we extrapolated that over 10 million people with depression in the U.S. have gone more than two weeks without brushing their teeth.
Hearing from the Community: Colgate Research Uncovers Impact
Given the strong connection between oral health and mental health, we proactively connected with people in the community to learn more about the impact on their oral care routines. Colgate recently conducted a study with participants living with specific conditions such as depression, anxiety, and stress-related panic attacks. We held individual interviews to hear their personal stories and understand how the links between oral health and mental health play out in their daily lives.

Among our participants, we found that people's ability to maintain a healthy oral care routine both reflects the current state of their mental health and contributes to how they feel.
For example, while the American Dental Association recommends brushing your teeth for two minutes twice a day, this seemingly small task can present as a challenge to people suffering from depression. In conjunction with experiencing low energy and negative thoughts, another symptom of their depression is losing motivation to take care of their oral hygiene.
Said one participant: "I struggle with hygiene when I'm having a depressed episode. I don't care about brushing my teeth."
Clinical psychologist Dr. Chris Penlington, who is a lecturer at Newcastle University's School of Dental Sciences, helped explain this phenomenon: "When people are depressed, their bodies are physically impacted. They feel slowed down and experience a lack of motivation. Getting anything done, like brushing your teeth, can become too hard to complete and require a massive amount of energy and effort."
However, neglecting their oral hygiene can lead to guilt and anxiety and exacerbate depressive feelings. One participant who skipped brushing her teeth said: "I'm embarrassed, but it's my fault. It feels hopeless."
Here we can see that when people experiencing depression stop brushing their teeth, it not only confirms their struggle, but also leads to additional mental health challenges.
According to Dr. Chris, "When a person with depression neglects self-care routines that usually keep them feeling fresh and ready to face the world, like oral hygiene, they can feel like they've failed. As a result, they might experience a sense of hopelessness and lose motivation to care for themselves."
On the flip side, successfully completing their oral care routine can be an indicator that they are doing well and lead to more positive mental health outcomes.
As one participant put it: "When I brush my teeth, I really do feel much better."
These small wins can serve as a starting reset for their mental health and lead to bigger results.
Consider this response from a participant in our study: "For the longest time, my depression kept me from taking care of myself and doing basic things like brushing my teeth and washing my hair. Today I finally started again! Might seem silly, but it's a huge victory for me and I'm so proud of myself!"
Fueled by this victory, people with depression can build momentum to take on more tasks and begin to pull themselves out of a dark period.
Based on this cycle, it is clear that oral health is linked to mental health, and our study reveals that we have a major opportunity to make oral care more accessible for people with depression.
Committing to Inclusivity: Reimagining a Healthier Future for ALL
As the worldwide leader in oral care, we have an opportunity – and a responsibility – to empower people's healthier futures by helping everyone take care of their mouths and their overall health and wellbeing.
Building on our study's findings, we connected with Dr. Chris to share some actionable steps that people with depression can take to help manage their oral health:
Something is better than nothing: "If you are struggling with severe depression and can't commit to brushing your teeth for a full two minutes twice a day, try doing something nice for yourself like swishing with mouthwash or quickly brushing for just 10 seconds. Remember that something is better than nothing. Like a snowball effect, small wins in oral care can lead to big changes in other areas."


Add oral care to your to-do list: "When you're struggling with depression and feel like you've lost so much motivation, making a manageable list that you can tick off helps. Try encouraging yourself to brush your teeth today or to floss. Oral care can be one small step to get the ball rolling towards getting out of the low moments of depression."


Treat oral care as self-care: "Oral care can be an act of self-care for a person, and it can feel quite nice to brush your teeth and to have a clean mouth. For somebody who has a mild depression or if your mood is just starting to slip, try slowing down while brushing your teeth…take a moment to appreciate the sensations of a fresh mouth. Looking after yourself can be a positive act of self-care and manage your overall well being."


Seek help: "For people who are struggling with depression or caregivers looking for tools to support a loved one, there are online resources available at no cost to you any time of day or night. Check out: https://llttf.com or https://www.psychologytools.com/self-help/depression. And seek advice from a dentist if taking antidepressants; a common side effect is a dry mouth, which can lead to increased risk of decay – making oral health care even more important."
At Colgate, we are proud to help people Know Your OQ by raising awareness about how oral health is linked to overall health and wellbeing. Beyond people with anxiety and depression, we are also seeking to better understand the needs of pregnant women, people with disabilities, and people with jaw tension, to name just a few groups we are connecting with further.
By drilling deeper into these eye-opening insights about the specific oral care needs for people with mental health issues, we can continue taking action to empower a brighter, healthier future – for all.
More Colgate research on the impact of oral health issues on mental health: Childhood Cavities, the Most Common Disease Among Children, Lead to Significant Physical, Emotional, Social and Economic Distress
You might also be interested in...
National Children's Dental Health Month

Read more

»

5 Healthy Habits for a Healthy New Year

Read more

»

Exploring the Connection Between Oral Health and Nursing

Read more

»