Our Commitment to Diversity, Equity & Inclusion
We are Colgate, a caring, innovative growth company that is reimagining a healthier future for ALL people, their pets and our planet. We say all, we mean all.
Global Diversity, Equity & Inclusion: Our Corporate Intent
Colgate-Palmolive strives to create a corporate culture where everyone feels they belong. By belonging, we mean that each and every one of our employees around the world feels as if:
This is a place they can be their authentic selves,
They have the support of their manager and the company,
Their ideas are heard and considered,
They can impact the business, and
They have equal opportunity to advance to the best of their ability.
Our Global Diversity, Equity & Inclusion Strategy
We have created a strategy to help us communicate our beliefs and provide a roadmap for evolution and change. This is the first time we've published a formal DE&I strategy, and it's the first time we are sharing it with the entire organization. It sets the roadmap for the journey to further evolve the culture of our organization into one of belonging. There are three fundamental tenets to our strategy.
Accountability
We will hold managers and corporate leaders accountable for creating diverse and inclusive teams. We will provide training and experiences to inform and help advance their efforts and incorporate inclusive teams as a factor in their performance reviews.
Advocacy
We will be clear about our commitment to DE&I with all of our stakeholders - internally and externally. Our people will serve as allies and advocates for greater equity and inclusion inside Colgate.
Transparency
To ensure individual and organizational accountability, we will be transparent about our strategy and performance against our DE&I goals.
Our Global DE&I Strategy: PEOPLE
We will become a more diverse, inclusive and equitable organization by implementing policies, learning experiences and processes that promote awareness, empathy, advocacy and opportunity.
Diversity
We aspire to reach labor force representation levels among underrepresented groups within the geographies in which we live and work. And we are getting there. When you walk into our offices, you can hear any number of languages from the 200 countries and territories we serve. Our leadership team is global with nine of our 21 corporate officers born outside the U.S. More than half of the North American Division Leadership team was born outside the U.S., and nearly 40 percent of our salaried and administrative workers in the U.S. are people of color, in line with the overall diversity representation of the Country. This is a solid start.
Diversity Recognition
We're good, but we want to be great. Our company offers opportunities to people regardless of their immutable, or any other, personal characteristics, such as race, age, religion, disability, gender identity or sexual orientation. We have made strides on diverse representation and are proud to be consistently recognized as an employer of choice for all races and ethnicities. Still, we want our people to say there is no better place to work as a woman or minority than here at Colgate. We want to ensure that women, minorities, LGBTQ, disabled people, and veterans can be their authentic selves as they see themselves widely represented at each organizational level. We are on our way.

We believe diversity adds value. A diverse organization generates stronger innovation, better decision making and better business results than a non diverse business. We believe the policies and processes that we use to evaluate and advance people should be equitable. We will always hire and promote the most qualified talent, but to build the strongest team, we must consider diversity of thought and experience as part of our talent assessment.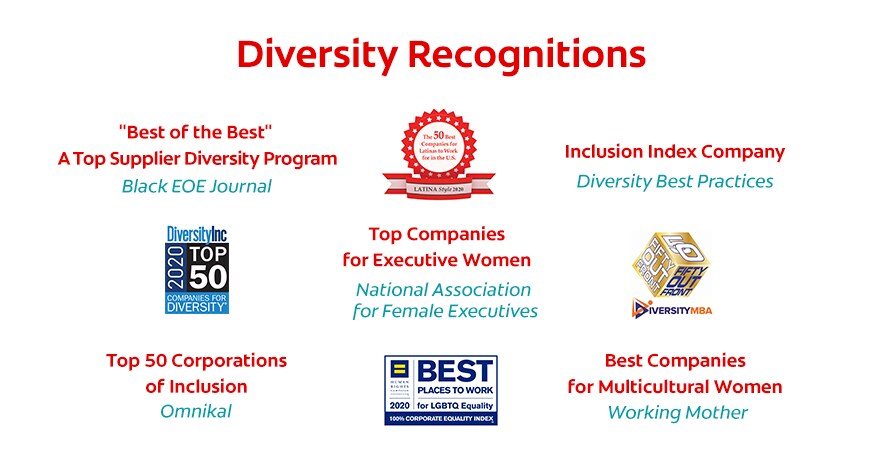 Development



All Colgate people should have a fair opportunity for advancement, free from unconscious bias. At Colgate, we hire and advance people based on the skills and capabilities they bring. We develop people to ensure they have equal access to opportunities. We reward people for the impact they have on the business, not because of their commonalities or affiliations.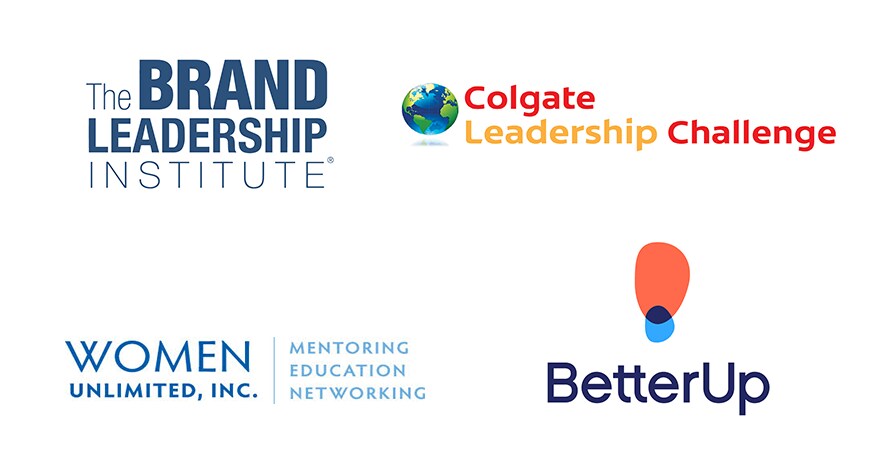 Equity



We believe that people with equal job experience, tenure, skill, leadership capability and potential should be rewarded equally, regardless of gender, race, color or any other immutable characteristic. Our compensation structure, policies and processes help to ensure that we pay equitably at Colgate for similar roles and similar performance, regardless of ethnicity or gender.
Inclusion
Diversity and equity are not enough. We have to be inclusive. We must embrace differences in background, experience, point of view and approach so that every Colgate person feels that they belong. To foster this sense of inclusion, Colgate has a number of employee resource groups to foster connections and provide opportunities for personal development for underrepresented groups, as well as to promote awareness and understanding for the broader company. We have training programs that focus on treating all Colgate employees with respect, valuing their unique contributions, and becoming more aware of, and mitigating, unconscious biases.

As part of our DE&I Strategy, we want all Colgate people, regardless of their background, to know that they belong, that they were hired for their talent, skill and the unique contributions that they bring to the company. We want them to know they can truly make a difference at Colgate.
Our Global DE&I Strategy: COMMUNITY
At Colgate, we believe our responsibility to society goes beyond the walls of our buildings.
Advancing Civil Rights



We support organizations that advance civil rights and drive equality for people in the communities in which we live and work. We also encourage Colgate people to be involved with these organizations.
Supporting Urban Education
We are elevating opportunities for underrepresented students, helping to drive high school graduation rates and college degrees. We believe that education is the foundation for personal success. It helps prepare people to take advantage of opportunities and respond to challenges. Advancing education is good for everyone - the student, the family, the broader business community and certainly for Colgate. In 2020, we announced $4 million in grants to urban education efforts. We will announce additional commitments in 2021.
Continuing Community Support
We also want to accelerate our own initiatives around the world like Bright Smiles Bright Futures, where we have already reached over 1 billion children in order to help improve the lives of the people around the world. Learn more about our community programs here.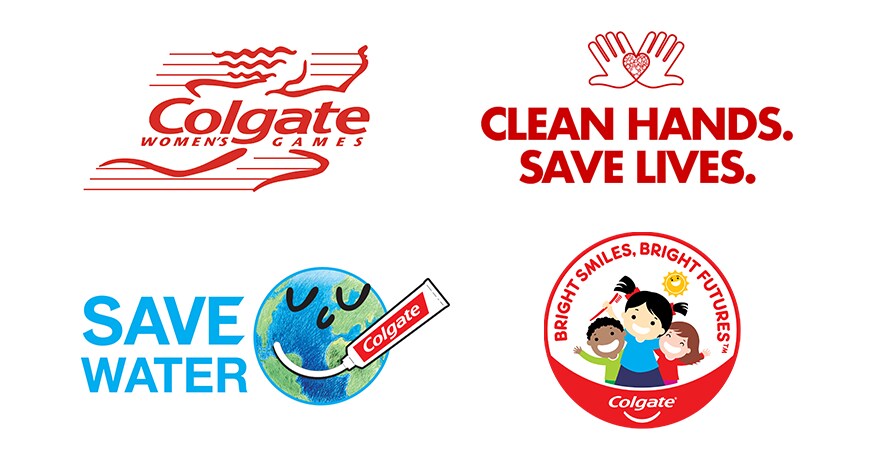 Our Global DE&I Strategy: SUPPLIER DIVERSITY
We believe we have a responsibility to support the growth and development of diverse suppliers. We have a supplier diversity program with a goal of 10 percent of our spend with companies owned and operated by minorities, women, veterans, members of the lesbian, gay, bisexual and transgender (LGBT) community, and people with disabilities. A more diverse supplier network is a better network for us. It is important our supply base represents the communities in which we work. Additionally, supplier diversity increases breadth and stability of the supply chain across direct and indirect spend. Supporting diverse suppliers creates jobs within the community and helps us positively impact more people.
Industry Impact



We believe Colgate should be a voice for DE&I in our industry, and we will continue to express our perspectives and encourage others to join us. We are a signatory to the CEO Action for Diversity and Inclusion Pledge to strive for social justice.
Measurement
We will report the measures of our success and progress annually. Our focus on creating an organization where people feel they belong will be measured by the responses to our annual engagement and pulse surveys (like the Colgate Connect Survey, see highlights below) as well as compliance with our DE&I training mandate and the establishment of DE&I metrics in our manager's individual objectives. Our success in achieving overall diversity will be measured by metrics such as our employee representation over time, time in grade, and pay equity and promotion data.
The measurement of success in driving supplier diversity will primarily be measured in the percentage of spend with tier one suppliers.
Assessment of our success in normalizing communication around diversity will be measured in both the frequency and reach of our dialogs on topics of diversity both inside and outside the company. We will confirm communication of our strategy and progress through ensuring this information is available on our websites and in the release of an annual report.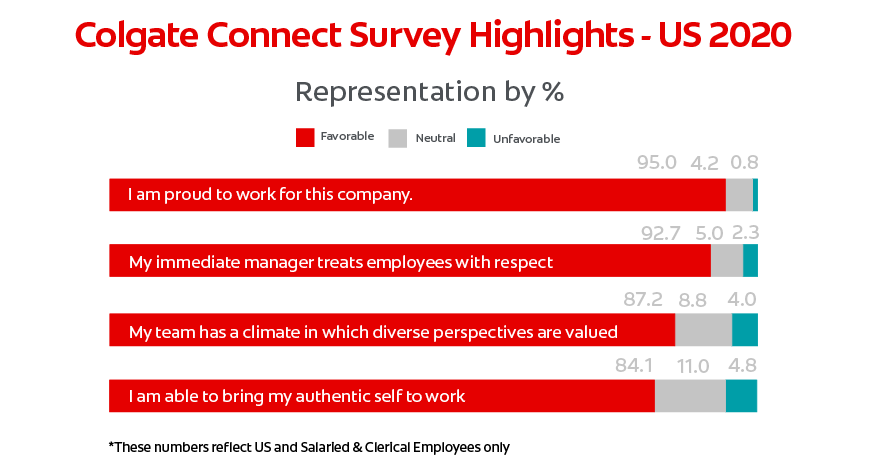 We believe diversity and inclusion are imperative to the long term success of our company.
We have come far, and yet we know our journey has just begun.