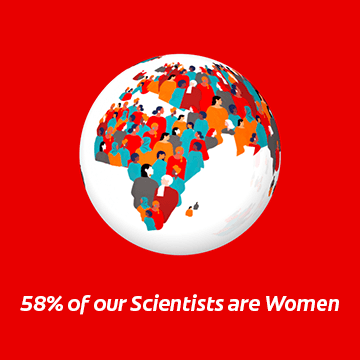 Celebrating Women in Science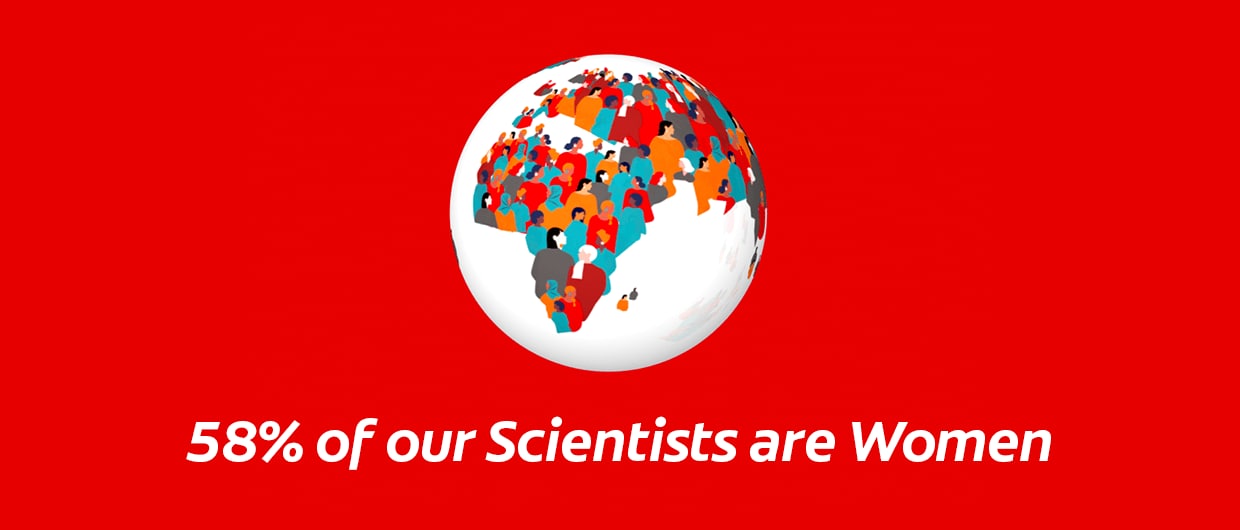 Hear from the innovative, purpose-driven women in science at Colgate-Palmolive

March 2022
At Colgate-Palmolive, we are proud that 58% of our scientists* are women. These incredible women in science help fulfill our company's purpose to reimagine a healthier future for all people, their pets, and our planet.
As a caring, innovative growth company, we are committed to supporting women in science and advancing opportunities for professional growth. And this International Women's Month, we have been shining a spotlight on the women in science here at Colgate, celebrating their achievements and amplifying their voices.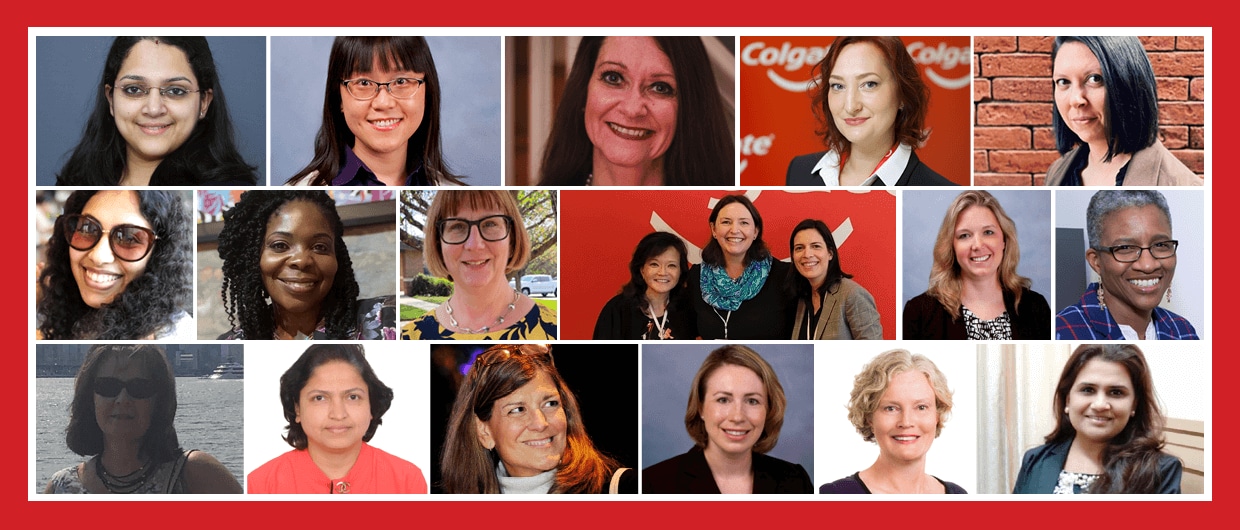 How does your work and scientific expertise help Colgate-Palmolive fulfill its purpose?
"Creating a healthier future begins with designing products and formulas that are efficacious yet safe for the people who use them. I love using my knowledge and expertise to do just this and create the type of products I would use myself! I am a consumer first...and always keep that in mind. The science I develop has to be accessible, give people the results they desire, and translate into products and benefits that are easy to understand!"
– Ewelina Lesniak, Technology Manager, Premium Skin Health Product Development
"Everyday, we get to come to work to help improve the lives of people. It may not be in the traditional way that most people think of like a doctor. However, I am proud to say I have developed products for Sanex to help people feel more comfortable in their skin, developed new antibacterial liquid hand soap formulas for Softsoap and Protex to protect hands and their health around the globe, and now I develop new toothpaste formulas for Colgate Total that protect the whole mouth and give people a reason to smile. Developing products that help people feel confident to shake a hand, give a hug or smile at someone to brighten their day may seem small to some but to me I see it as being able to improve the world one hand shake, hug or smile at a time."
– Cheryl Kozubal, Associate Director, Product Development, Oral Care, US
"My work enables me to educate dental professionals and students about Colgate's innovation and technology. I am able to impart knowledge that empowers patients and communities to take care of their oral health, and that contributes to a healthier future."
– Amelia Seselja, Academic Affairs Manager, Marketing, South Pacific
"Being a chemist by training, I directly apply what I learned from school to my work to develop new consumer products working in the R&D community."
– Elva Chen, Senior Principal Scientist, Piscataway NJ
"Having diversity in the dental industry is important because women have a different take on patient care, maybe a gentler side. You're sitting around a table and thinking about innovation and new product development as a woman, a daughter caring for aging parents, a mother caring for children, and a professional, which makes a woman's perspective on consumer- and professionally-based products essential."
– Maria Ryan DDS, PhD, Vice President and Chief Clinical Officer
"I craft unique consumer experiences which requires my scientific expertise in choice and combination of ingredients, to make them 'sustainable,' 'safe,' and 'healthy,' thus contributing to CP's purpose."
– Maya Bhansali, Technology Manager, APAC, India

"Me and my team strive to find new functional actives from natural space as well as synthetic researched molecules. The new active, or new product, or new news for better oral health: to heal, repair, enhance and beautify your mouth and you."

– Neelima Utgikar, Technology Manager, GTed, India
What has been your proudest achievement while at Colgate-Palmolive?
"I have the chance to coach people and really help them grow and become the better version of themselves."
– Penny Zhang, Senior Technical Manager, APAC
"Millions of children and their parents have learned about proper oral care thanks to the Bright Smiles, Bright Futures program."
– Elena Tsibulkina, PhD in Biochemistry, Colgate-Palmolive Russia, Eurasia, Russia
"Launching the Colgate Oral Health Network which is an online continuing education platform for Dental Professionals. Today the Network has over 300K members globally."
– Barbara Shearer, Worldwide Director of Professional Strategy and Innovation, Global Marketing
"I am very proud of new technologies, claims and demos which originated in the lab and made it all the way to store shelves, webpages or the dentist's office."
– Venda Porter Maloney, Director Oral Care Research & Innovation, GTeD, North America
"I am proud of many achievements I've been able to bring to life in my 16 years at Colgate. The ones I am most proud of can be head-lined under: convincing with science about the benefits and superiority of our oral care products and the impact they have on the health of individuals and population."
– Irina Laura Chivu-Garip, Head of Scientific Affairs, Europe, EU Division
"My proudest achievement at Colgate was leading product development efforts for the relaunch of Colgate Total (ex-US). This was a major project that involved relaunching one of our most iconic toothpaste brands with new, innovative technology around the world. It was my greatest accomplishment not because of its business significance, but because of how much I learned and grew through the experience, as well as the relationships I was able to establish because of it."
– Andre M. Morgan, Director Personal Care
"The launch of Colgate Toothpaste for the Oral Health of Diabetics! A small dialogue with my mother who is diabetic, led me to conceptualize, propose the specialized product for patients, and the best moment was to see the thought converted to a product. Happy for my mom and all the diabetics across the nation!!!
– Ekta Shah, Research Team Lead, Asia and India
What gives you motivation to do your best work? Where do you get inspiration from?
"I get inspiration from the fact we are improving people's lives with the work we do."
– Susan Cartwright, Scientific Affairs and Public Health Manager, Asia Pacific Division, South Pacific region
"Colgate is my second home. I think about every question through the angle of promoting the growth of business."

– Cassie Zhang, Supervisor, Research & Development, APAC
"I am honored to be surrounded by deep subject matter experts and love learning from them. Watching them as they solve tough challenges or create something magical never gets old!"
– Pat Verduin, Chief Technology Officer, GTeD, Corporate
"So many people came before me that gave their lives and worked hard so that I as a Black woman could have access and do or be anything I want. That motivates me to achieve and to be that person for some other person in the future."
– Sharon Kennedy, Director Br GTED Center, LATAM, Sao Paulo
"The people who I am working with and the people who we are developing products for. I am very fortunate to work with many talented and dedicated Colgate people and their creativity and dedication are my inspiration."
– Shira Pilch, Director of Technology, Asia Division
"I love the challenge of doing something that hasn't been done before. I love the 'pit of your stomach' feel of when you start a project that you have no idea how you and the team will be able to get it done, but you know that including diverse thoughts and team experiences will get you where you need to go."
– Jennifer Radosevich, WW Director, Research and Innovation, Hill's Pet Nutrition
"My mother who is a retired physician. She came to the United States, after having lost everything through the Korean War. My mother is an example of commitment to excellence with kindness to others in everything she does."
– Jeanne Chung, Senior Principal Scientist, North America, GTC
"My motivation is my 4 year old son, he is inquisitive and questions every norm that exists - Like why A has a slanting line? Bringing in the right question at work opens a whole plethora of opportunities."
– Bindu Aiyar, Senior Associate Scientist, Research & Development, India
What advice do you have for aspiring women in science?
"If there's someone doing something you think is super cool, ask them if they can talk to you about their career. Most women and men would love to help someone starting out or thinking about a potential career path. Through asking questions and engaging with many people it can help you narrow down what you want (and more importantly do not want) to do!"
– Lauren Hutchison, Scientific Communications Manager, Corporate R&D, Piscataway NJ
"Be confident in yourself and your capabilities. Don't let others steal your joy and passion. Ask for help when needed and always be there to help others (even when you're not asked)."
– LaTonya Kilpatrick, Worldwide Director of Technology, Research and Innovation-Oral Care, Corporate, NA
"Look for an area where you're passionate about it, don't be afraid to go beyond the comfort zone, dream big and be resilient in pursuing your dreams."
– Barbara Egger, EU OC KM Lead, Europe/Switzerland
"Perseverance pays the best dividends, every 'no' you get today is a reason to try harder until you get the 'YES.'"
– Premie Pillay, Manager, Global Knowledge Management, GTeD, NA
"My advice to women thinking about STEM careers is to reach out to a woman in STEM with your questions. Forming a relationship with someone that you can talk to from time to time is so beneficial. There is a lot about navigating the academic world that is not easy to learn about, especially for those of us who were first generation college students."
– Artemis Louyakis, Senior Research Scientist, Research and Innovation, North America (Piscataway)
"This is a wonderful world with many locked doors, waiting just for you to unlock it. Giving you the power to touch the lives of 7 billion people of the world and their pets!"
– Richa Goyal, Research Scientist, GTeD, India
"Don't be afraid to give your opinion a strong voice, take risks & fail forward. Motivate, encourage, and advocate for other female scientists... and when you make it to the 'top,' feel the responsibility to be inclusive, compassionate, and inspirational."
– Lia Arvanitidou, VP of Global Personal, Skin & Home Care R&D
"Keep going. It's necessary for women to have a seat at the table – science is everything. It's engineering, it's healthcare, it's education. Science is the foundation of so many things."
– Debbie Fleming, Scientific Affairs Manager, Colgate Oral Pharmaceuticals, Park Avenue, US
*Research & Development personnel
You might also be interested in...
How Colgate-Palmolive's Digital Upskilling Is Leading to E-commerce Growth

Read more

»

The Story Behind Hill's Prescription Diet ONC Care — Nutrition Designed Specifically For Pets With Cancer

Read more

»

How Colgate-Palmolive's Digital Learning & Development Program Drives Business Success

Read more

»