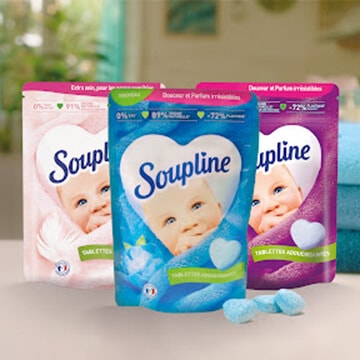 Innovation Spotlight: Soupline Introduces the First-of-its-Kind Softening Tablets
The team behind Soupline's latest Softening Tablets shares how they created the first fabric softener tablet.
August 11, 2023

When scientists and researchers from Soupline, Colgate-Palmolive's fabric softener brand, were in the process of creating a new fabric softener, there was one principle that steered them from ideation to the new product's rollout on shelves earlier this year: people-centricity.
New products from Soupline should come from an understanding of the people who will use it, says Abraham Cazes, Senior Director of Home Care R&D. "But consumers do not tell directly what they want a new product to be," Cazes said. "Instead, we hear about their priorities."
As Soupline was exploring potential product innovations in fabric softeners, which traditionally come in a liquid format, they met with consumers who explained that they had two main priorities when it came to this part of their laundry ritual: sustainability and convenience. Could fabric softener, consumers asked, be better for the environment and save space in laundry closets?
Soupline scientists and researchers were initially unsure of which specific form — tablets, gels, powders, concentrates, or something else entirely — would satisfy these requirements. By reverse-engineering the consumer experience, though, members of the Soupline team came to a consensus around a new form that would not only be convenient and easy to use, but also just as powerful and efficient as a liquid fabric softener.
The result is the lightweight and powerful Soupline Softening Tablets, the only fabric softener tablet on the market. In addition to its new form, the tablets are produced with no water intentionally added, and packaging that uses 72% less plastic* than a conventional bottle. "Exploring new forms like this is not innovation for the sake of innovation at Colgate-Palmolive," Cazes said. "It's innovation that's meaningful and delivers what people are looking for."
Below, Cazes, along with members of Colgate-Palmolive's Research & Development (R&D) team, share how Soupline Softening Tablets were created, the collaboration behind this innovation and why focusing on people was paramount.
Q: Fabric softener has typically been sold in a liquid form. How do innovative forms, like Soupline Softening Tablets, make the experience better for the people who use them?
Adriana Armas, Senior Manager R&D: We're bringing new forms to the products that consumers already use to enhance and enrich their experience. By focusing on new forms, we've been able to create products that use less water — in the case of Soupline Softening Tablets, no water added to the formula — to help Colgate-Palmolive move closer to our sustainability goals.
Earvin Reyes, Scientist: With Soupline tablets, we transformed the previous liquid form into something that's new and fresh in fabric softeners. Tablets are all-encompassing for our current and new users: they're an attractive form, made with sustainable ethos and user convenience.
Q: What are some of the challenges of working with new forms?
Abraham Cazes: The biggest challenge is that they require people to use products differently, which requires educating and changing our consumers' habits. That's a big challenge. If they're not able to see what they gain from the product — that it's more effective and it's easier to use, — it will be difficult to create products that last.
Earvin Reyes: We've explored several new formats, including sheets, concentrates, gels and dozens of others. Each has its own challenges. As we evaluated these forms and others through consumer studies for Soupline, we found that our and our partners' expertise was best lent to creating a tablet that was ultimately more convenient for consumers as it's pre-dosed and saves on the mess that may happen when measuring and pouring traditional fabric softener into the wash.
Though the tablet is a new form right now for Soupline, that doesn't mean that there aren't other forms being explored and tested for future products.
Q: When it comes to fabric softener, how do you ensure that a new form will resonate with people who may have never used a product like this before?
Earvin Reyes: First, we start by creating ideas on what this new form might look like. Then, we look at internal and external prototypes and determine how we might best use our capabilities to achieve the new form.
With a product in hand, we conduct tests to evaluate performance, softness, fragrance and other benefits. Our qualitative studies begin, and we run several rounds of tests to determine the feasibility of the product and gather feedback from potential users for alterations we could make to the product. Dozens of prototypes are created, only for the most successful one to emerge and become the product we launch.
Adriana Armas: When we do consumer testing, we know we will iterate at every step of the process. We've learned that during testing, consumers don't want to have the same product and they want more from the product, so we have to determine if we can best give them that through performance or cost. With new forms, we always need to be learning about what our users want and how they use our products.
Q: What are some key insights that you've gained from people actually using Soupline tablets?
Earvin Reyes: One of the more insightful consumer insights was about the first prototype of our tablet. Unfortunately, the tablet left a residue in the washing machine, particularly for front-load washing machines. What we needed to do was figure out how to accommodate these users.
To test this inside Colgate-Palmolive, we have washing machines from all over the world that ensure we're testing real conditions that are most similar to our users. We determined that by creating a specially-designed net for the tablet, we can ensure that the tablet dissolves in every washing machine.
Additionally, we heard from several people that they want long-lasting fragrance from their clothing — not just when it's fresh from a wash. As a result, we ensured that long-lasting aroma was a part of the way we formulated our tablet.
Adriana Armas: Packaging is also important, as we've learned that consumers will judge a product based on packaging, regardless of the product's performance. People are very mindful of storage, too, and don't want to have to reach for a liquid fabric softener that is bulky and heavy. That's why we went with a sachet package that would save space on the shelf.
Abraham Cazes: Even if you know your consumers very well, new forms force you to start from zero because the use case, the product, and the expected performance will all be different for the user.
Q: What is on the horizon for new forms at Colgate-Palmolive?
Abraham Cazes: We're excited to continue innovating around concentrate formulas. We are excited to decrease our water usage through concentrates — which helps our users and Colgate-Palmolive be more sustainable — while still creating a great experience for the people who use our products.
Soupline Softening Tablets are available exclusively in France.
*Compared to plastic used to produce 1L bottle.
You might also be interested in...
Colgate-Palmolive Announces Recipients of its 2023 Inspire Our Future Scholarship

Read more

»

The Science Behind PCA Skin's Most Powerful Anti-Aging Serum Yet

Read more

»

How a Colgate-Palmolive Flavorist Found Her Passion

Read more

»