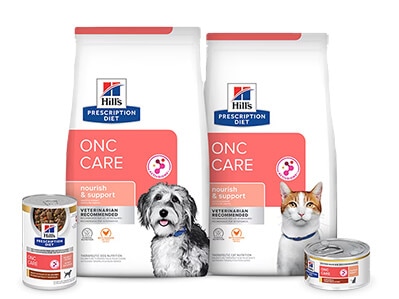 The Story Behind Hill's Prescription Diet ONC Care — Nutrition Designed Specifically For Pets With Cancer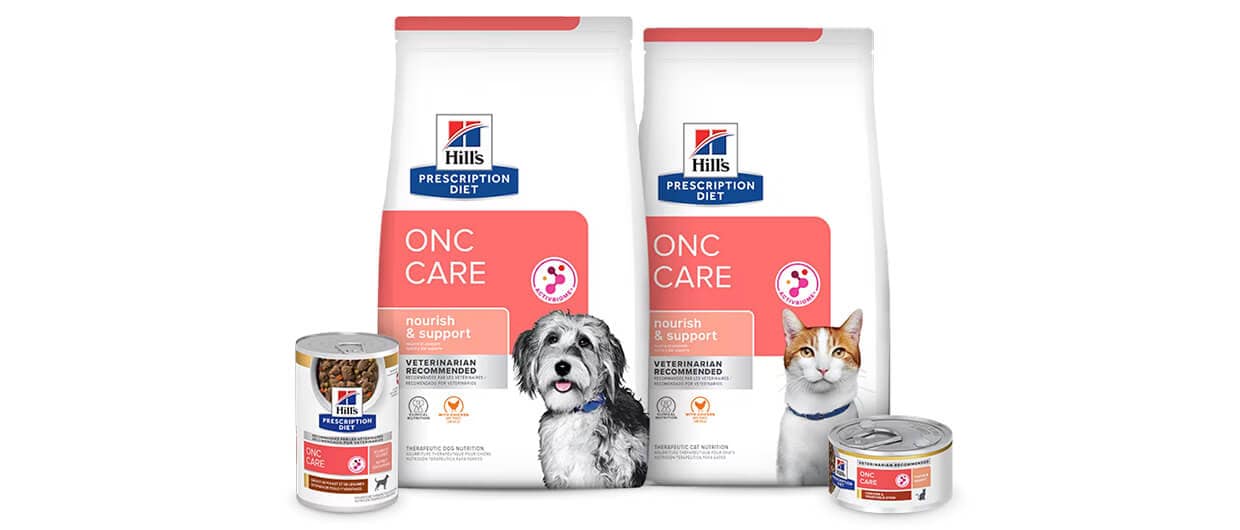 Hill's Pet Nutrition's latest food innovation helps ensure pets with cancer get the nutrition they need
November 1, 2023

As part of its purpose to help enrich and lengthen the special relationships between people and their pets, Hill's Pet Nutrition recently launched Prescription Diet ONC Care — the first dry & wet pet food from Hill's designed specifically for pets with cancer.
When Hill's Pet Nutrition debuted its Prescription Diet food 75 years ago, it became the world's first veterinarian-prepared food for the nutritional management of canine disease. Today, Hill's Pet Nutrition, a division of Colgate-Palmolive, continues its legacy of improving the health and well-being of pets with a food that's backed by science, innovation and technology.
The impetus to create a food specifically for pets with cancer came from veterinarians and scientists at Hill's Pet Nutrition, who understand dogs and cats with cancer struggle to get the nutrition they need.
"One of the insights we received from veterinarians is how frustrating and debilitating cancer management is for pets and pet owners," said Leslie Hancock, Chief Medical Officer and Worldwide Director of Clinical Nutrition Research at Hill's Pet Nutrition. According to the American Veterinary Medical Association, almost half of dogs over the age of 10 will develop cancer.
"Cancer treatments often make pets feel sick, and often lose their appetite as a result," Hancock added. "On top of suffering from cancer, pets are also suffering nutrient deficiencies from the lack of a balanced diet."
To respond to this feedback, team members at Hill's Pet Nutrition brought their findings to the company's upstream research and innovation team, which works to find new, cutting-edge technologies that can positively impact pet health.
"And what do you know? They had already been working on technology that would improve the palatability, or preferred taste, of pet food with microbiome technology that helps address the impact cancer and treatment can have on the intestinal microbiome and stool quality," Hancock said.
By utilizing this technology and improving palatability — through the optimization of macronutrients like protein and fat, and processing the food in a robust manner — Hill's Pet Nutrition created a food that even the most unwilling of appetites, especially those of pets with cancer, would eat.
"Prescription Diet ONC Care's unique formula allows for small meals to make a big impact," said Madison Amundson, Associate Scientist at Hill's Pet Nutrition.
In February 2023, scientists at Hill's Pet Nutrition, including Amundson, published findings about Prescription Diet ONC Care's effectiveness in Veterinary Sciences, an international scientific, peer-reviewed journal. Among the results, dogs showed a high acceptance of Prescription Diet ONC Care within the first day — with continued eating enthusiasm over the next month.
Though Prescription Diet ONC Care has been providing nutrition to dogs and cats for just the past six months in certain markets, members of the Hill's Pet Nutrition team have already received positive feedback.
"We underestimated its popularity and what it can be," Hancock said, adding that veterinarians have prescribed Prescription Diet ONC Care for pets who have issues receiving a balanced diet, like those who suffer from other causes of reduced food intake (otherwise called anorexia or dysrexia).
Going forward, team members at Hill's Pet Nutrition will continue studying the impact of Prescription Diet ONC Care and refining and improving the food. But this achievement hasn't been lost on the team at Hill's Pet Nutrition.
"Prescription Diet ONC Care has been a fascinating exploration into how we can take applied food science and create a diet with a positive therapeutic intent," Hancock said.
"It just kind of gives a good overwhelming feeling that this product is finally out there to help those who really need it," Amundson added. "This is a new milestone in the oncology world for a food that's really designated for pets with cancer."
Hill's Pet Nutrition Prescription Diet ONC Care is now available in North America, Europe, Latin America, the Middle East, Africa and Japan. By the end of 2024, the food is expected to launch in Australia, New Zealand and Asia.
You might also be interested in...
How Colgate-Palmolive's Digital Upskilling Is Leading to E-commerce Growth

Read more

»

How Colgate-Palmolive's Digital Learning & Development Program Drives Business Success

Read more

»

Colgate-Palmolive Announces Recipients of its 2023 Inspire Our Future Scholarship

Read more

»