Ann Tracy, Chief Sustainability Officer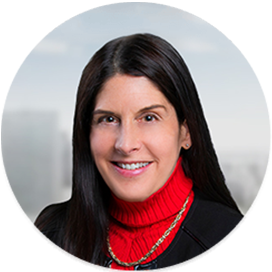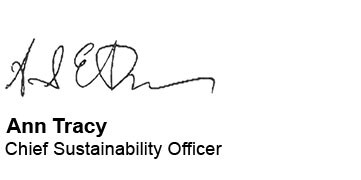 "Our planet is in trouble," say Gen Z kids (I have four), and they're counting on us to do something about it.
Young people — and increasingly consumers of all ages — expect the companies they support to take on the burning issues of the day: climate change, plastic waste and water scarcity, as well as health, education and diversity, equity and inclusion. At Colgate-Palmolive, we are focused on solving big problems. We are proud that our Colgate brand is in more homes than any other, and tackling these issues starts at home. We see that as our superpower, and we have a big responsibility to use our global reach to help the people who buy and use our products live more healthy and sustainable lives.
This year, we report against the final year of our 2020 People, Performance and Planet Strategy that we set in 2015. We are pleased to report that we met or exceeded our energy, greenhouse gas emission, water and waste reduction targets. Our supply chain teams are finding new ways to cut waste and operate in ways that are better for the planet. We're bringing breakthroughs to market to make our packaging recyclable, to use more recycled plastic, less plastic or no plastic at all as we work toward 100% recyclable, reusable or compostable plastic packaging by 2025. And we're working with our suppliers to ensure we have strong responsible sourcing programs in place. Finally, in the communities where we live and work, we have reached over 1.3 billion children with our Bright Smiles, Bright Futures oral health education program and helped to find over 11 million shelter pets forever homes through our Hill's Food, Shelter & Love Program.
This year, we are excited to launch our 2025 Sustainability and Social Impact Strategy. We encourage you to learn more about our results and our future ambitions and actions in this report and on our website.

While we are proud of our progress so far, we recognize there is much more work to be done. And this work cannot be done without collaboration with our consumers, suppliers, retailers, communities and, most importantly, Colgate People. We are working to fully embed sustainability into our strategic growth plan and across all facets of our business. Together we will tackle these problems and inspire people to live more sustainably. Together, we will smile, because we are reimagining a healthier future for all people, their pets and our planet.